The Aperol Spritz is an ultra-refreshing Italian cocktail. Also known as Spritz Veneziano, it looks like a sunset and tastes like summer. Even if you don't like champagne, you will still love this.
The Aperol perfectly cuts the champagne flavor making the cocktail delightful in every way. With only three ingredients, the Italian classic can be easily replicated at home.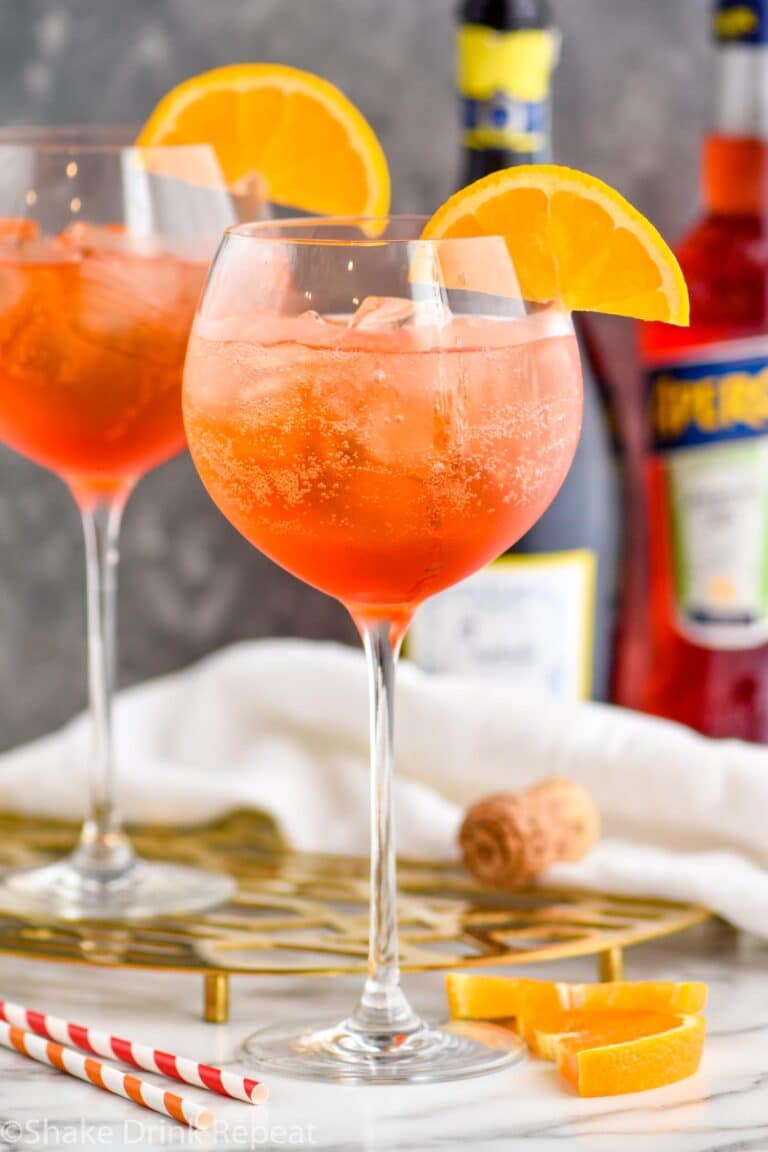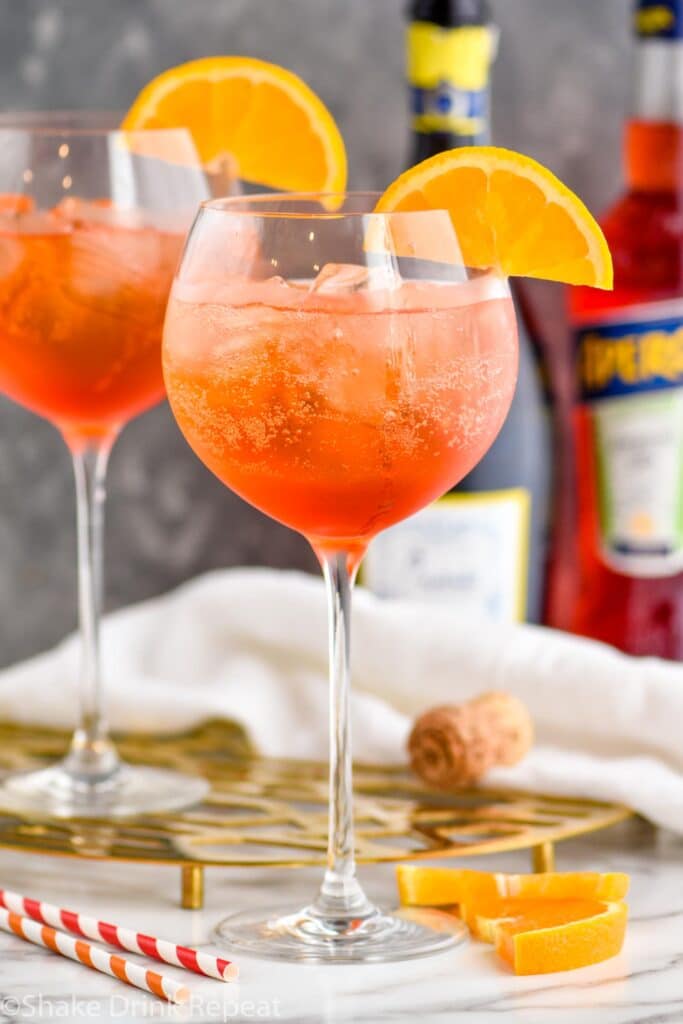 The roots of the Aperol Spritz date back to Italy in the early 1900s. The popular cocktail is still enjoyed there as well as anywhere as a refreshing aperitif. This thirst-quenching cocktail is fairly low in alcohol content, making it perfectly acceptable to enjoy before dinner. With just three simple ingredients and no fancy bar equipment needed, the Aperol Spritz is perfect for a happy hour right at home!
Aperol is a coral-hued Italian bitters aperitif with a flavor blend of zesty citrus, aromatic herbs and sweet vanilla. An alcoholic drink that you have before a meal, it is bittersweet, fruity, refreshing, and fairly low in alcohol content (11%).
An aperitif is meant to stimulate the appetite and is often fruity in nature. Along the streets of Rome, there are signs outside small wine bars advertising all of their great aperitifs. Look for Aperol near the liqueurs at the liquor store.
If you are looking for another great cocktail made with an aperitif, try our Campari Sprtiz.
Aperol Spritz Ratio
Just a few simple ingredients are all you need to make the classic cocktail at home, just remember 3-2-1! Three ounces of sparkling wine or Prosecco, two ounces of Aperol, and just one ounce of soda water. Combine them all in a glass with ice, no shaking or elaborate contraptions required.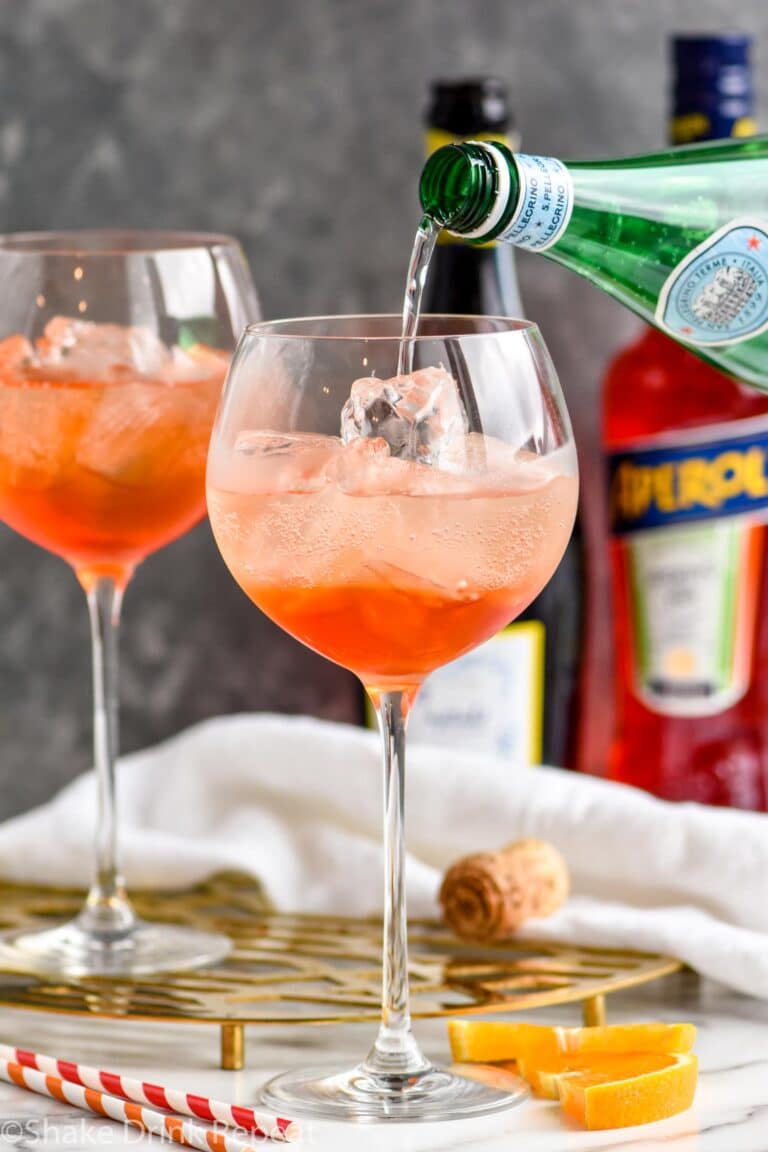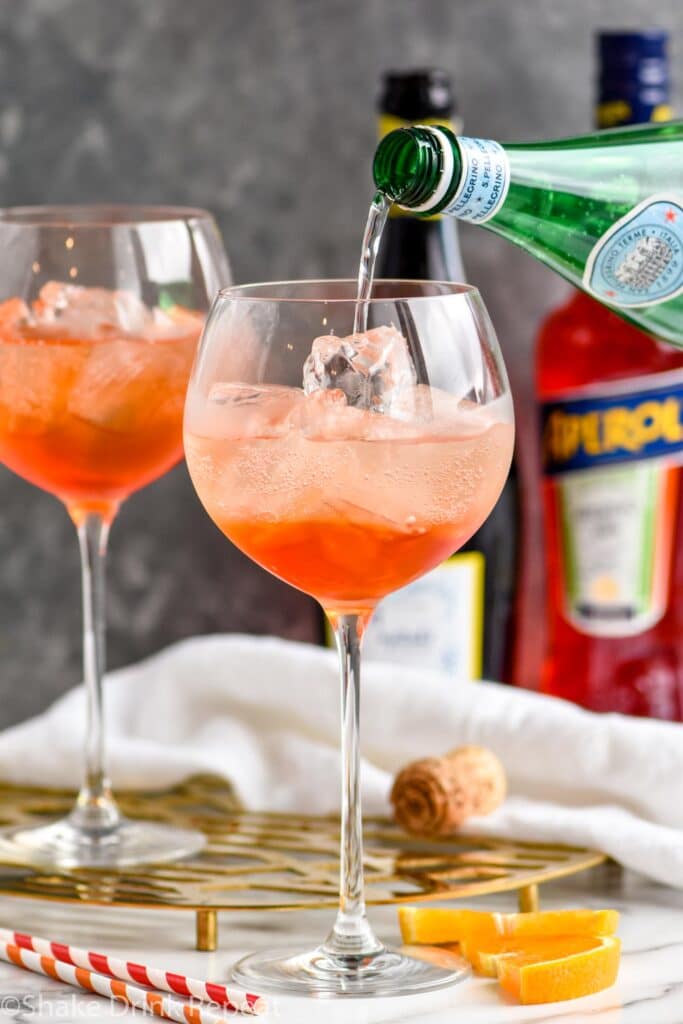 How to Make an Aperol Spritz
Fill a glass with ice. Our preference is a large wine goblet so you can pretend you are sipping on the cobbled streets of Rome.
Add Aperol to the glass followed by the sparkling wine.
Top with a splash of club soda. Club soda is just like carbonated water with the addition of some minerals that give it a unique taste.
Stir gently and garnish with an orange slice or two. We love to add the orange slices right to the cocktail, too.
Aperol Spritz Calories
The cocktail contains just 158 calories making it a lighter drink on the spectrum. If you are looking for more low calories cocktails, try this Vodka Soda or Gin Rickey Recipe.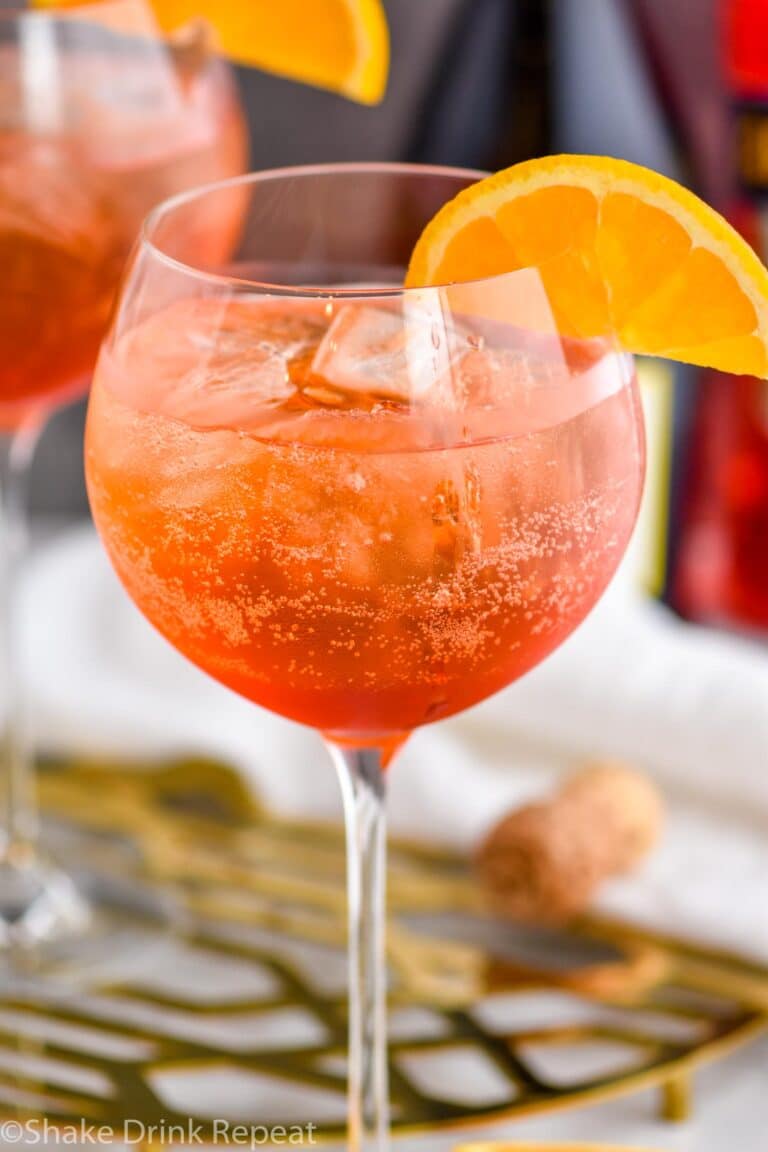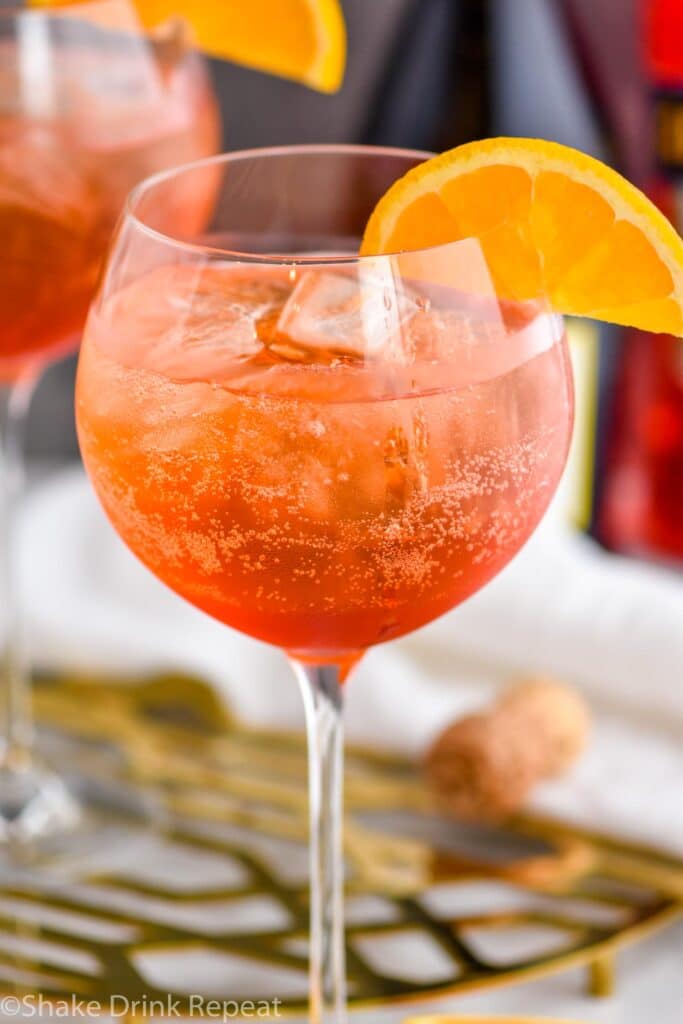 How to Serve
Serve your Aperol Spritz in a wine glass over lots of ice. It is such a perfect and refreshing cocktail on a hot day! Garnish with an orange slice, or as mentioned above, throw a few of the orange slices right into the glass.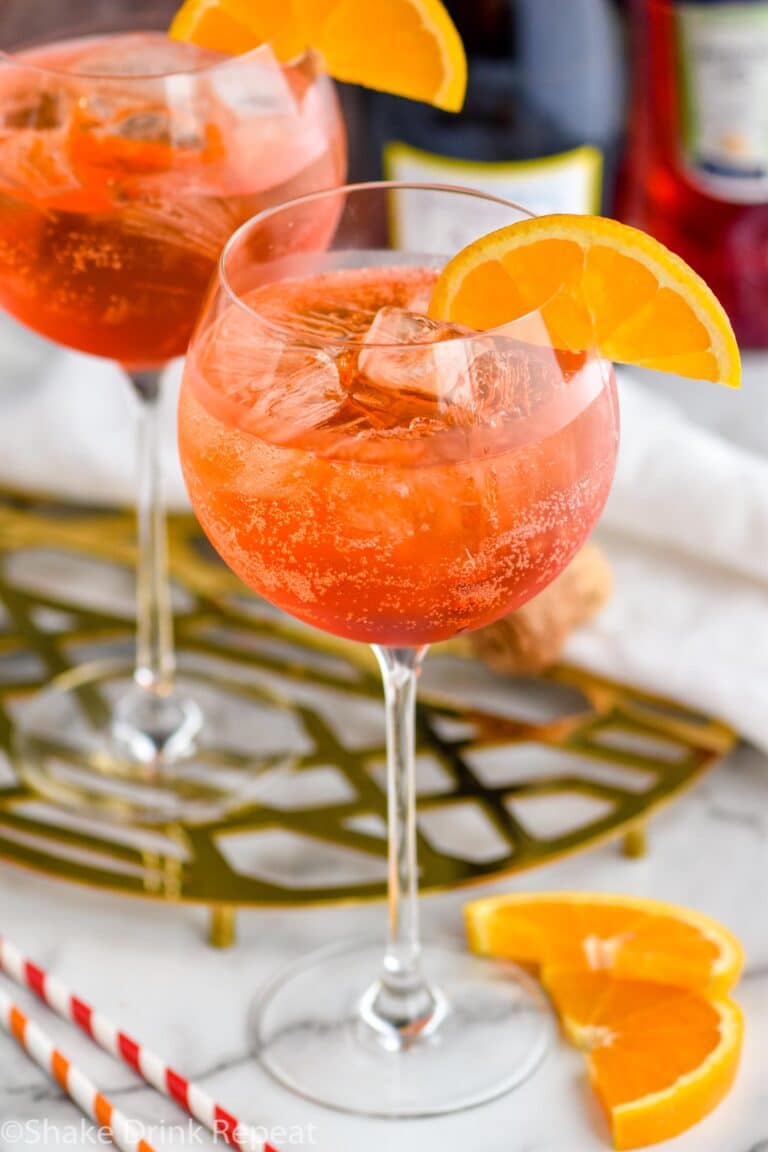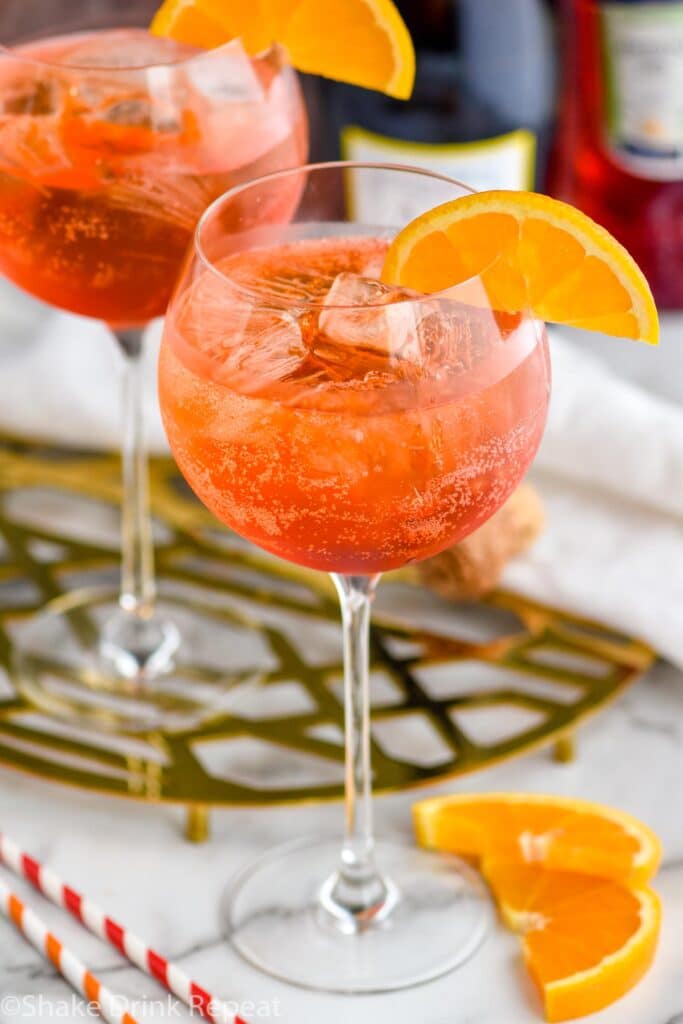 If you make this great Aperol Spritz recipe, leave us a comment and let us know what you think!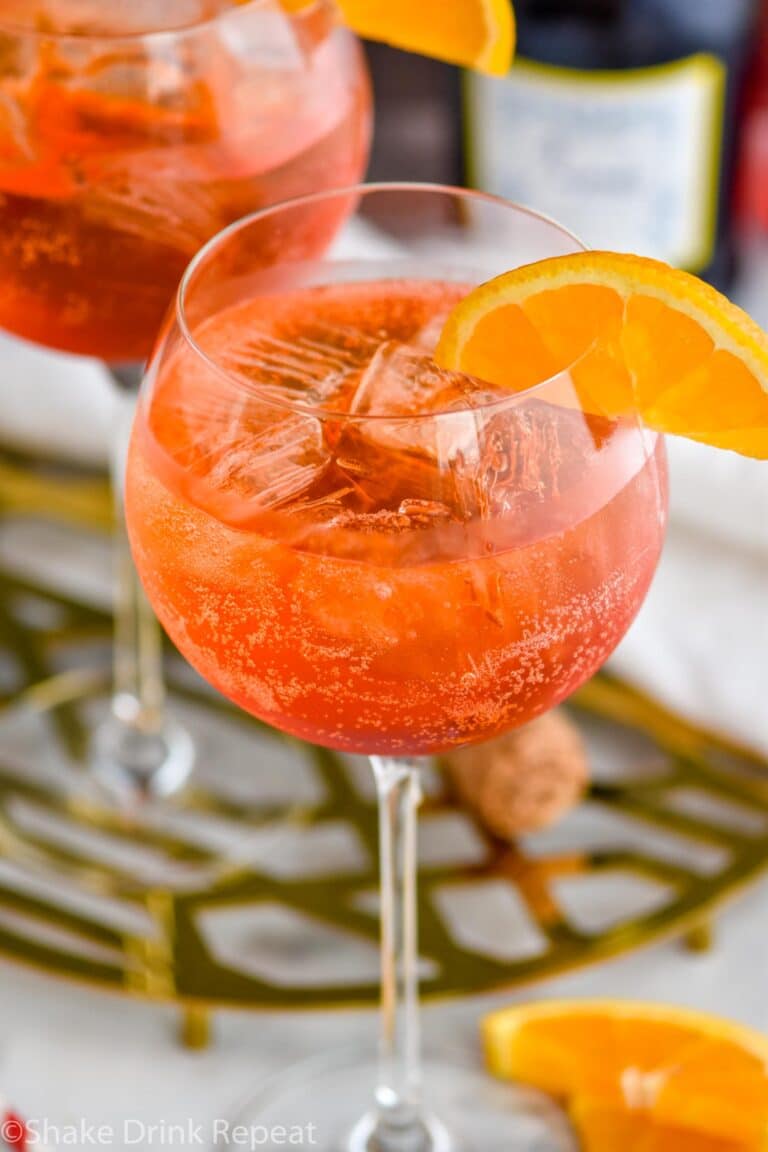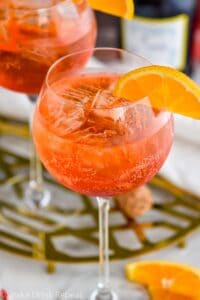 Aperol Spritz
The Aperol Spritz is an ultra-refreshing Italian cocktail. Also known as Spritz Veneziano, it looks like a sunset and tastes like summer!
Ingredients
3

ounces

sparkling wine

Prosecco or similar

2

ounces

Aperol

1

ounce

soda water
Instructions
Add the Aperol to an ice-filled glass.

Add the sparkling wine to the glass.

Stir gently, garnish, and enjoy.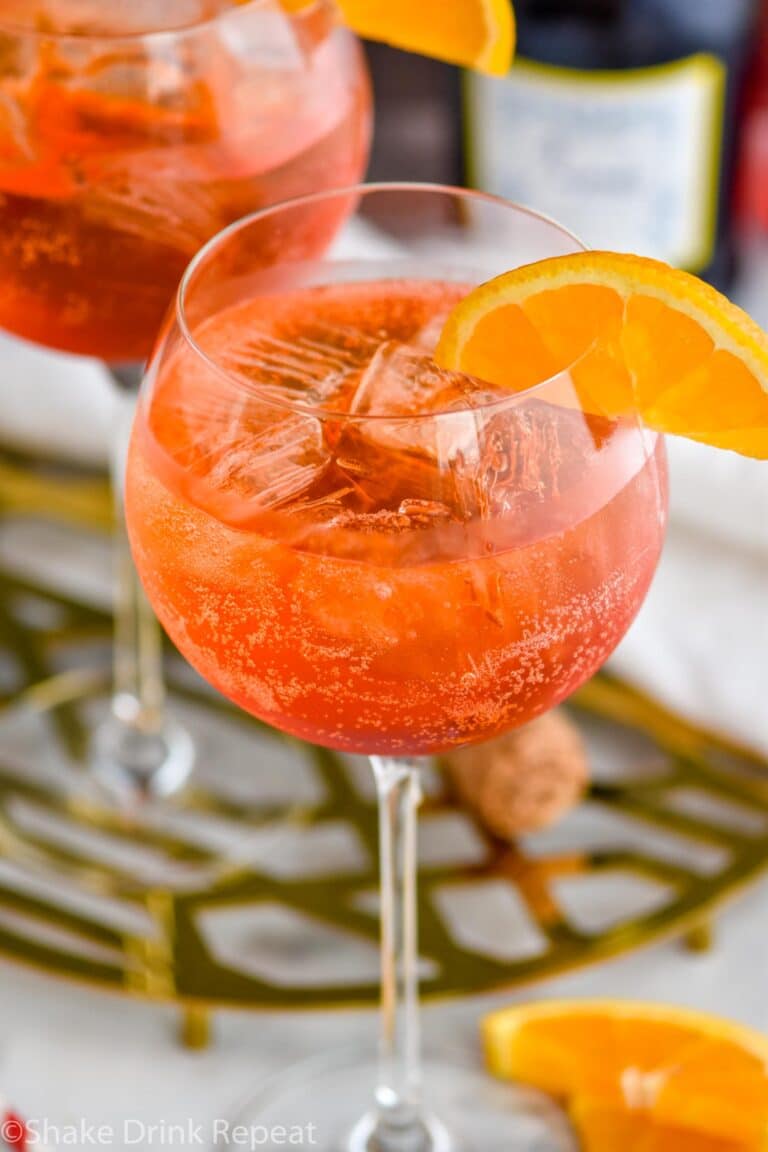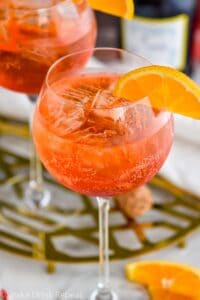 Did You Make This
Aperol Spritz