This Jalapeno Infused Vodka recipe is simple to make and will spice up any cocktail recipe. With just two ingredients and plenty of control over the spice strength, jazz up your cocktails with this fun vodka.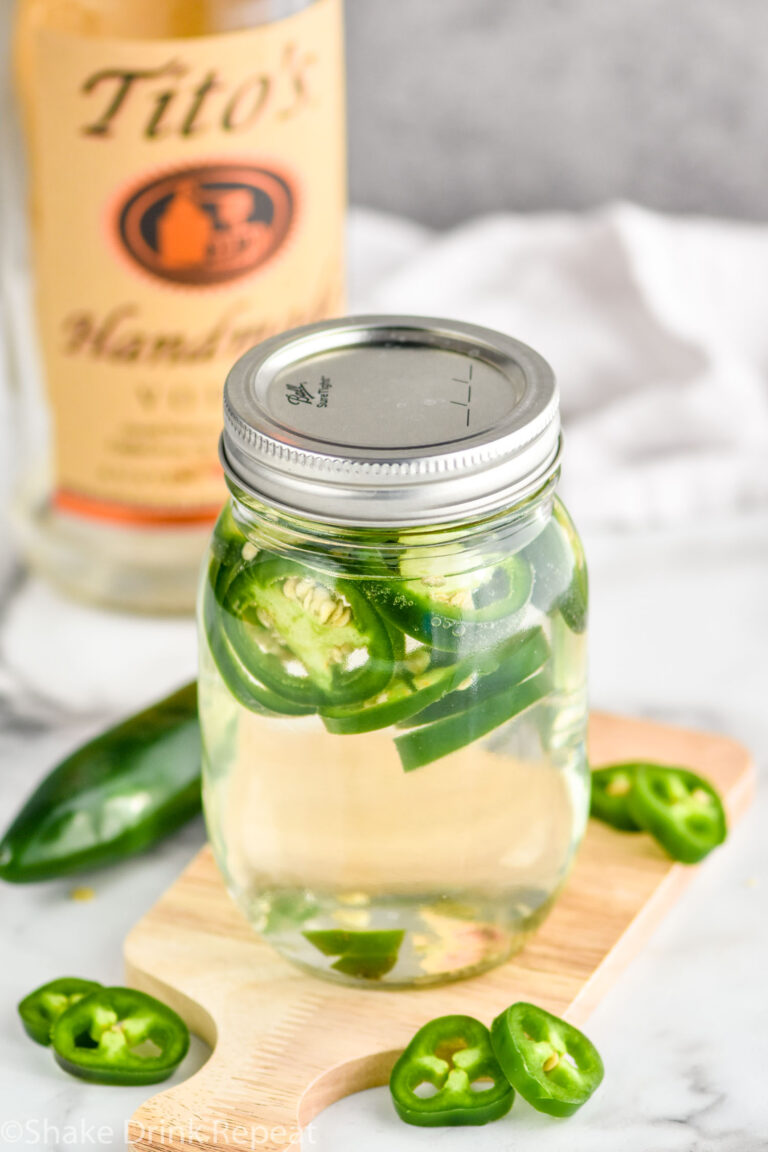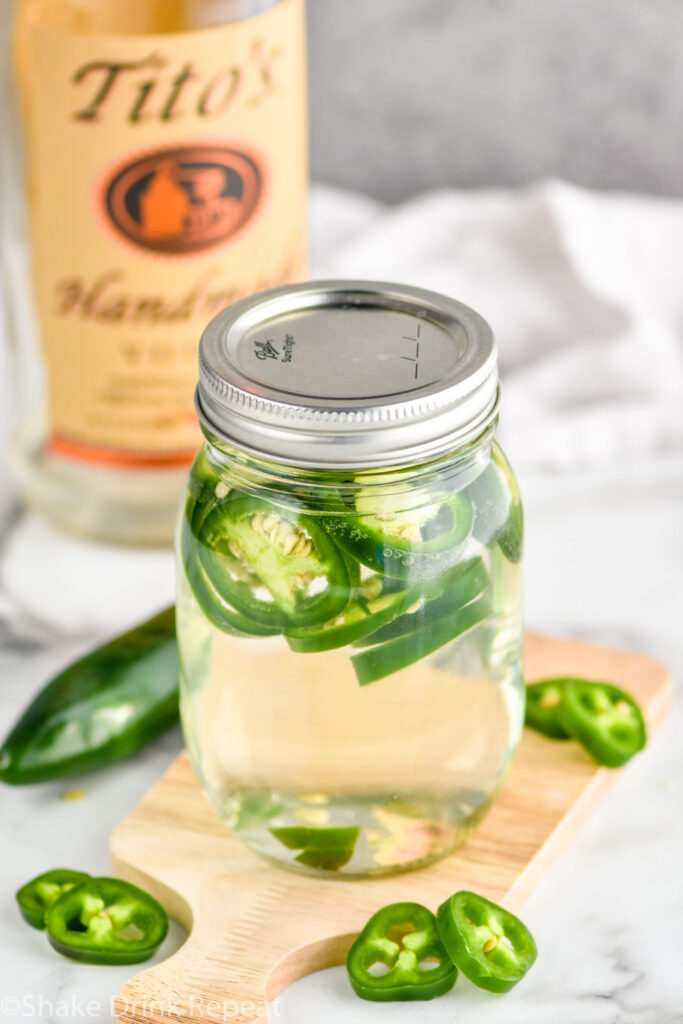 One of the best things about vodka is how well it absorbs the flavor of other ingredients. It is versatile, making it a fun spirit to mix up by infusing it with different things. Don't let this zippy Jalapeno Vodka recipe scare you, you control the spice by determining the infusion time.
How to Make Jalapeno Infused Vodka
This delicious Jalapeno Vodka recipe comes together with just two ingredients and a quick shake. For the full recipe and measurements, see the recipe card at the bottom of the page.
Combine ingredients. Put the vodka and jalapeno slices in a glass jar with a lid and shake.
Let the jalapenos infuse. Allow the jar to sit for 8-24 hours depending on the level of spice you want.
Strain and enjoy. Use a mesh strainer and a funnel to remove the Jalapeno slices and seeds, and then add the infused vodka to your favorite cocktail recipes for a spicy kick!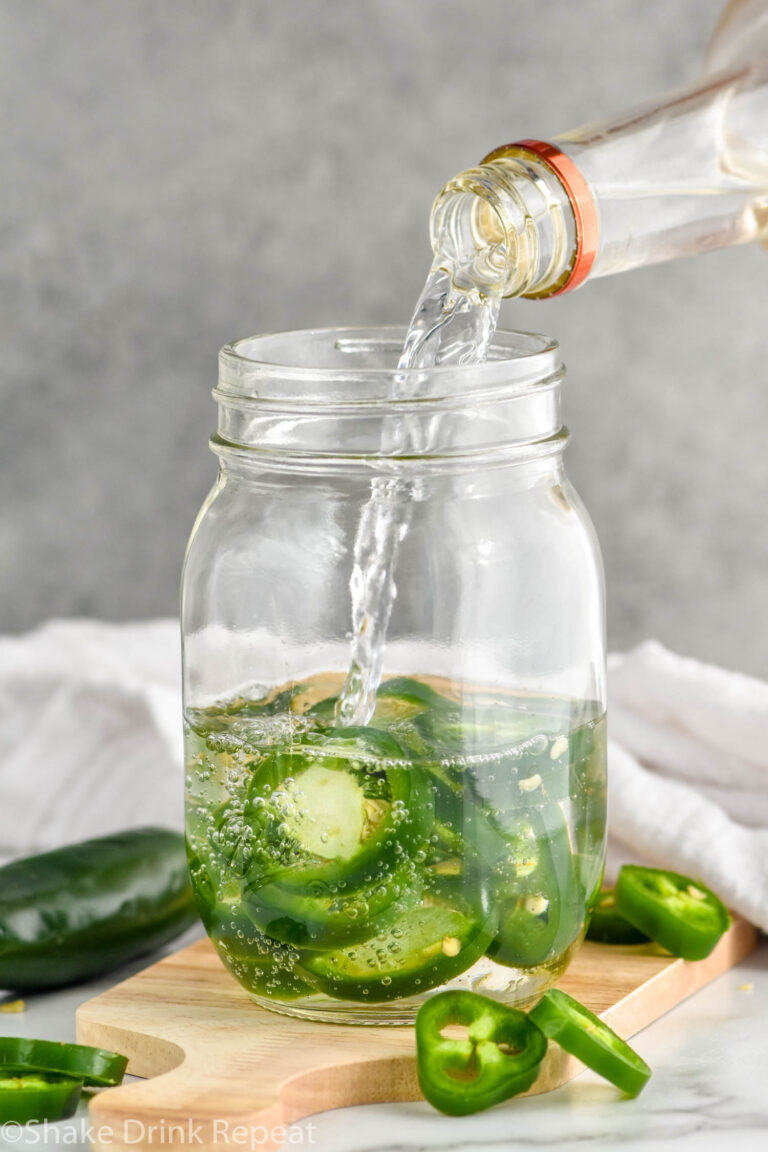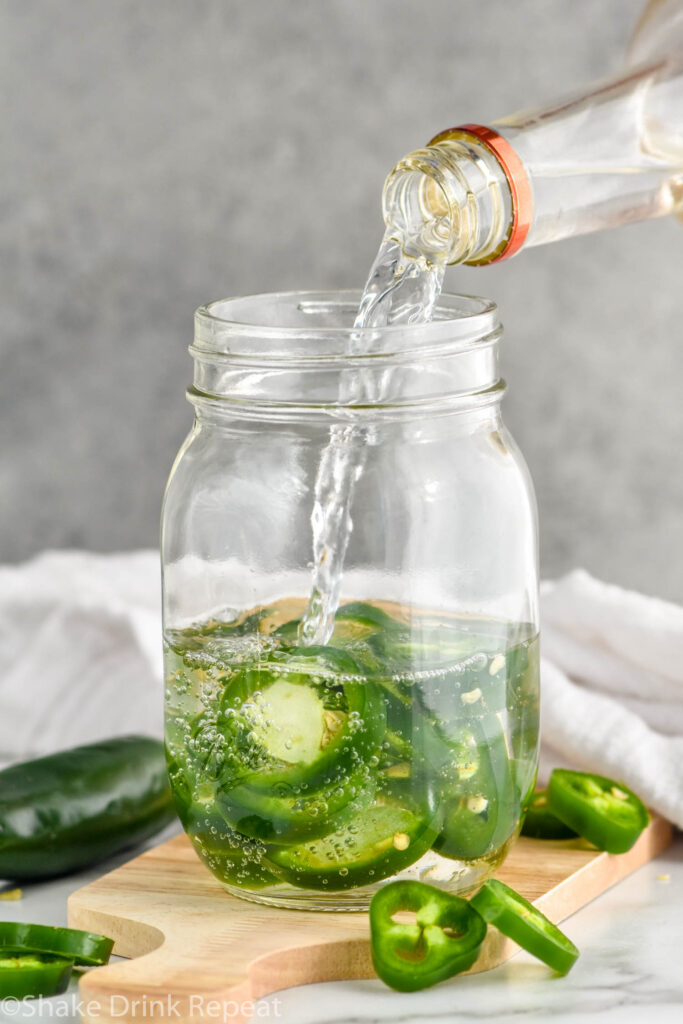 How to Control the Spice Level
This jalapeno vodka recipe gets stronger the longer the jalapenos infuse in the vodka. For just a hint of jalapeno, let infuse for only one hour before straining the slices and seeds out of the vodka. For extra-spicy vodka, let the jalapenos infuse in the vodka for up to 24 hours.
Best Vodka to Use
For this spicy Jalapeno Infused Vodka, you can use whatever vodka you have on hand and like the flavor of. We recommend using a middle-range vodka because you want a good vodka, but do not need a top-shelf bottle for this recipe. Our go-to middle-range vodka is Tito's.
Tips and Tricks
Glass jars and lids work best for infusing vodka. Make sure to screw the lid on tight!
Wear rubber gloves when slicing your jalapeno pepper to protect your skin from the juice.
Fresh jalapeno peppers are best for this recipe, but canned ones would also work if that's what you have on hand.
Storing Jalapeno Vodka
Store your infused vodka in a mason jar with a lid in the refrigerator for up to two weeks.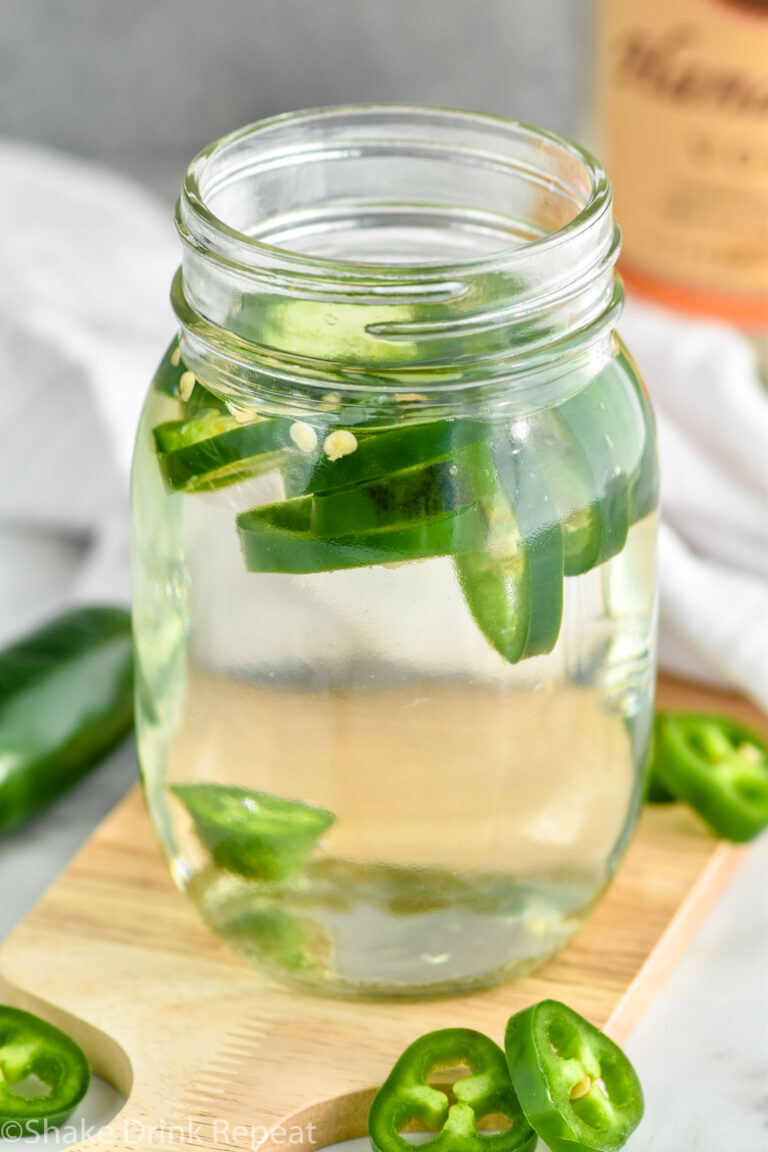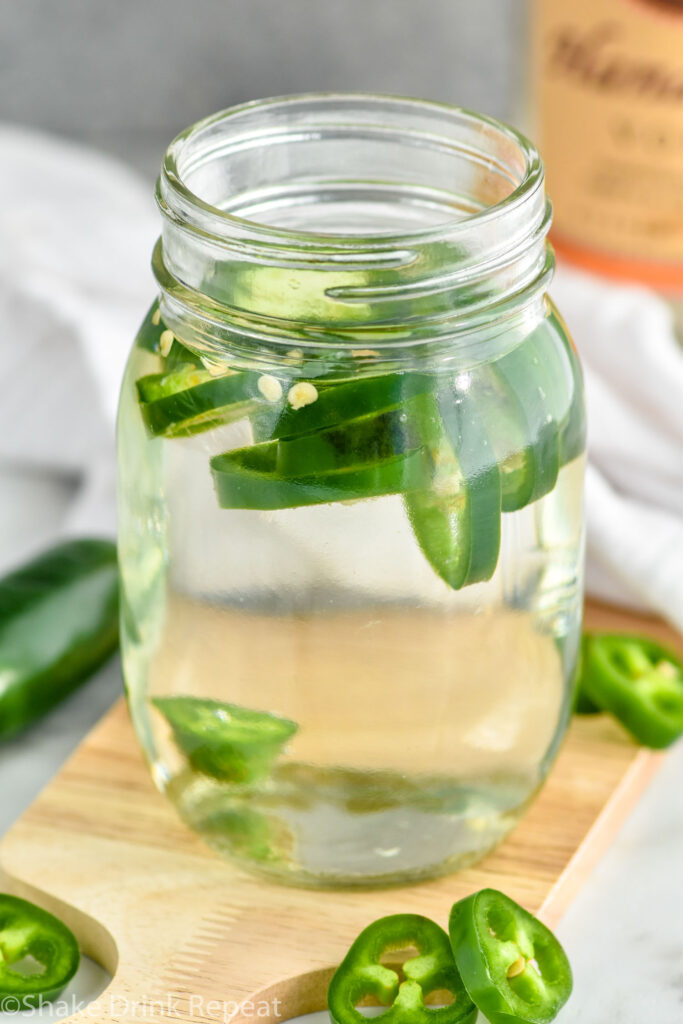 Jalapeno Vodka Cocktails
Here are a few ideas for how to enjoy your jalapeno vodka:
If you make this Jalapeno Vodka recipe, leave a comment and let us know what cocktail you put it in!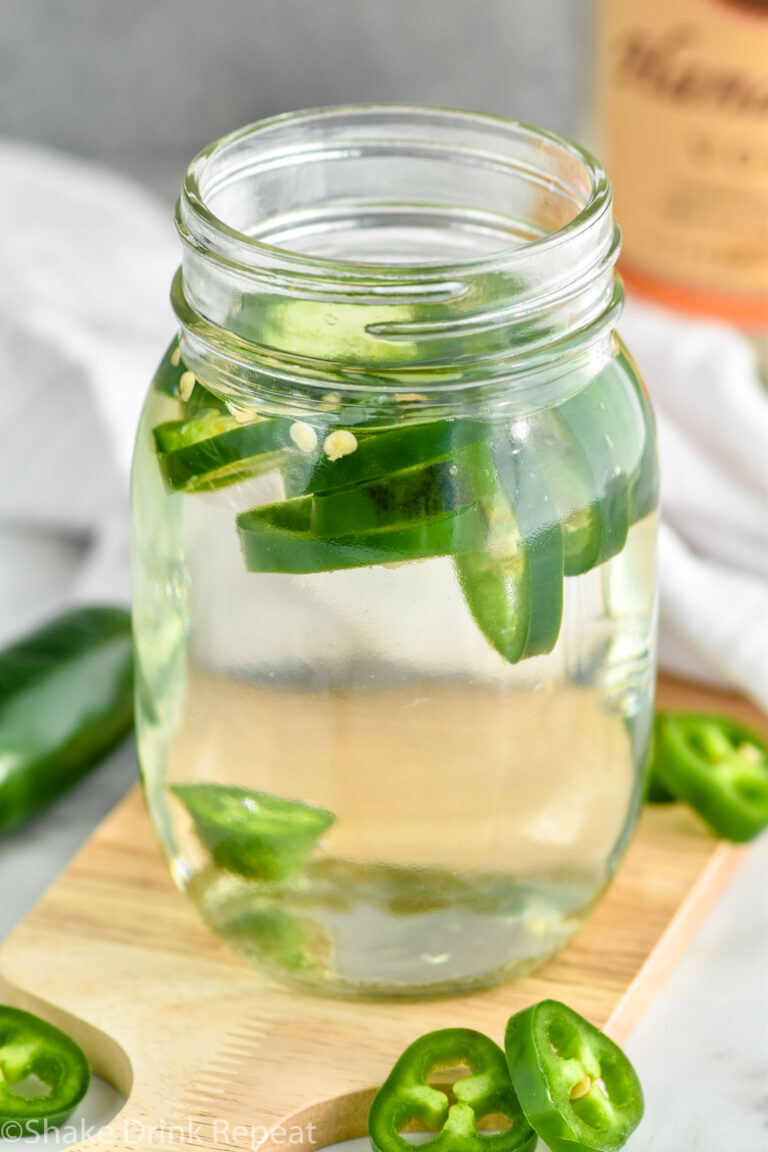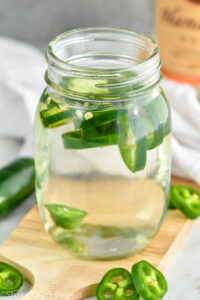 Jalapeno Infused Vodka
Jalapeño Infused Vodka is easy to make and makes for fun twists on classic cocktails.
Ingredients
1

jalapeno pepper

sliced

1

cup

vodka
Instructions
Combine the sliced jalapeño pepper and the vodka in a jar and shake.

Allow to sit for 8-24 hours. The longer it sits, the stronger it will get. For just a hint of jalapeno, let it sit for an hour.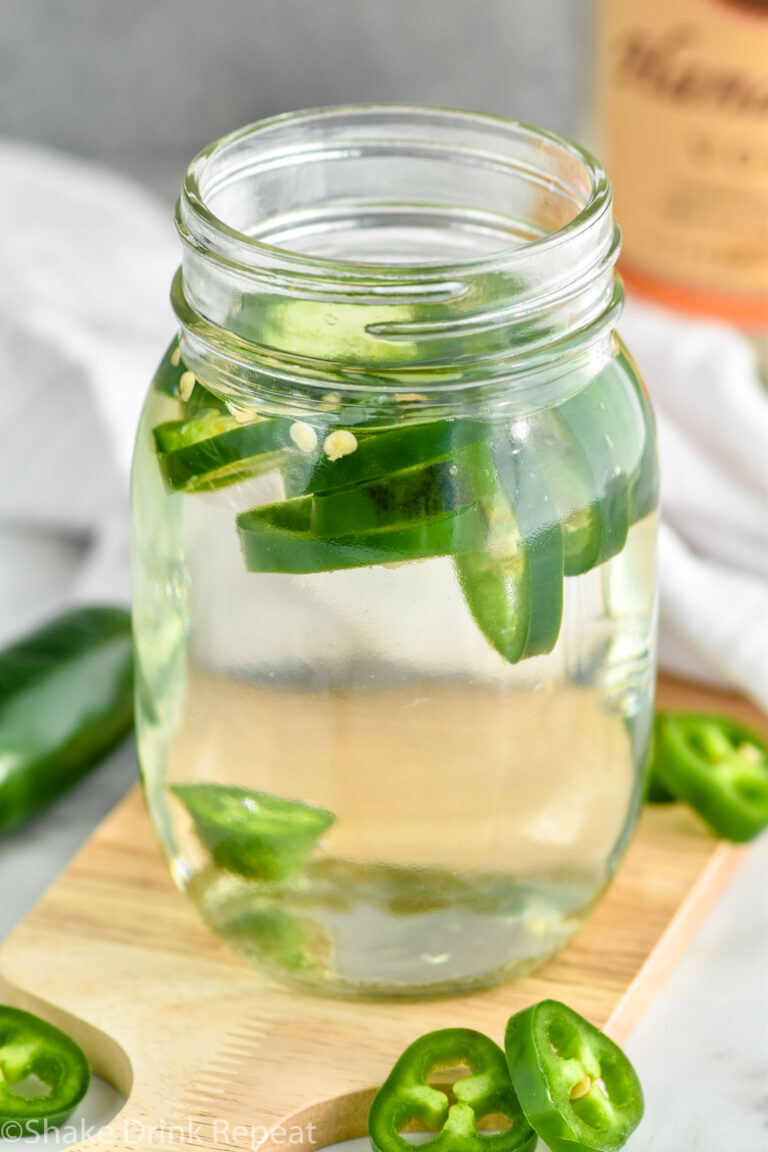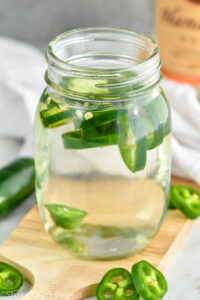 Did You Make This
Jalapeno Infused Vodka