This is the best Moscow Mule recipe! It is made with vodka, lime juice, and ginger beer and is served up in perfect copper Moscow Mule mugs. The classic Moscow Mule is the perfect easy cocktail for any occasion or season. It is the perfect combo of bubbly, crisp, and refreshing!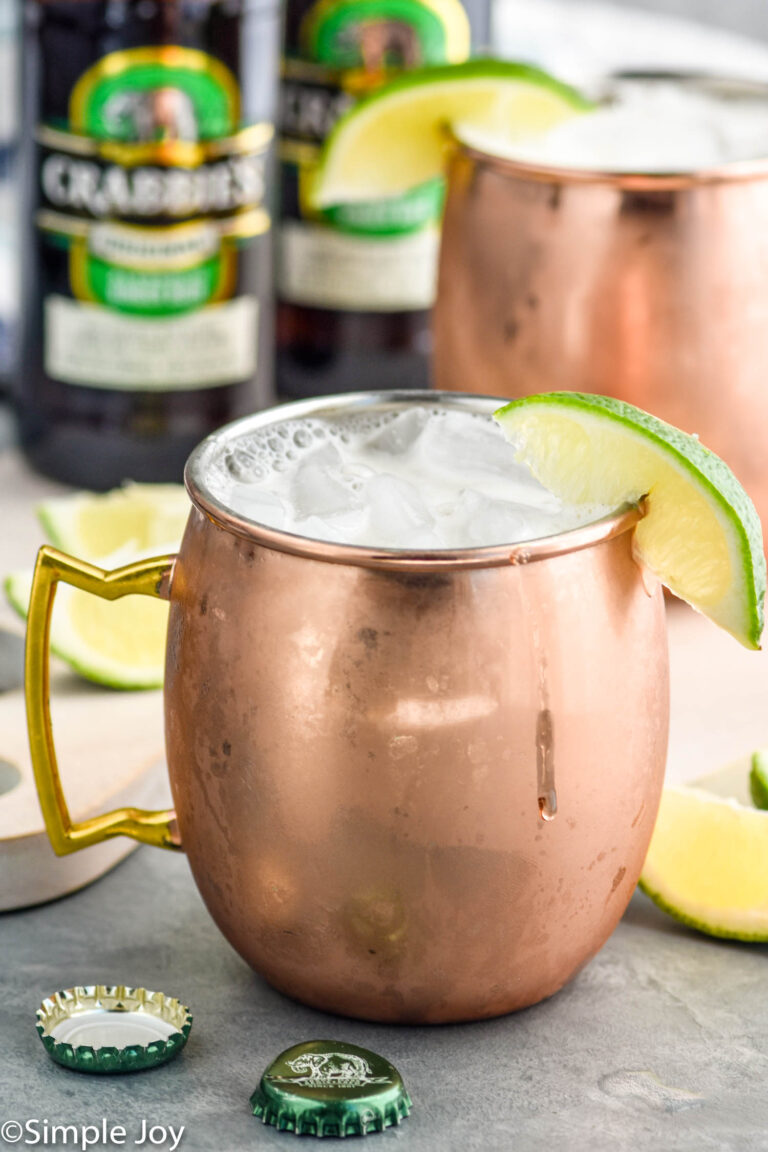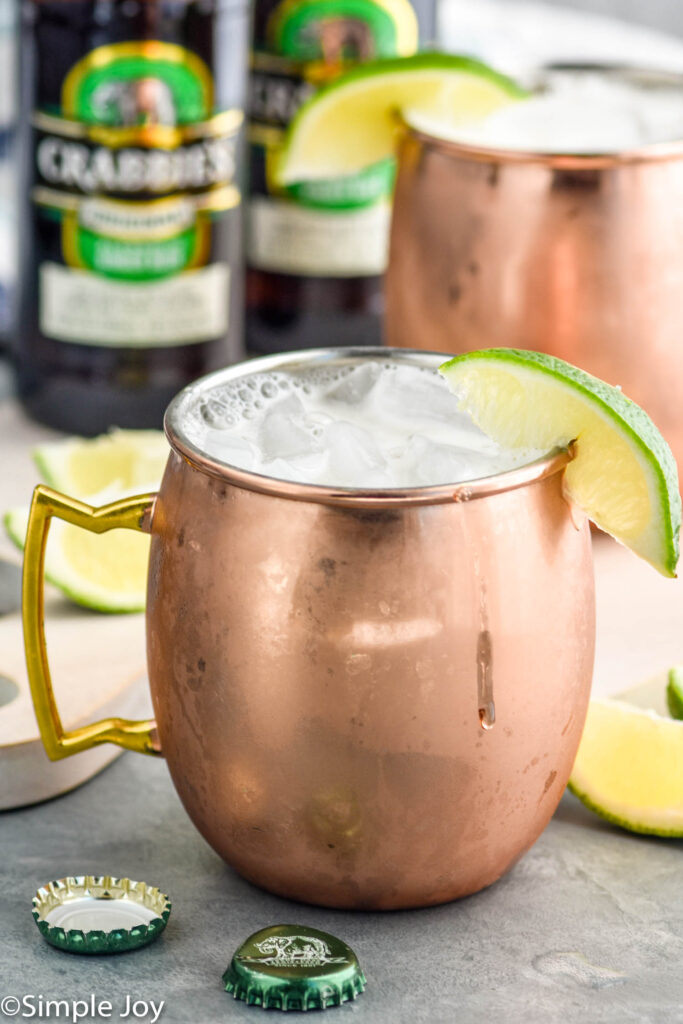 Moscow Mule cocktails date back to the 1940s and are such a popular drink right now. Probably because they are so easy to make (no cocktail shaker or fancy gadgets needed), they come in a fun copper mug and they are absolutely delicious! A vodka cocktail made with just a few simple ingredients, it is very easy to make fun twists on them, but you really can't beat the original Moscow Mule recipe.
If you are wondering about all things Moscow Mule, you've come to the right place!
Moscow Mule Ingredients
The ingredients for a classic Moscow Mule are so simple, making this cocktail an easy one to make up in minutes. Gather the following ingredients:
Vodka. See below for the best vodka for Moscow Mule.
Ginger Beer. A light yet spicy complement to the vodka and lime juice. This ingredient is what sets the cocktail apart, making it worth it to invest in a good quality option. See more on what is recommended and a sweeter swap below!
Limes. The juice is what is important here, but we prefer fresh limes and juice to store-bought to provide a fresher flavor and some color. You can certainly use bottled as that is sometimes easier to keep on hand.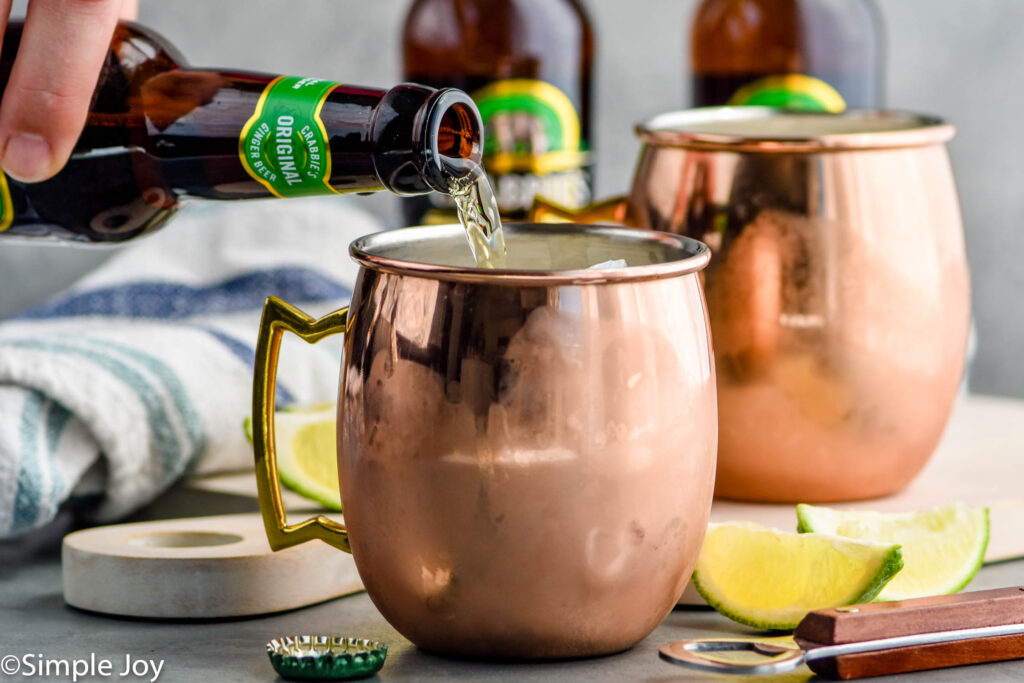 Best Vodka For Moscow Mule
Using a good quality vodka is important for this moscow mule recipe, including one that you enjoy the flavor of. Tito's is recommended, which provides good flavor without being a top shelf option.
The Best Ginger Beer For Moscow Mule
The best ginger beer for Moscow Mule can be debated forever. Here are our recommendations:
Crabbies, as you can see pictured here, but we also love Sprecher Hard Ginger Beer.
Swap ginger ale. If you can't find ginger beer or if you prefer a slightly sweeter drink that isn't quite as strong, you can replace the ginger beer with ginger ale. It won't be the original Moscow Mule, but it will be delicious.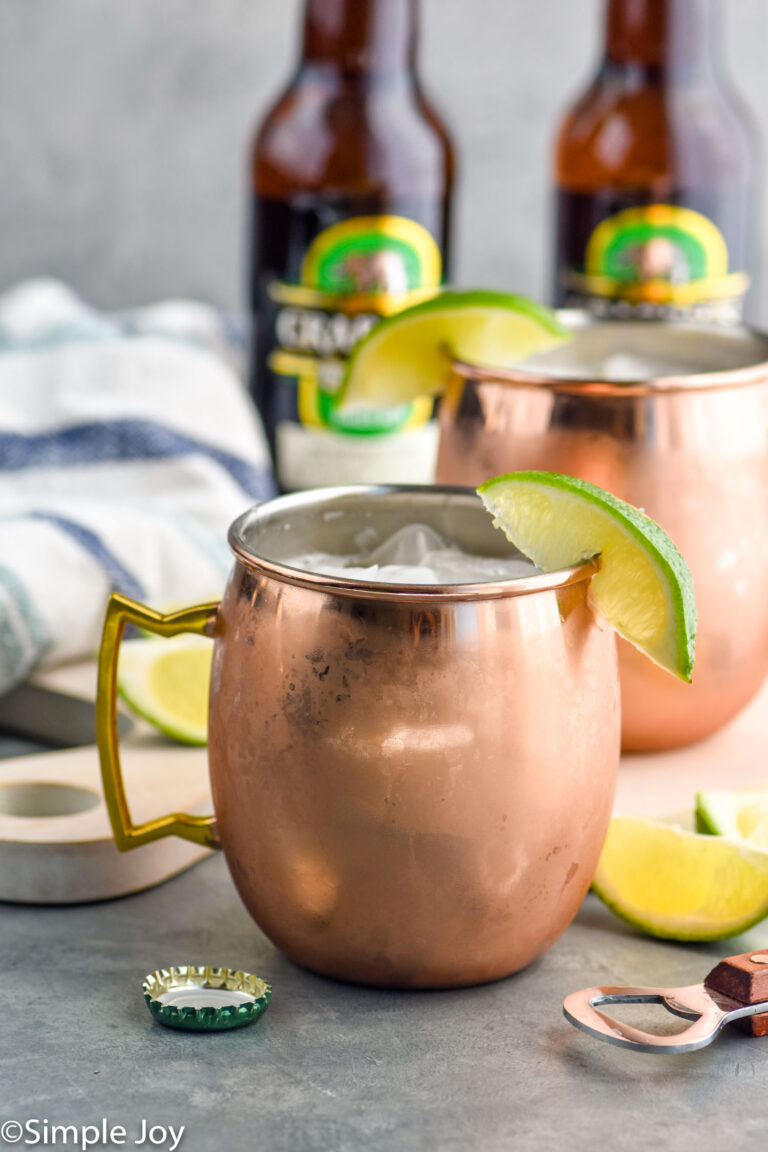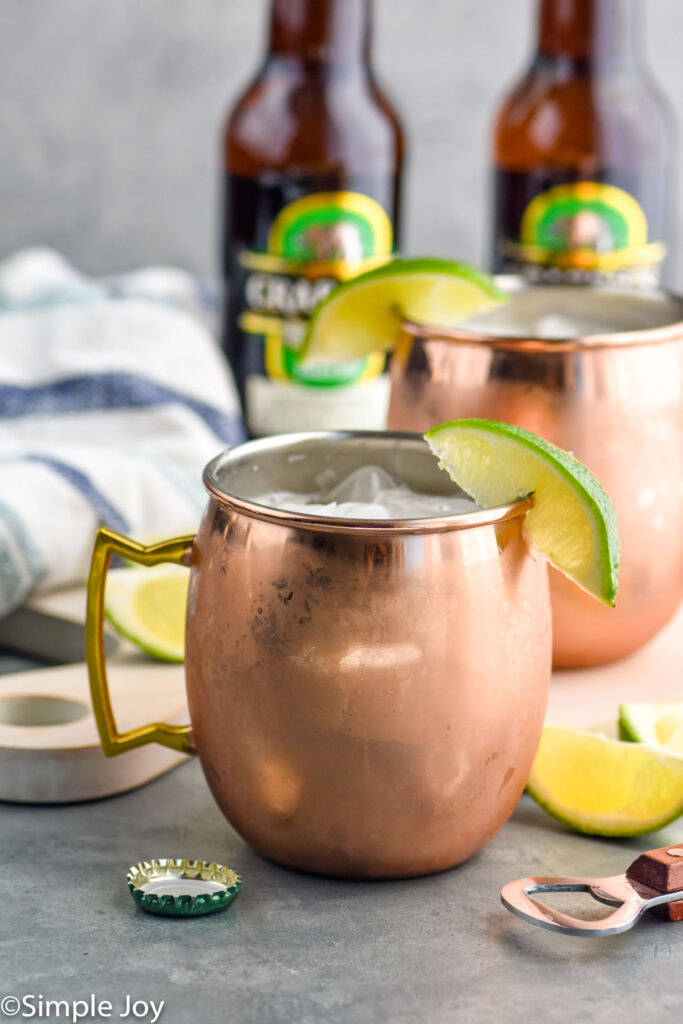 How to Make a Moscow Mule
Fill a copper mug with ice.
Add vodka, ginger beer, and lime juice.
Stir gently to combine, garnish, and enjoy.
Moscow Mule Mugs
Copper mugs are the most popular way to serve and enjoy a Moscow Mule, but if you don't have any, a glass tumbler will do just fine. The copper keeps the drink nice and cold, and it certainly tastes best ice cold. Serve your Moscow Mule with a few slices of lime and lots of ice. Enjoy the icy cold goodness it has to offer!
Moscow Mule Variations
While the original Moscow Mule, also known as a vodka buck, is a classic for a reason, there are a lot of fun twists on them that are also delicious. Here are a few!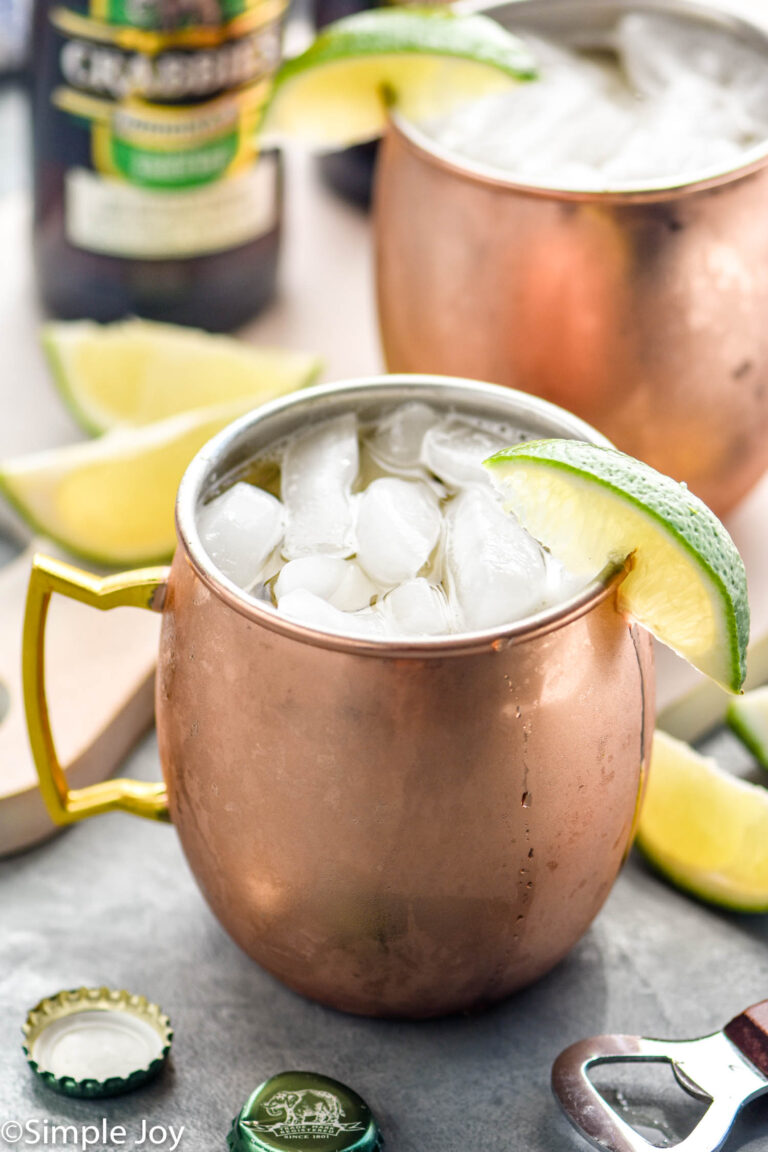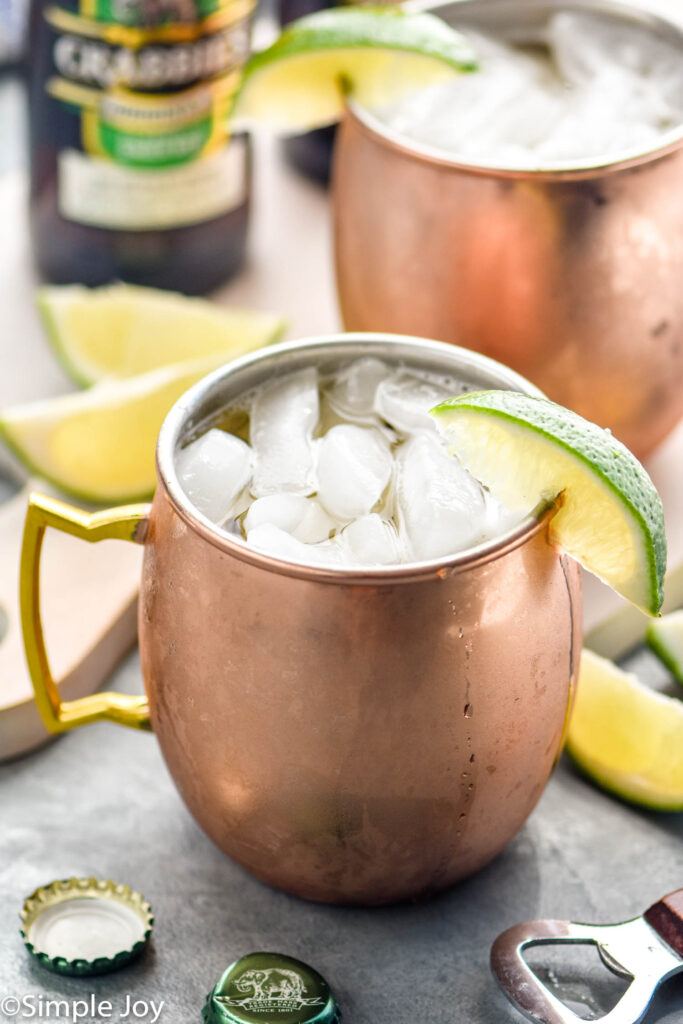 FAQ
Why does a Moscow Mule have to be in a copper cup?
The copper keeps the drink nice and cold and has become the signature way to serve a mule. If you don't have a copper mug, a Moscow Mule will be just as tasty in a glass tumbler.
What is the history of the Moscow Mule?
Though everyone thinks of the Moscow Mule as a drink that came from Russia, it was actually born in the United States.  It came together with three people in Hollywood looking to market three things: copper mugs, ginger beer, and vodka.
What alcohol is Moscow Mule made of?
The classic mule is made with vodka, but other variations have included tequila, gin, rum, and whiskey.
Is ginger beer alcoholic?
Originally ginger beer was made as an alcoholic drink. Despite the name, many commercial ginger beers nowadays are not fermented and therefore do not contain alcohol. Check the packaging of your ginger beer to know if it contains alcohol or not.
Other Refreshing Cocktails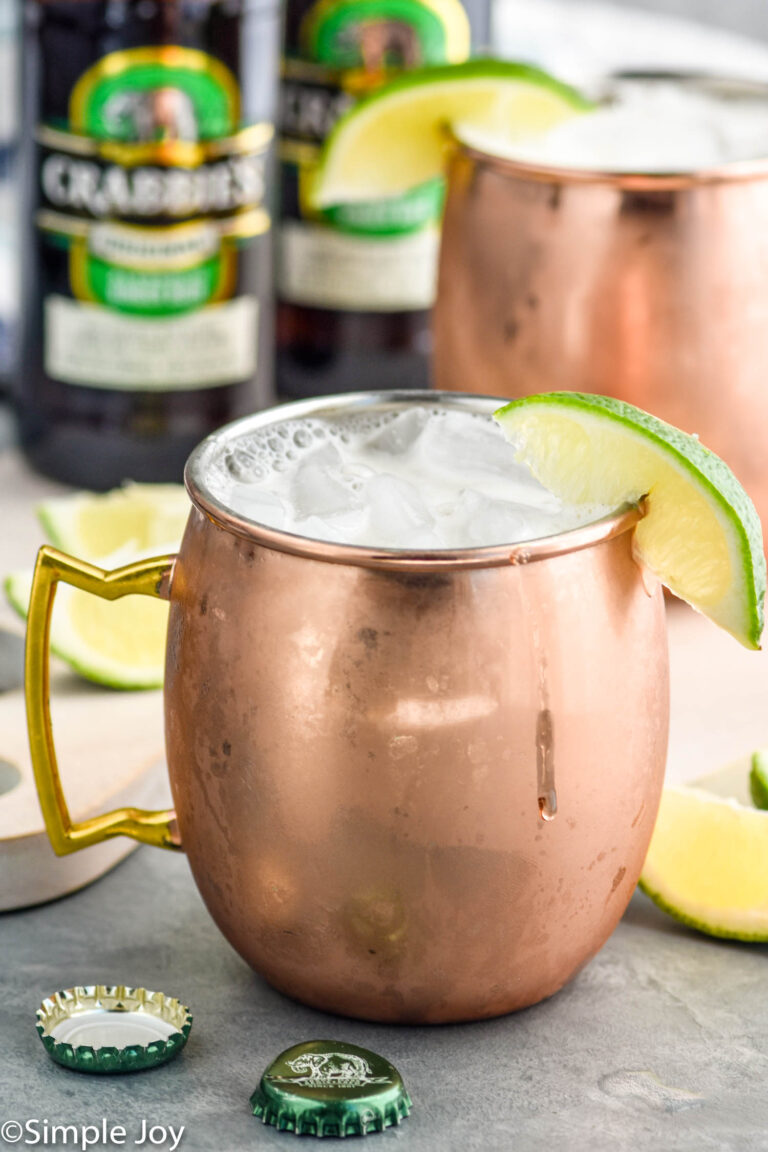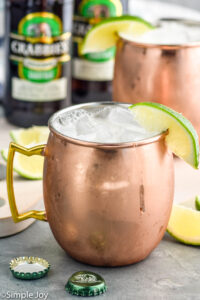 Moscow Mule Recipe
This is the best Moscow Mule Recipe! It is made with vodka and ginger beer, though you could replace the vodka with rum and and some mint for a fun twist! Served up in perfect copper Moscow Mule mugs.

Ingredients
1 1/2

oz

vodka

1/2

cup

ginger beer

see note

1/2

oz

lime juice

1

lime wedge for garnish

optional
Instructions
Pour the vodka, ginger beer and lime juice into a copper mug.
Notes
If you don't like the taste of ginger beer or it makes it too strong for you, you can substitute ginger ale.  It will change the taste a bit and it won't be the original, but it will still be delicious.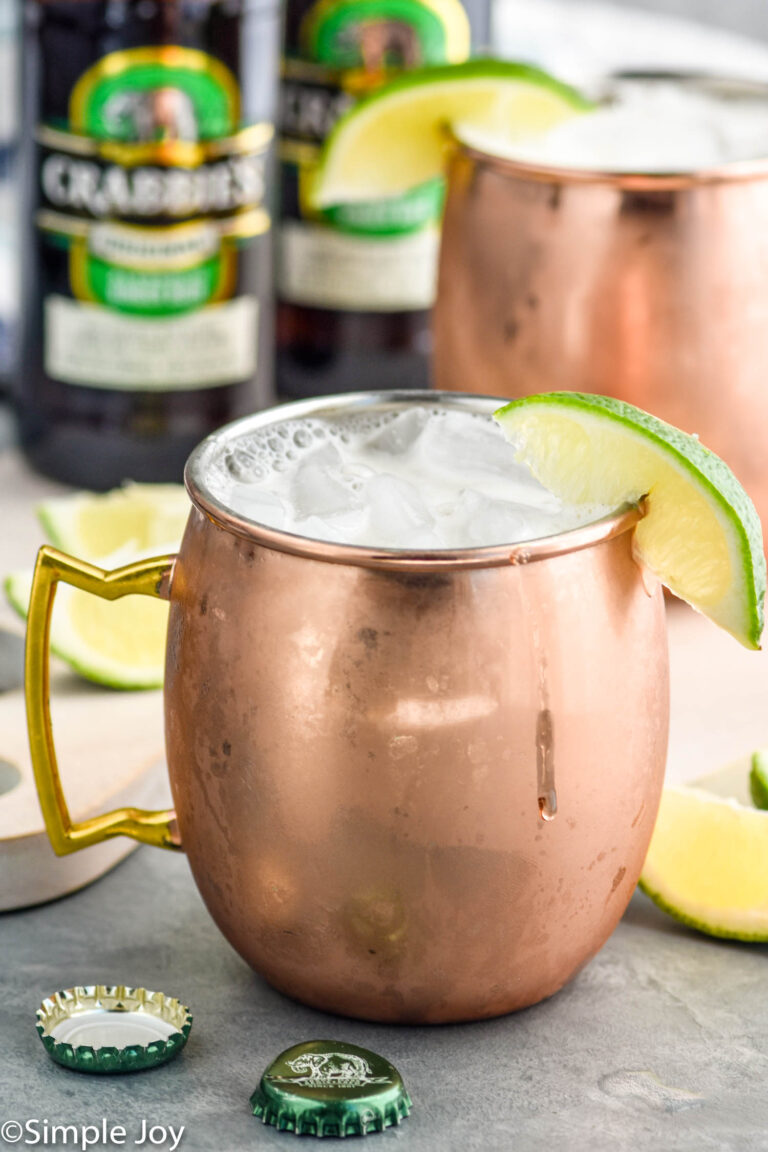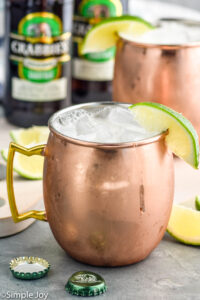 Did You Make This
Moscow Mule Recipe
This post contains affiliate links, if you click on them and then make a purchase, I make a small amount of money at no additional cost to you. Thank you in advance for supporting Shake. Drink. Repeat.
SaveSave
SaveSave