The Whiskey Sour is a silky and sophisticated cocktail that you'll crave again and again. It contains the three components of a classic sour cocktail–citrus, spirit, and sweetener. Egg white thickens the cocktail and makes it even more smooth and creamy. It's tart and delicious, sure to quench your thirst and satisfy with each sip.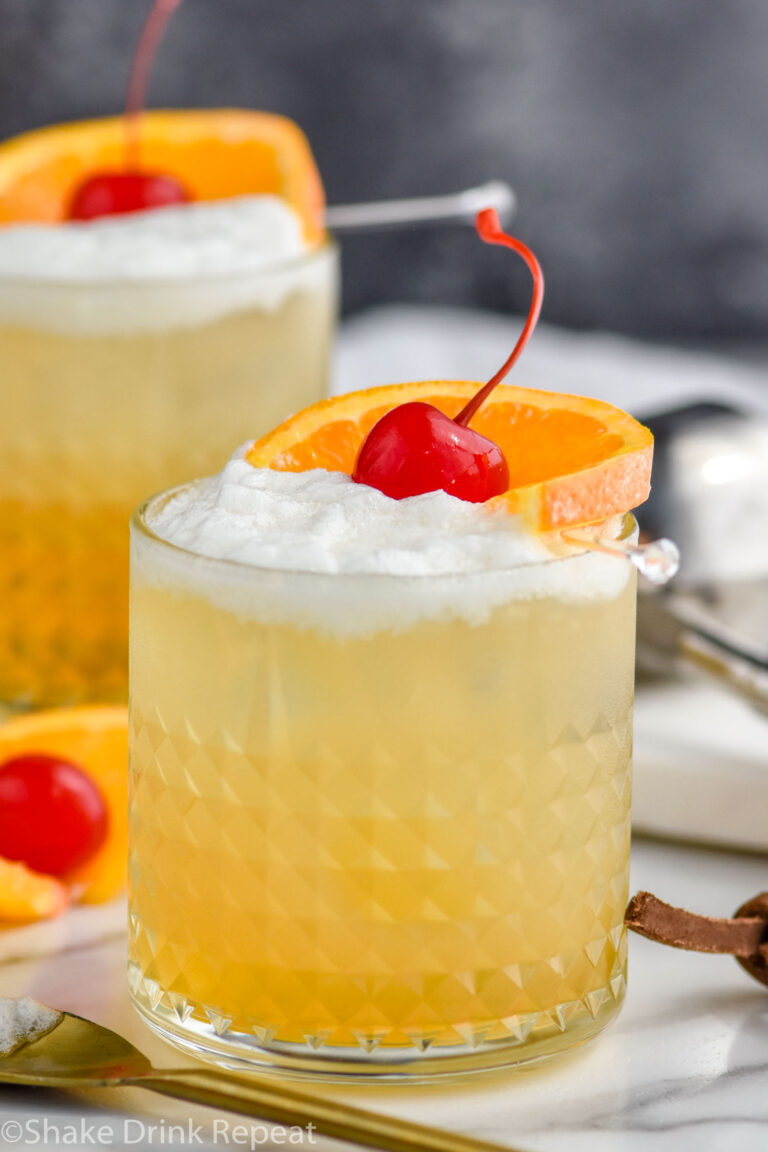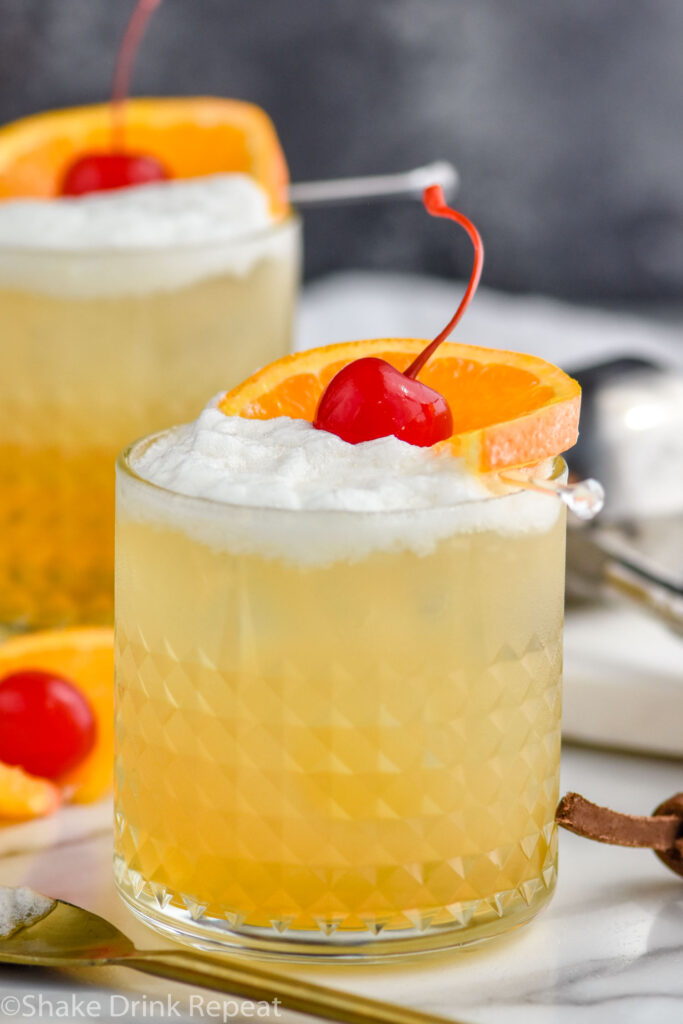 While some bartenders make their Whiskey Sour recipe without the egg white, we love the silky, rich texture it adds. Bright, tart lemon combines with warming whiskey and sweet simple syrup to create a cocktail that is balanced and sure to satisfy. The ingredients may be simple, but the flavor of this Whiskey Sour egg white, also known as a Boston Sour, is extraordinary!
Whiskey Sour Ingredients
The list of whiskey sour ingredients is quite simple, there are only four of them!
Whiskey. You'll want to use your favorite, good-quality whiskey. See below for which whiskey is best at each price point.
Lemon juice. Freshly squeezed is best to achieve the best quality cocktail. It gives off a gorgeous aroma and tastes much better than store-bought sour mixes. To make two cocktails, you will need the juice from approximately two lemons.
Simple Syrup. This homemade recipe is super easy to make and can be used in hundreds of cocktails. The flavor is worth it.
Egg whites. The foamy texture is so delectable in a whiskey sour egg white and yes, technically makes this drink a Boston Sour. They are also the secret ingredient in this delicious Gin Fizz cocktail.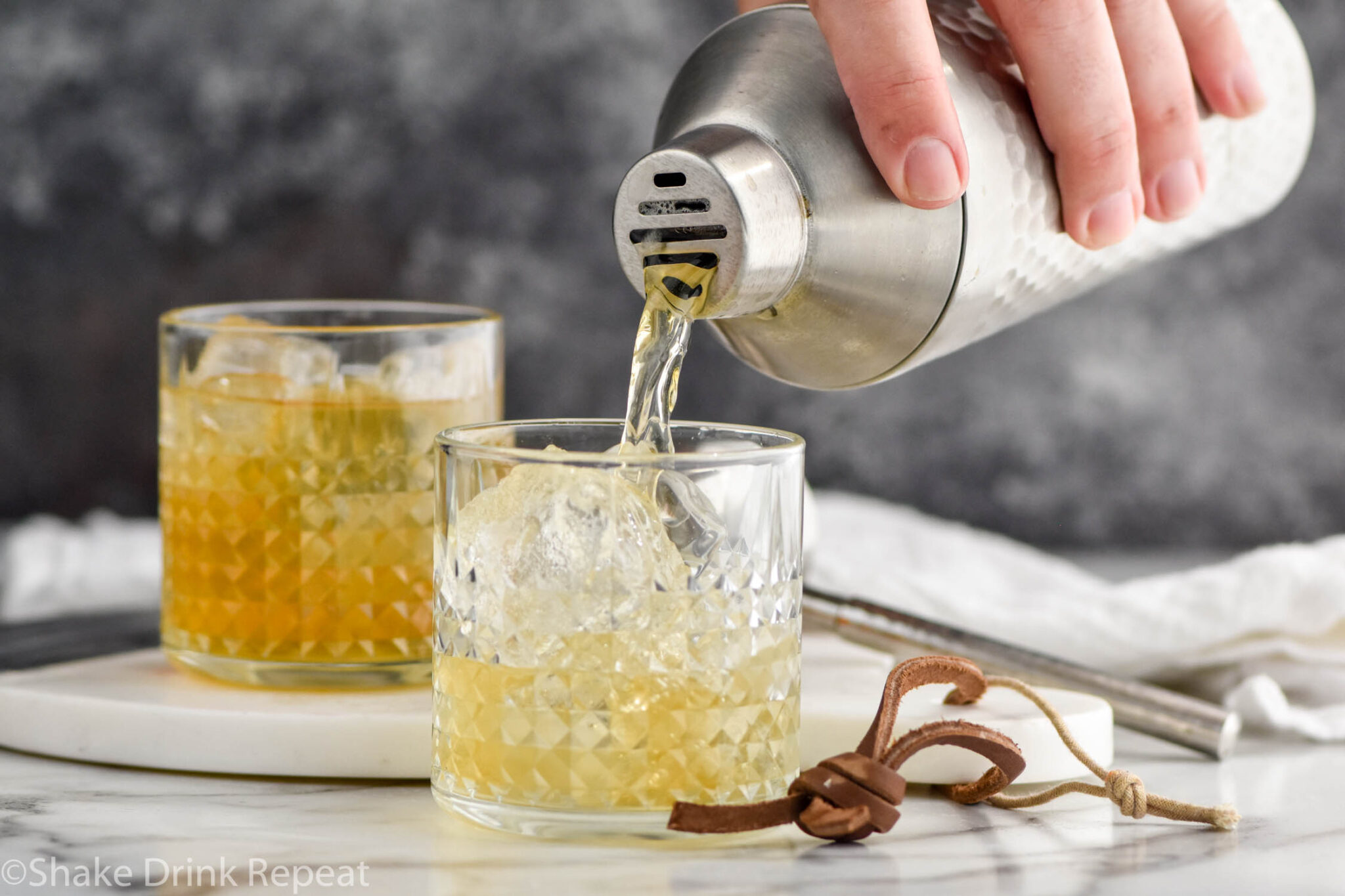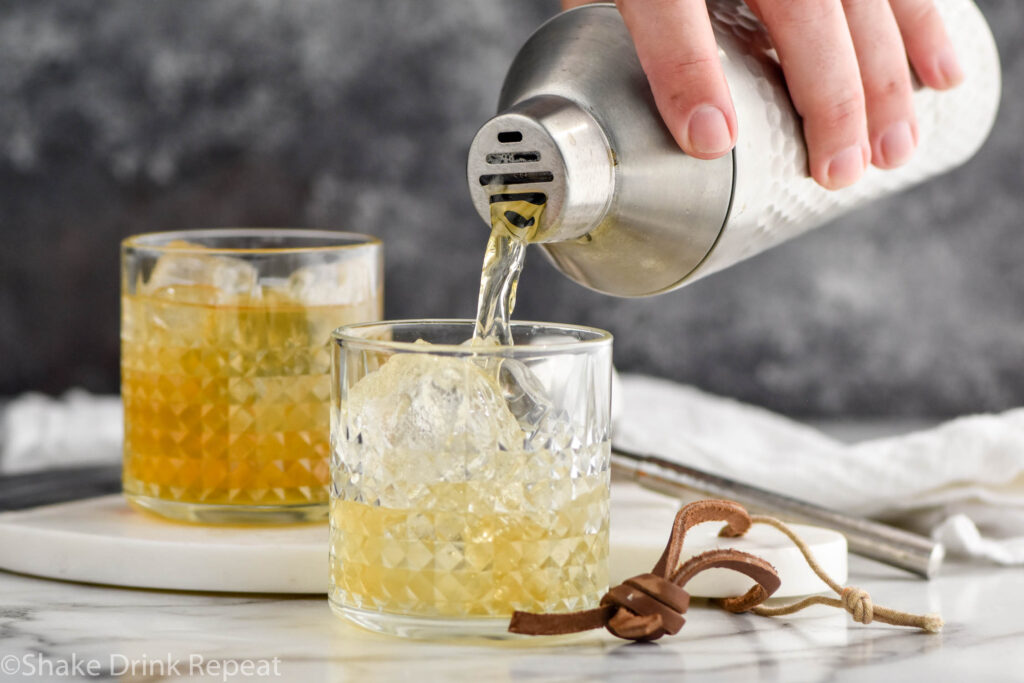 Best Whiskey for Whiskey Sour
Knob Creek is the best whiskey for this whiskey sour recipe. The key is to find a whiskey in your budget that you enjoy the flavor of.
How to Make a Whiskey Sour
To achieve the creamy froth with egg white you will need to do what is called a "dry shake," where you shake the ingredients without ice before shaking again with ice.
For two cocktails, combine your whiskey, lemon juice (the juice of about two lemons), and simple syrup, in a cocktail shaker.
Give it a good shake and pour into two cocktail classes over a large ice cube.
Strain the frothy mixture into two cocktail glasses with a big ice cube in each glass.
Next, add the egg whites to the cocktail shaker. Shake really well until foamy.
Spoon the foamy egg onto the cocktail so it floats on top.
Garnish with orange and cherries and enjoy!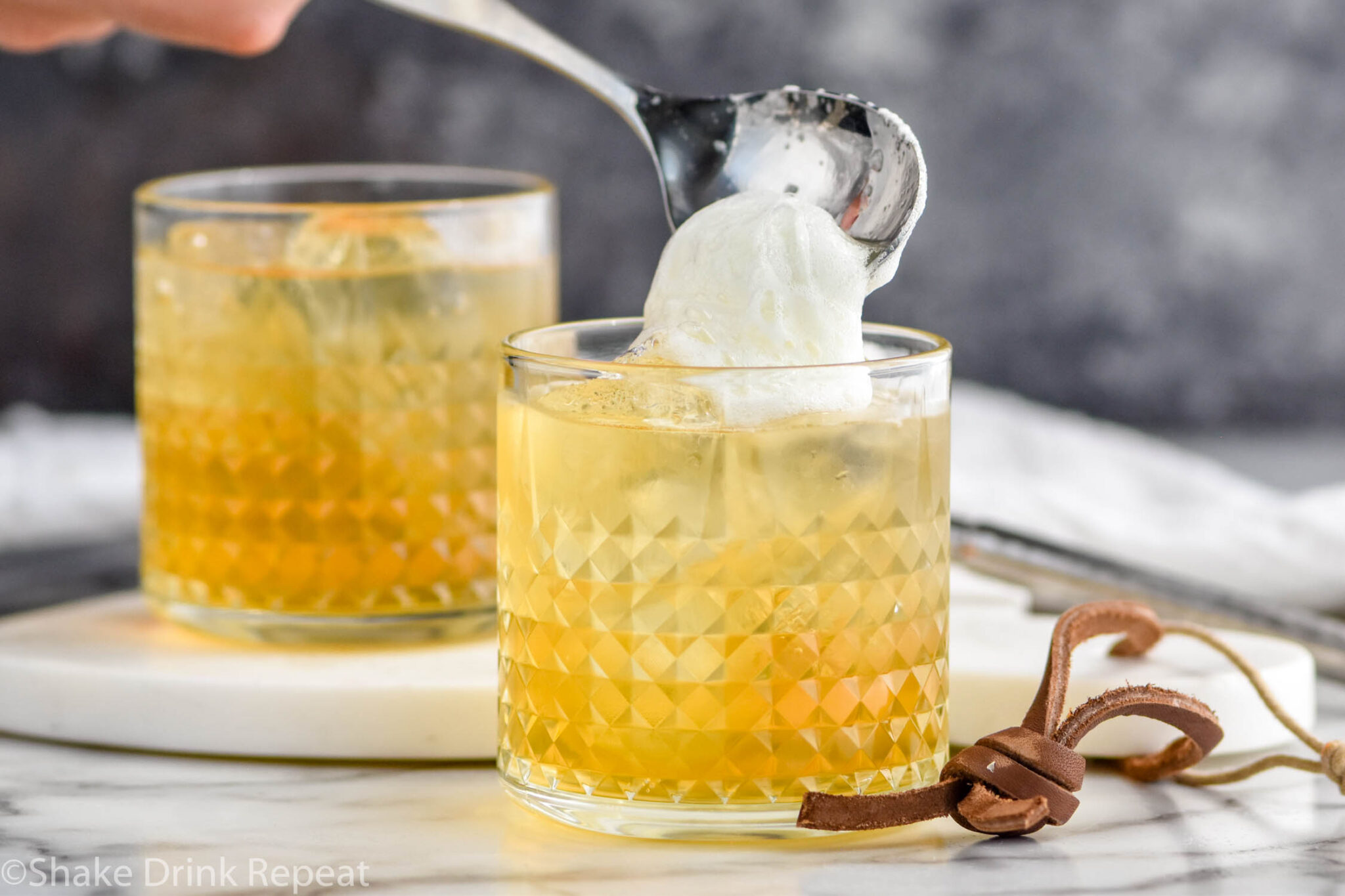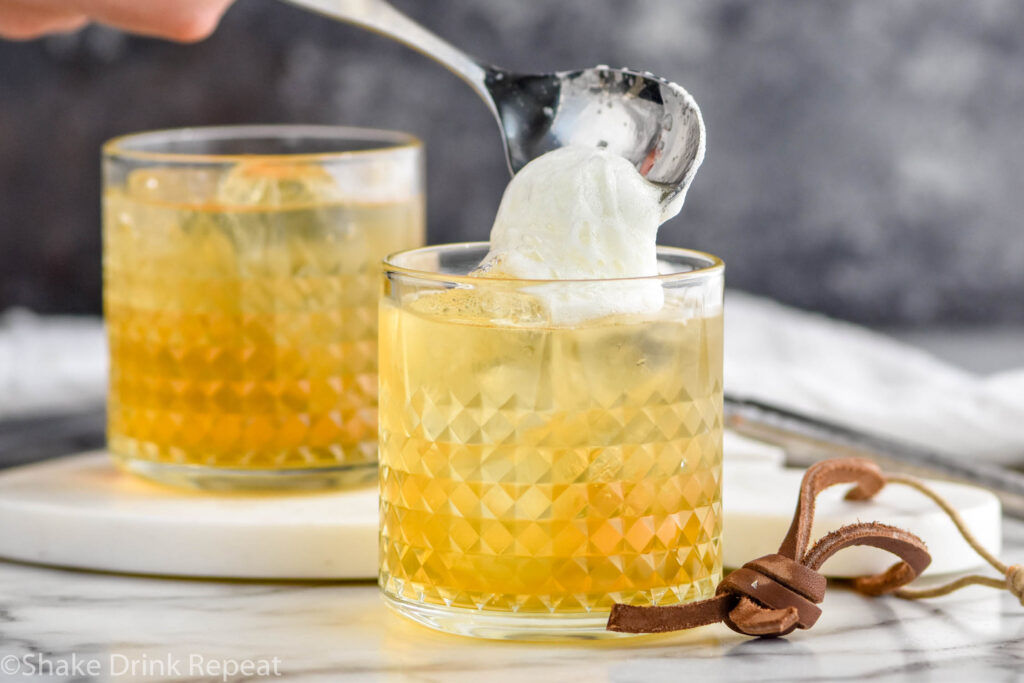 How to Serve a Whiskey Sour Cocktail
Serve your Boston Sour on the rocks in a rocks glass or glass tumbler. Garnish with a slice of orange or a cherry or both and you've got yourself the most impressive looking and tasting cocktail. Happy hour can't come soon enough!
FAQ
What makes a whiskey sour taste sour?
A sour cocktail is a family of cocktails that contains a spirit, citrus (lemon juice in this recipe), and a sweetener such as simple syrup. The freshly squeezed lemon juice is mainly responsible for the tartness.
Is it safe to drink a whiskey sour?
The risk with drinking a whiskey sour is in the raw egg white. While we love the frothy and silky texture it adds, use your best discretion as it can contain salmonella bacteria which can lead to food poisoning. The risk is low but do what you are comfortable with.
Can I skip the egg white?
Absolutely! Simply add your whiskey, lemon juice, and simple syrup to a cocktail shaker with ice, shake well, and strain into a glass with ice.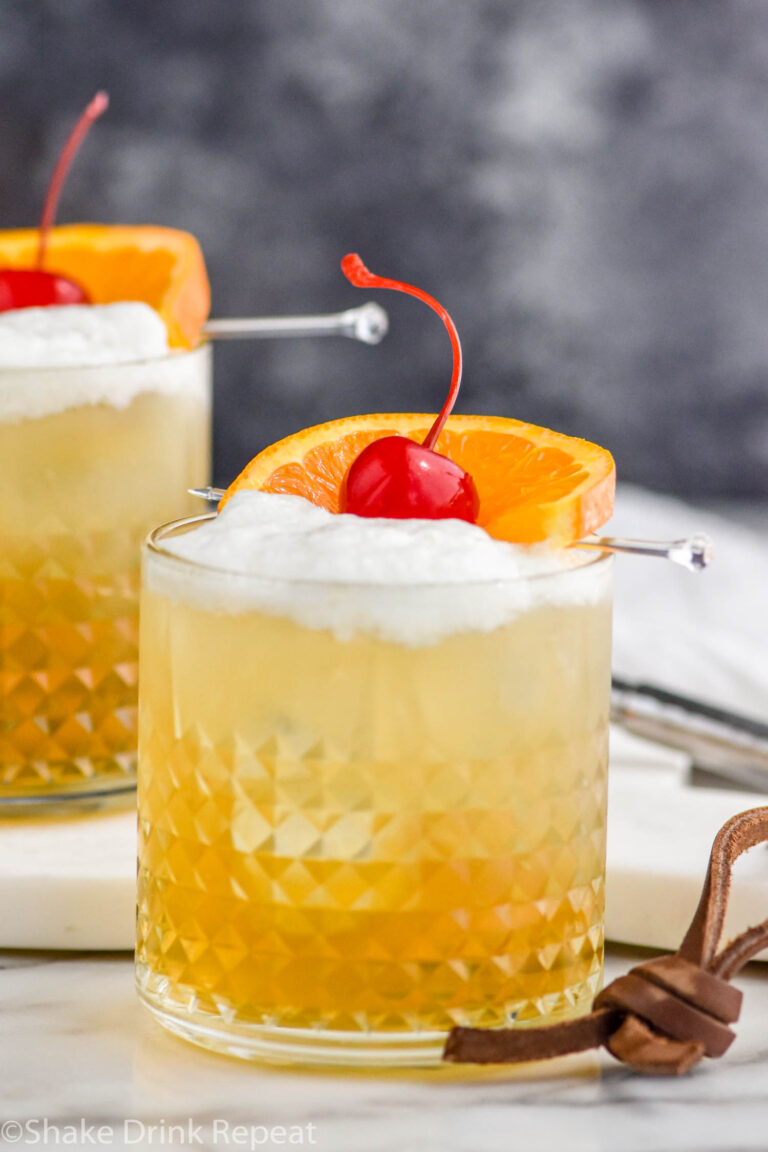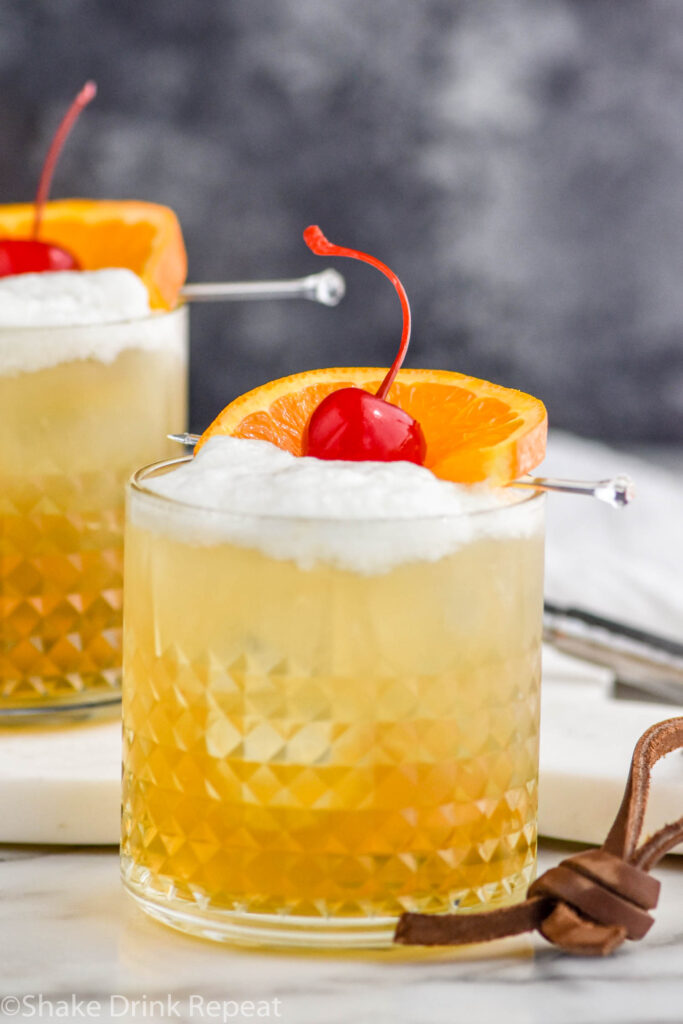 Other Sour Cocktail Recipes
When you make this Whiskey Sour recipe, please leave me a comment and let me know what you think!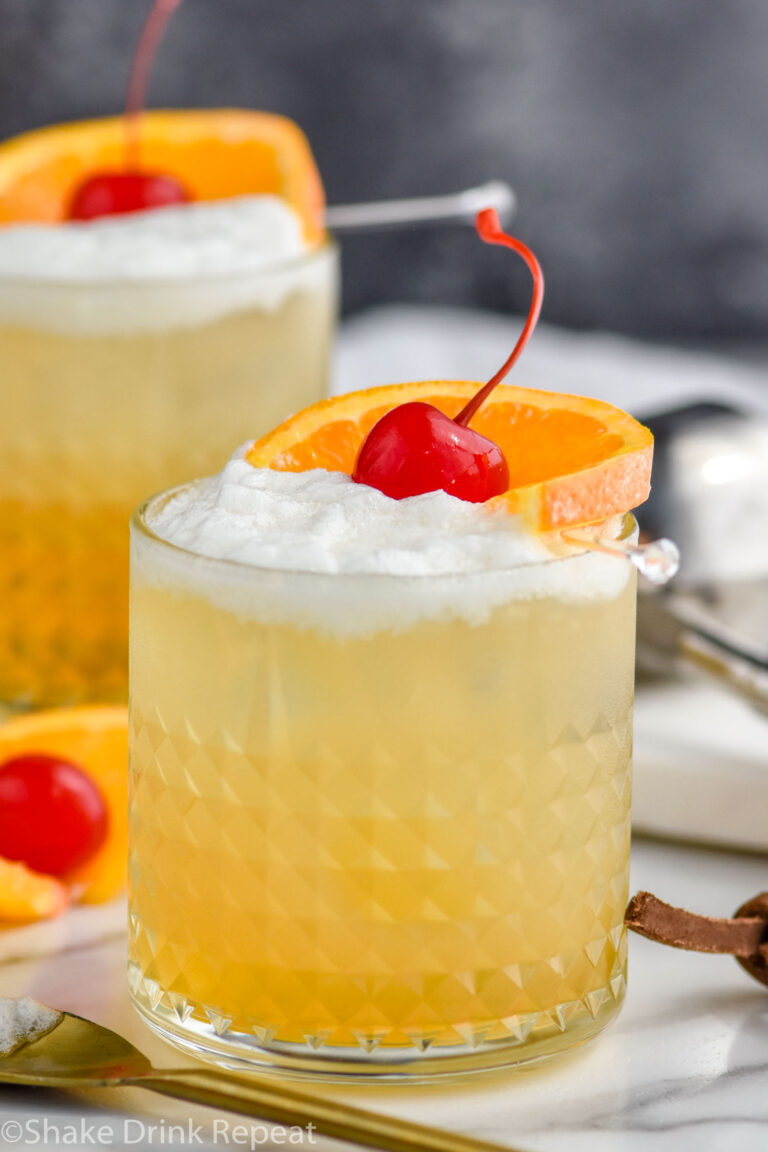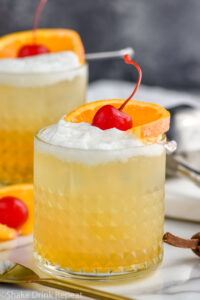 Whiskey Sour Recipe
This Whiskey Sour Recipe is the ultimate classic whiskey cocktail recipe! It's delicious, easy to put together, and needs to be a part of your life!
Ingredients
3

ounces

whiskey

2

ounces

lemon juice

1 1/2

ounces

simple syrup

2

egg whites
Instructions
Shake well and pour into two cocktail classes over a large ice cube.

Now add the egg whites to the cocktail shaker.  Shake until foamy. Shake really well.

Spoon the foamy egg onto the cocktail so it floats on top.

Garnish with orange and cherries.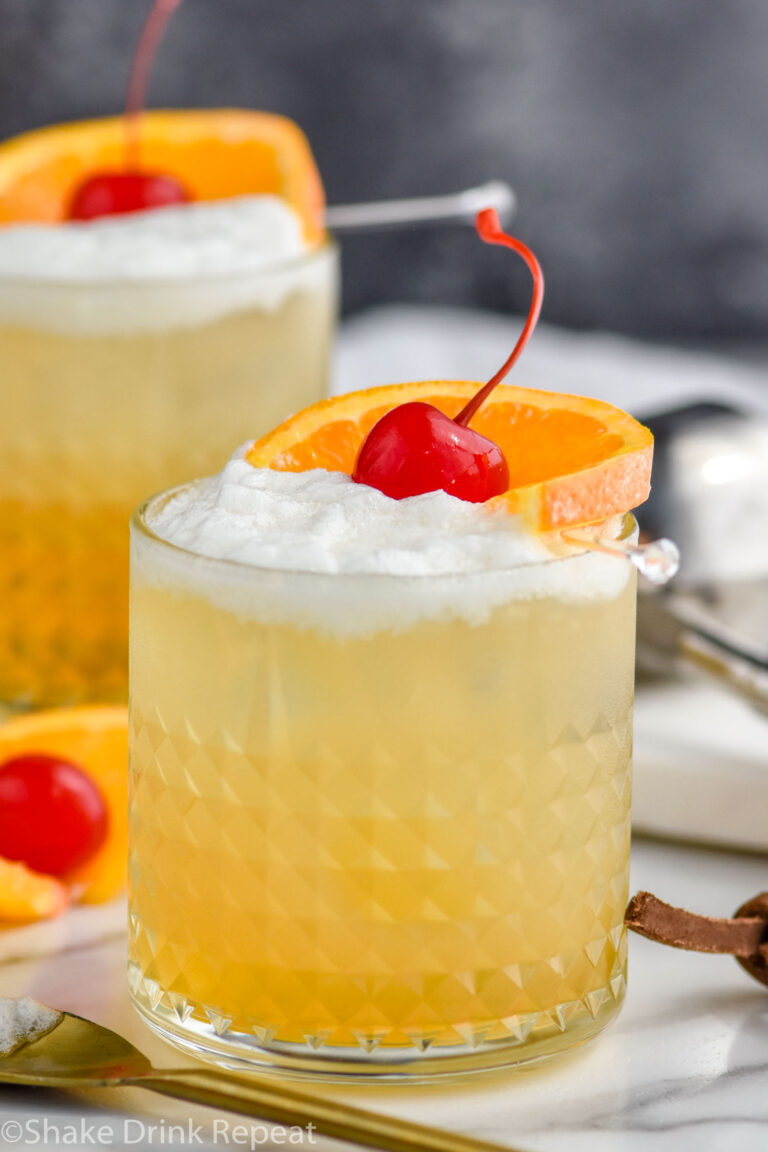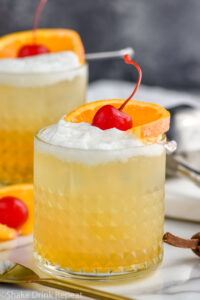 Did You Make This
Whiskey Sour Recipe