A frozen cocktail featuring pretty-in-pink rosé wine, this frose recipe will become your new favorite summertime drink. Fruity and refreshing, the icy goodness of this frose features rosé wine, strawberries, and vodka. You will be sipping on these adult slushies all summer long.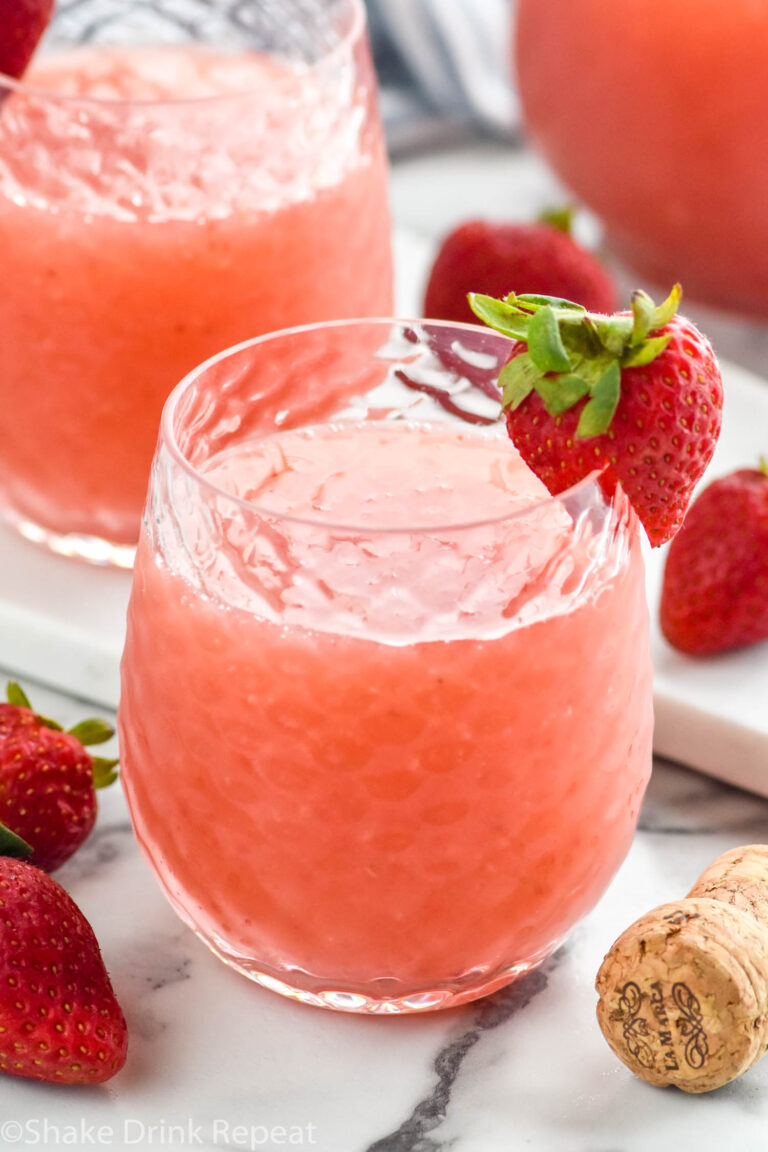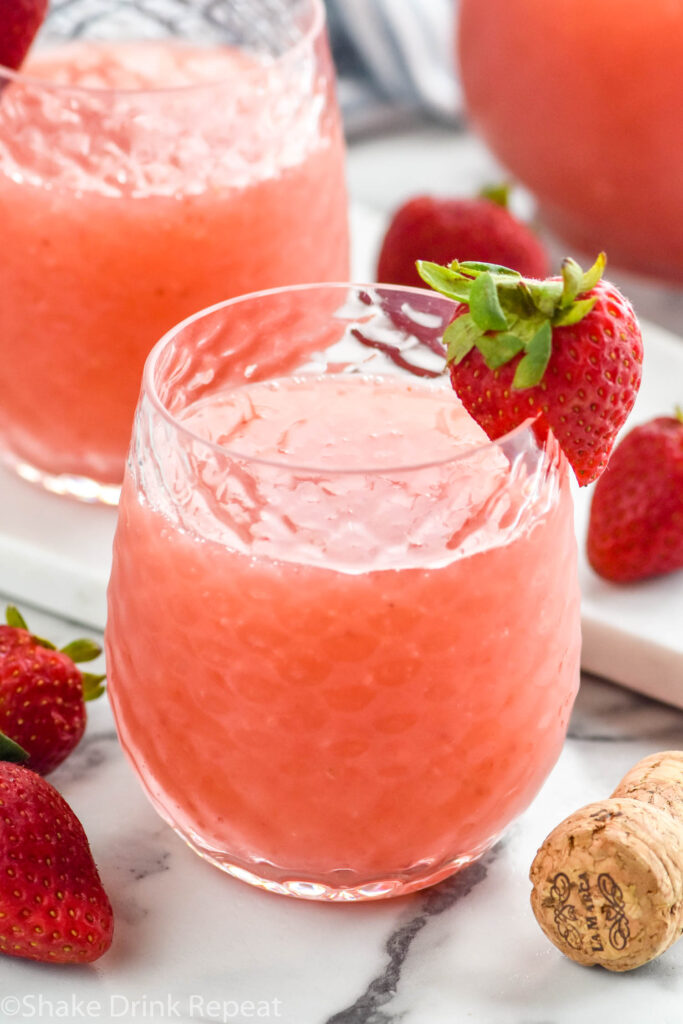 The key to taking your favorite pink wine to the next level? Blending it with strawberries and adding citrus vodka! Perfect for a relaxing evening on the patio or any summer gathering. The best frose recipe is the perfect blend of wine and vodka with just enough simple syrup and fruit to sweeten it up a bit. No need for a fancy frose machine, or even a top-of-the-line slush maker. This four-ingredient recipe whips up right in your regular blender and stores nicely in the freezer. If you love Rose wine (have you tried my Rose Sangria?) this is the perfect summertime not-too-sweet treat.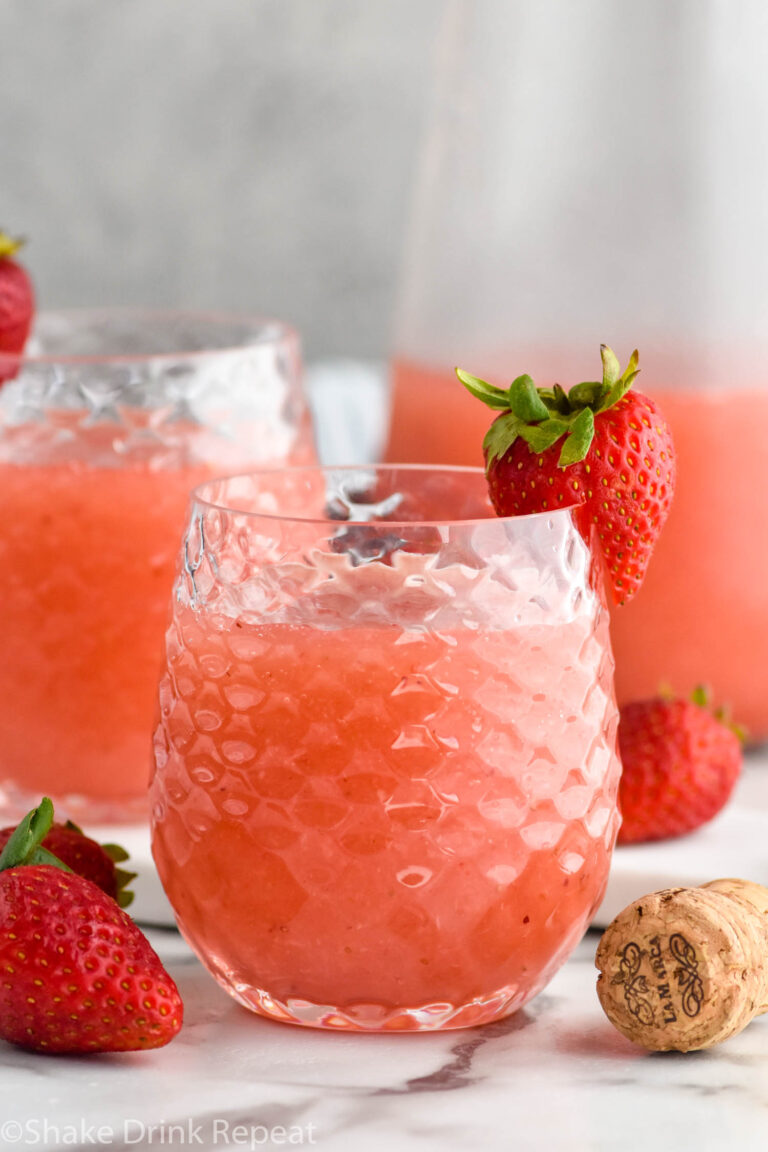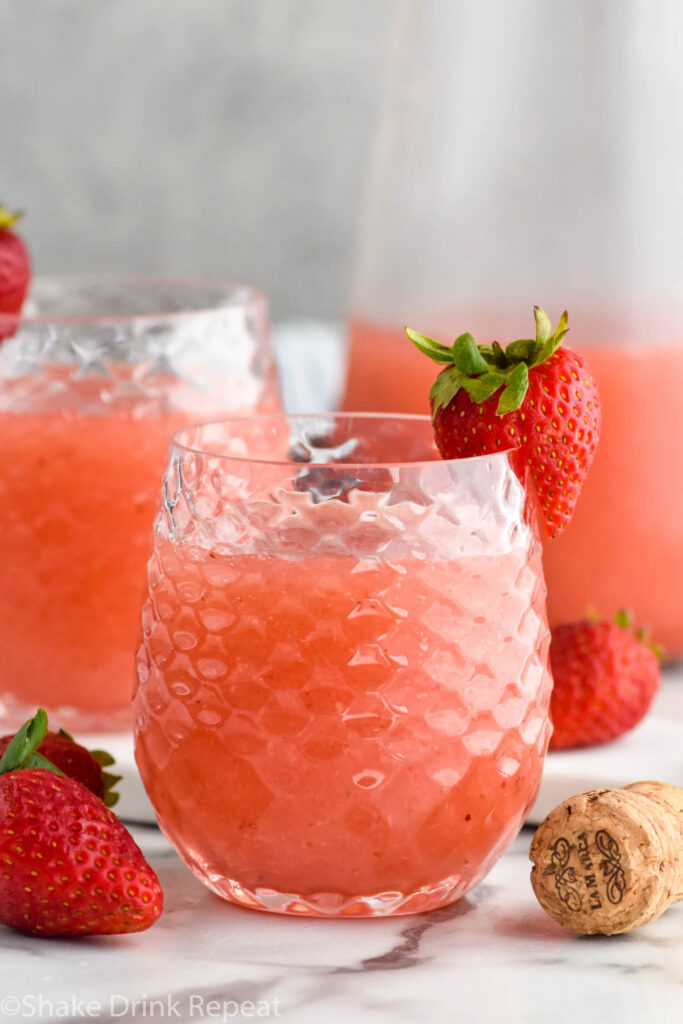 Frose Recipe Ingredients
First, grab a bottle of beautiful Rose wine. The darker the color the better for this recipe, as the wine tends to lose flavor as it freezes. A paler wine will lose flavor faster.
Next, you'll need a tangy citrus vodka. It balances out the richness of the wine and gives the drink just the right kick.
Then, make a batch of my super easy Simple Syrup. You can use it in a million different recipes.
A handful of frozen strawberries rounds out this quick frose recipe. Not super sweet, it's perfect to sip all afternoon long. If you prefer a sweeter cocktail, try this Boozy Strawberry Milkshake Recipe, also made with frozen strawberries.
How to Make Simple Syrup
Simple to make and the perfect addition to hundreds of recipes, this is a staple for any bar.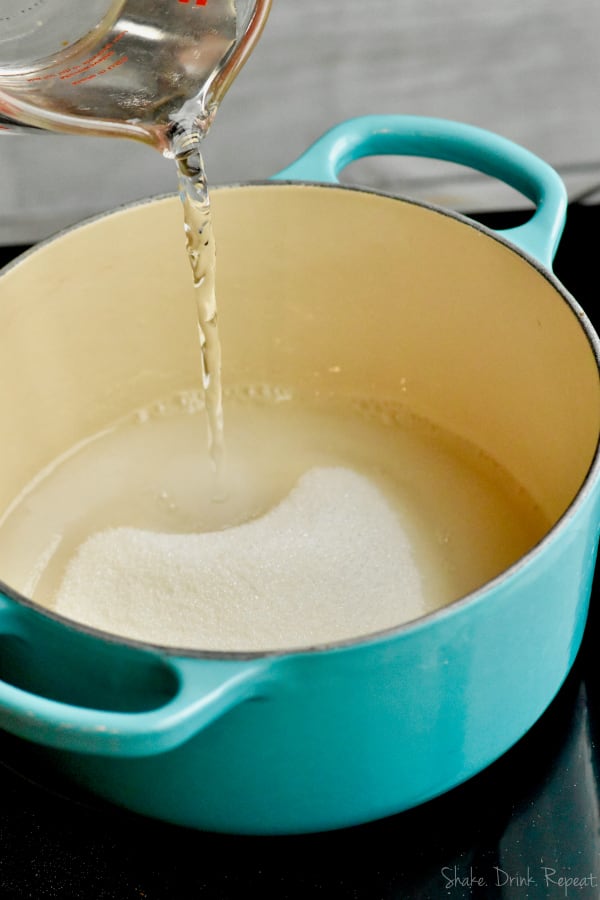 How to Make Frose
Combine a bottle of rose, a cup of citrus vodka, three cups frozen strawberries and half a cup of simple syrup in a blender. The ingredients will mix together beautifully.
Next, pour into a freezer-safe container. Store overnight (or at least a few hours) in the freezer.
See below for how to serve your Frose.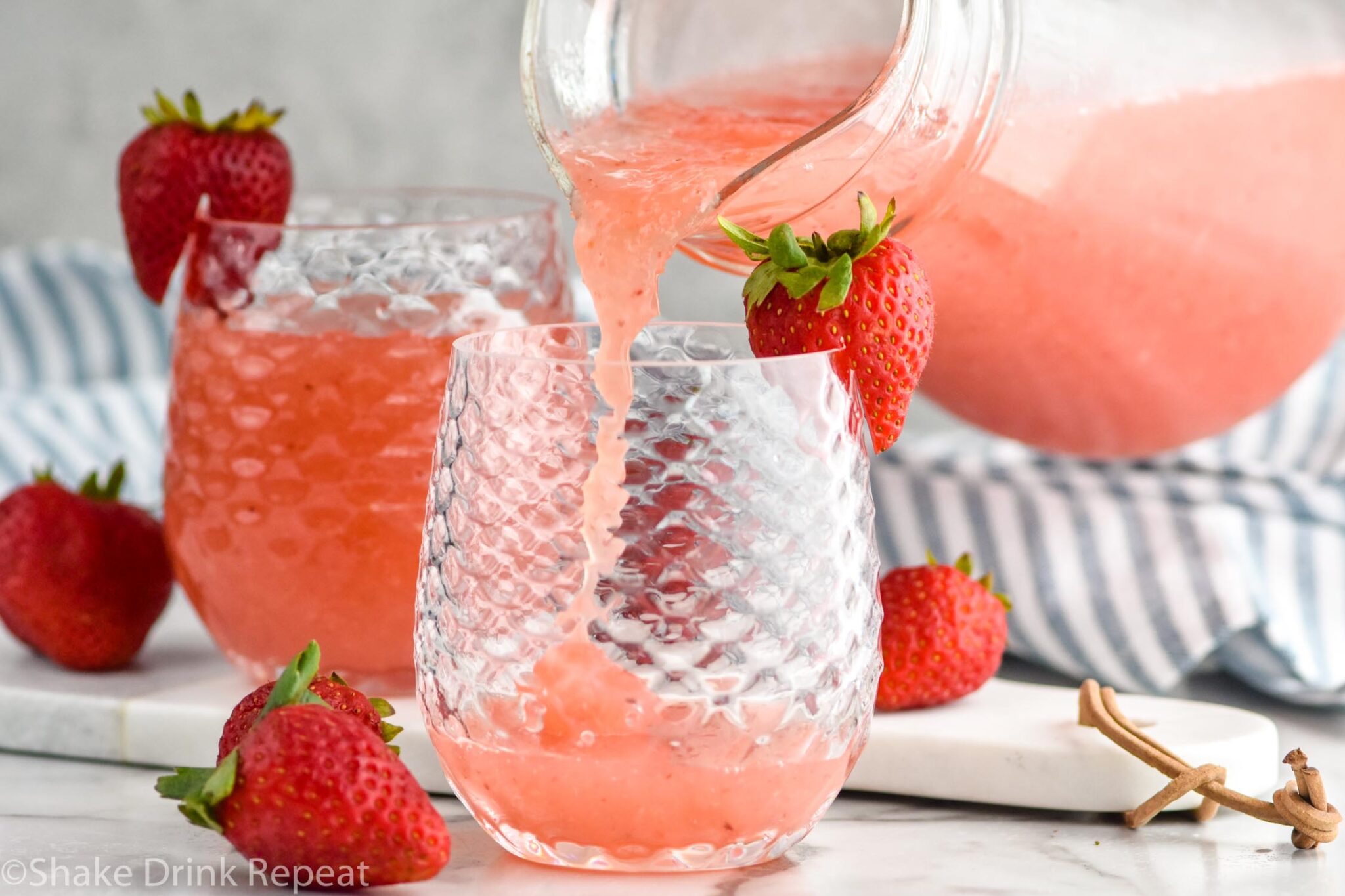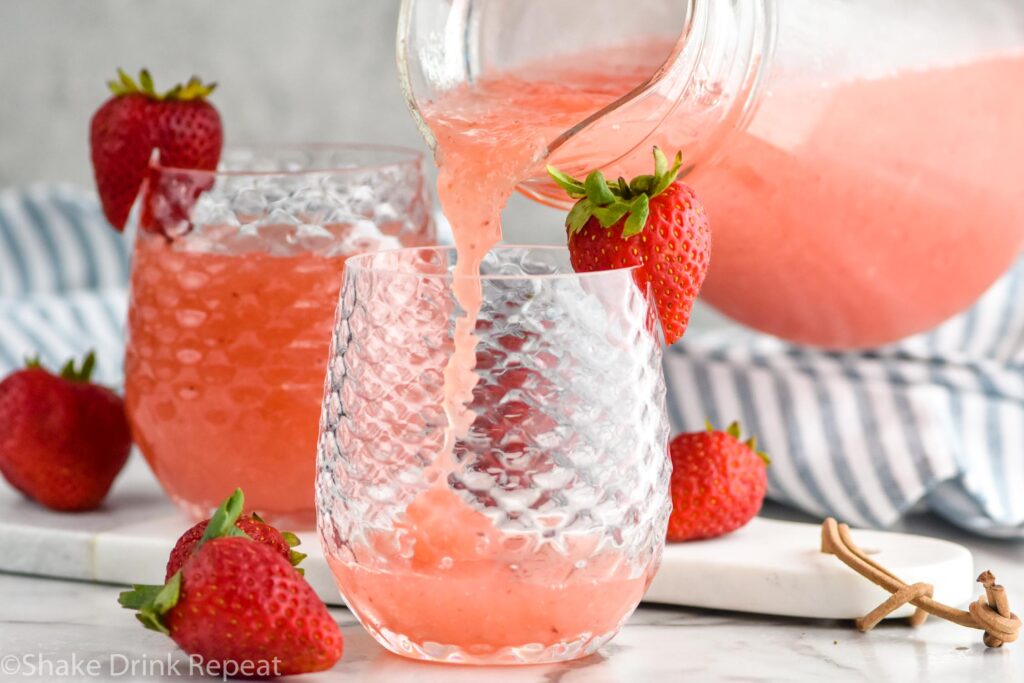 Fresh vs Frozen Strawberries
The recipe calls for frozen strawberries because they add to the frozen element of the Frose. If you have fresh strawberries on hand that you would like to use, simply add a cup or two of ice to the blender to make the drink frozen.
How to Serve
After removing from the freezer, allow the frose to thaw for about 20 minutes. Then either scoop out the delicious mixture into frosted glasses, or for a slushier drink, return the mixture to the blender for another quick pulse and then serve. Garnish with a fresh strawberry if desired.
Also try this Frozen Lemonade for a refreshing citrus cocktail!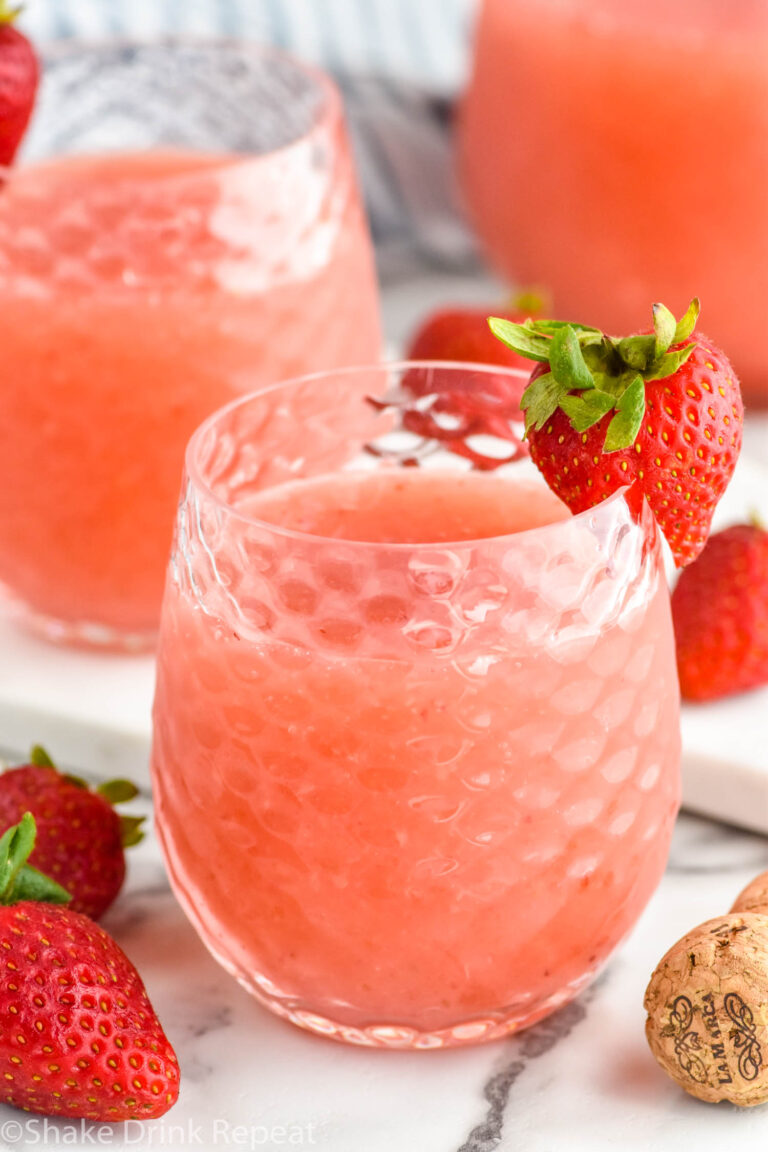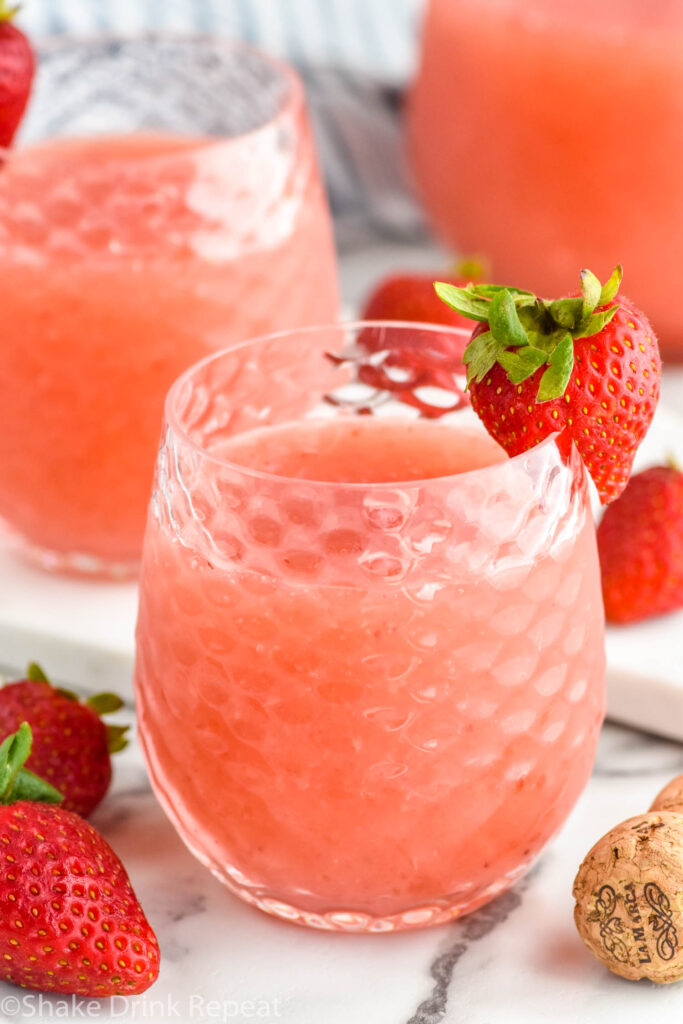 FAQ
Is rosé a sweet or dry wine?
They vary in sweetness depending on the region of grapes used and how old or new the variety is. Older wines will be more dry while newer varieties will be sweeter.
What is frose?
Essentially a frozen and blended rose wine. The added twist of vodka and fruit is an added flavor bonus.
How long does it take to freeze rosé?
About 6 hours, depending on your freezer.
Other Fruity Cocktails
Did you try this recipe or any of my others? Leave a comment and tell me how it was!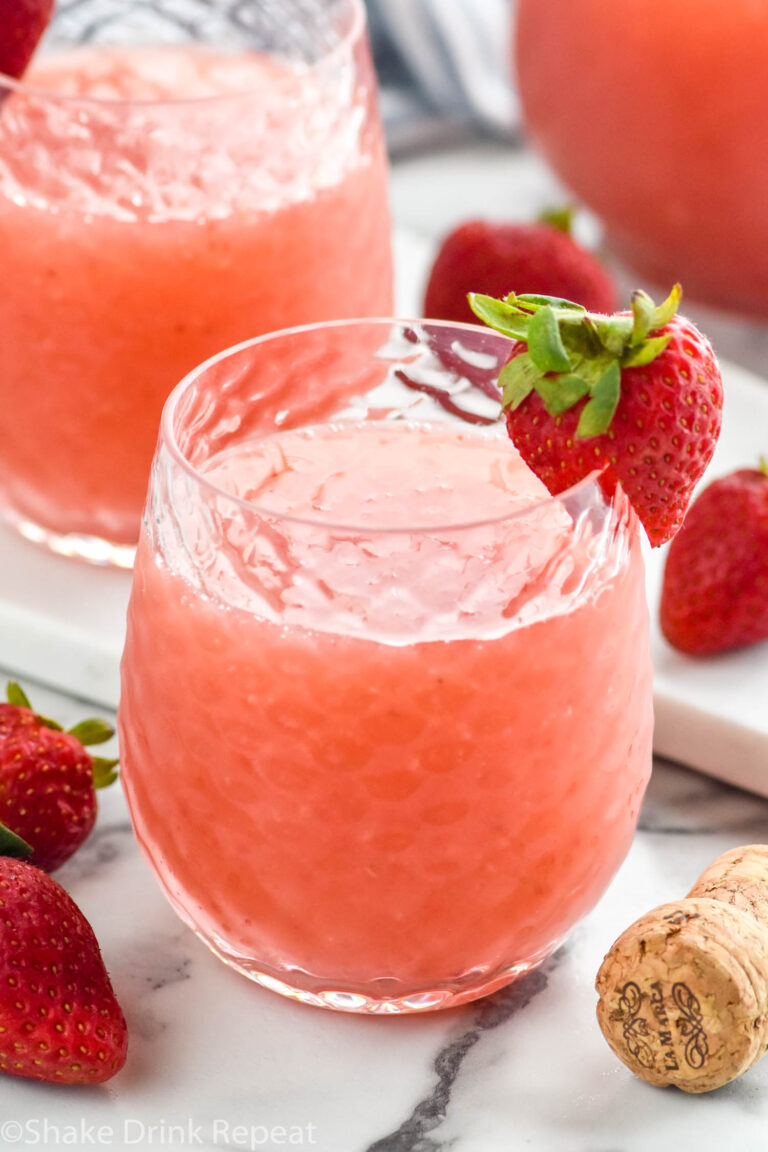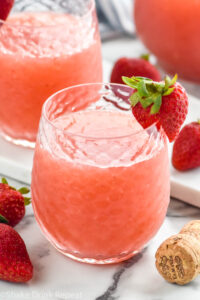 Frose
If you are a lover of Rose, you have to try this Strawberry Frose Recipe to make all your summer cocktail dreams come true! Only four ingredients and so easy to make!
Ingredients
1

750 ml

bottle of Rose

1

cup

citrus vodka

3

cups

frozen strawberries

1/2

cup

simple syrup
Instructions
Combine all ingredients in a blender and blend to combine.

Pour into a freezer safe container. Freeze overnight (or a few hours for just a slushy drink).

Take out of the freezer. Allow to sit for 20 minutes. Either scoop into glasses or return to the blender and then pour into glasses.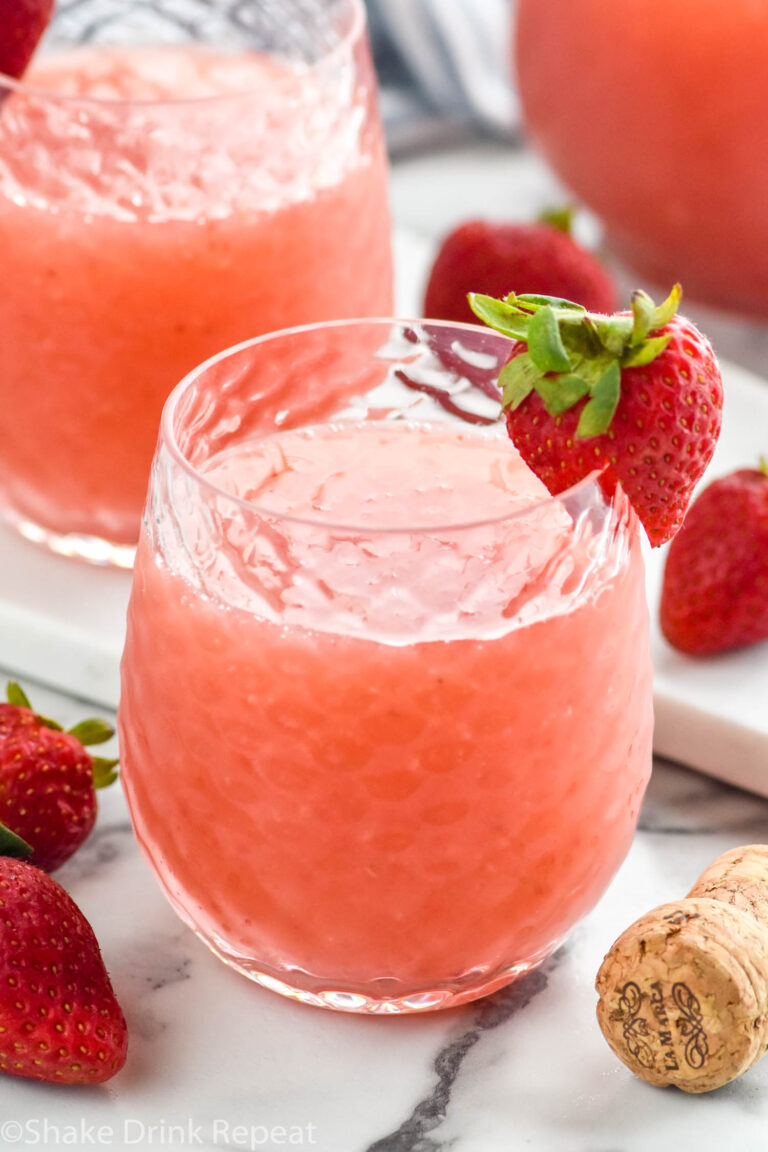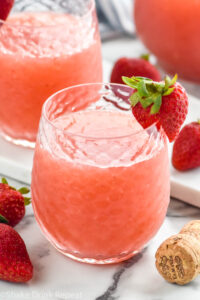 Did You Make This
Frose
SaveSave