No need to find the end of a rainbow, these Pot 'O Gold Jello Shots are the lucky shooters this St. Patrick's Day. Simple to make and even easier to drink, these festive jello shots will be your party go-to!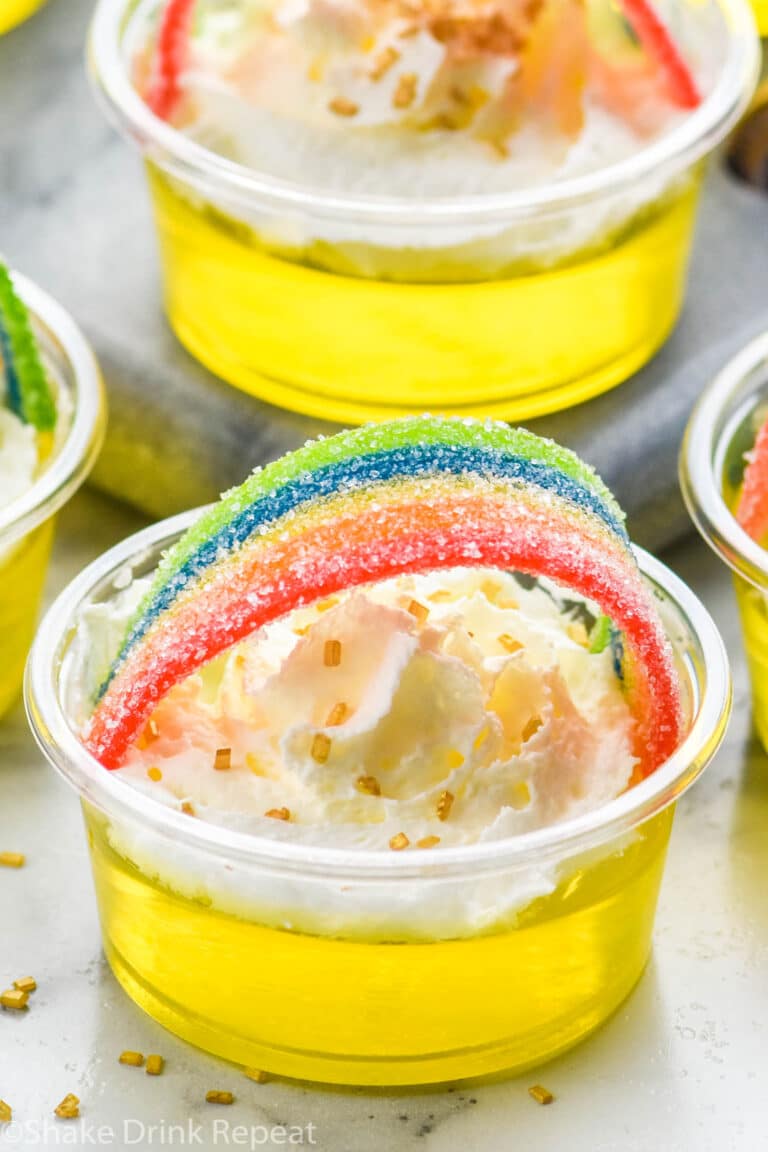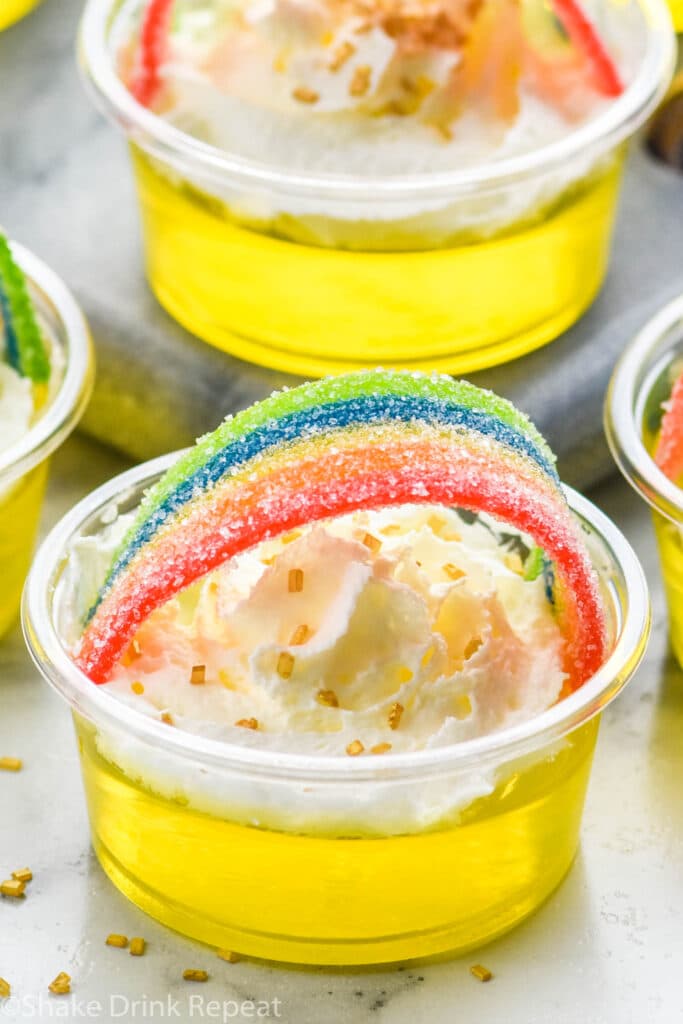 There's no party like a St. Patrick's Day party, and these lemon jello shots are the perfect addition. Easy to make in advance, these St. Patrick's Day shots made with vodka are the best. No need to get pinched for good luck, these shooters make everyone feel lucky!
How to Make Pot 'O Gold Jello Shots
These St. Patrick's Day jello shots come together with simple steps and are sure to be a crowd favorite. This is a brief overview of how easily these jello shooters come together, so for the full recipe including all measurements, scroll down to the recipe card at the bottom of the page.
Mix the jello. Stir together the gelatin powder and boiling water.
Prepare the liqueur. Combine vodka and ice in a glass measuring cup.
Combine the jello mix and vodka. Mix until the ice is melted. Pour into plastic shot glasses.
Chill until set. Garnish and serve!
TOP PICK
Plastic Shot Glasses
These plastic shot glasses are perfect for making and taking jello shots to any party!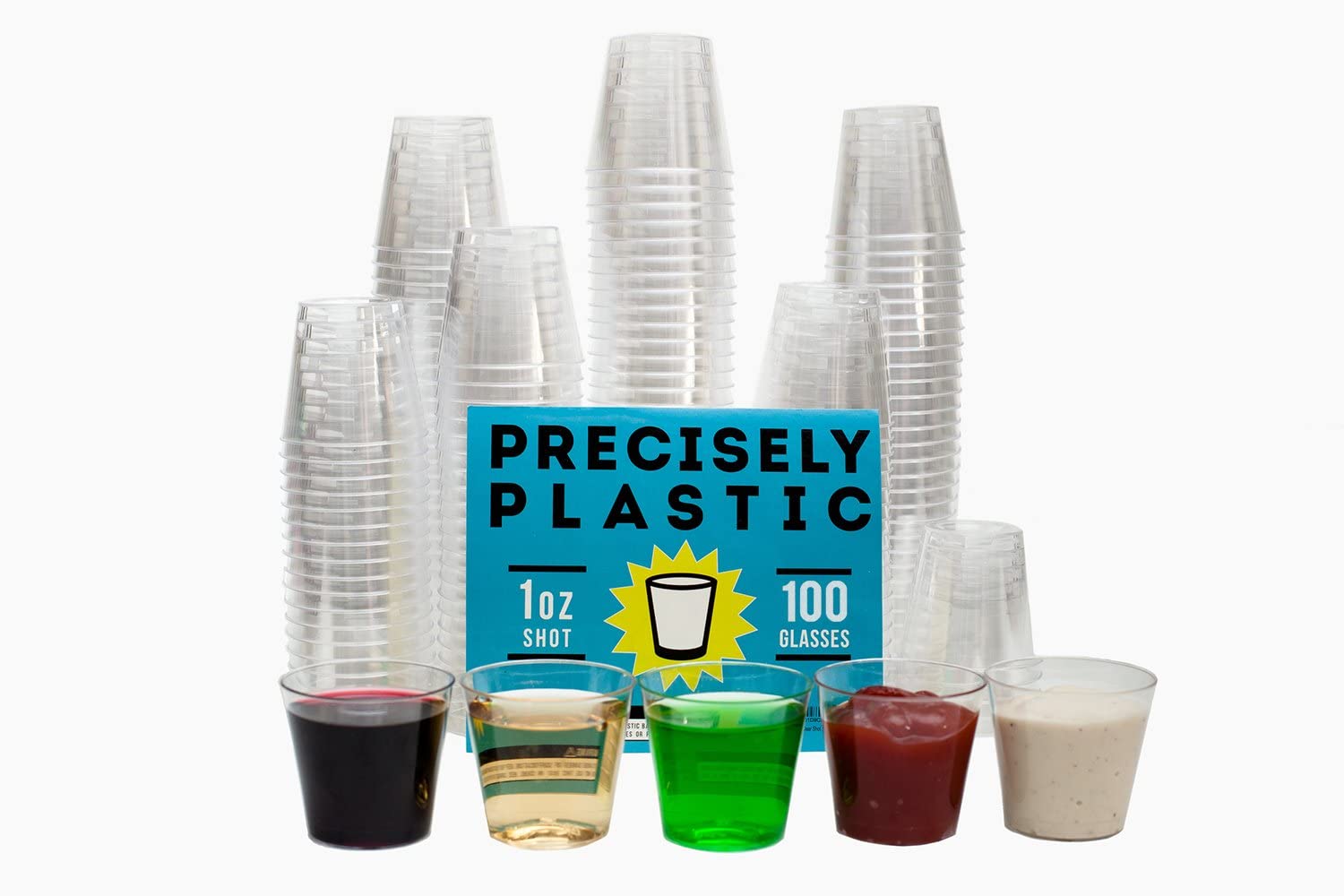 When preparing your jello shots, line up your empty shot glasses or cups on a baking sheet. This makes it easy to transport them to and from the refrigerator and will catch and drips or spills. Use a ladle or glass measuring cup to fill each shot glass, leaving a bit of room at the top for garnish.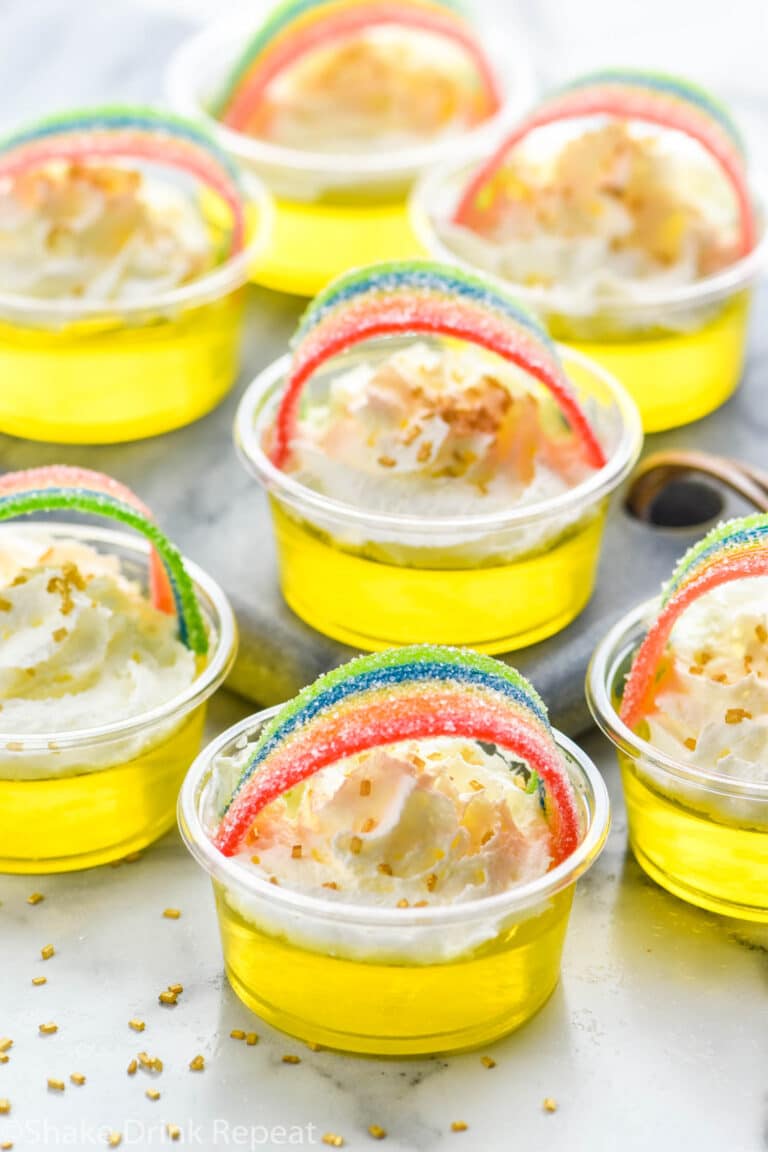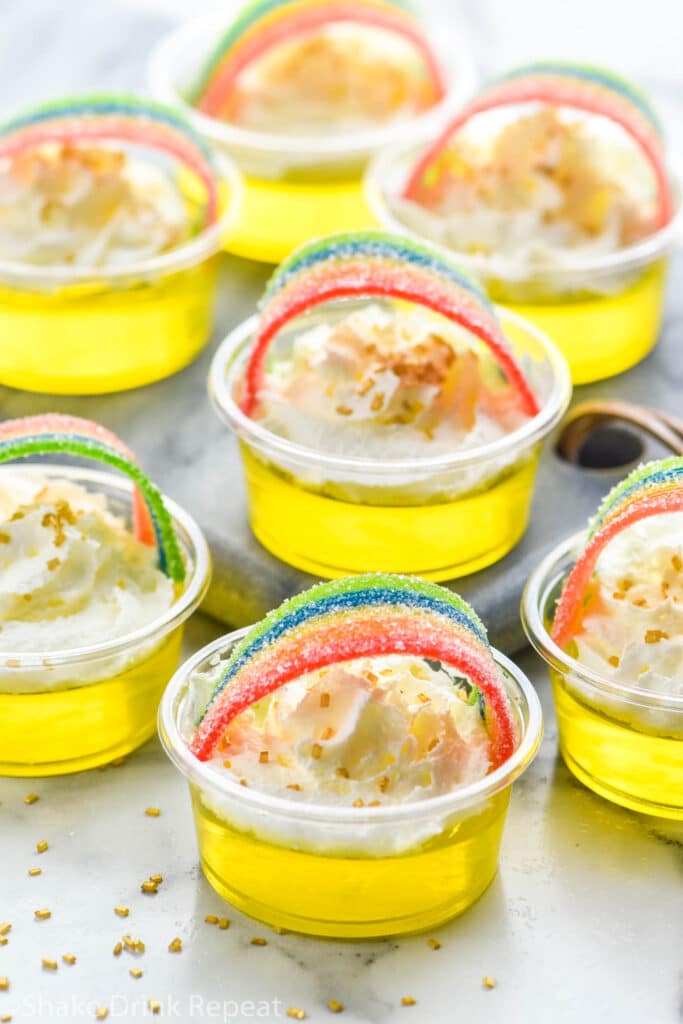 How to Serve
These Pot 'O Gold Jello Shots should be made in advance of your St. Patrick's Day party since they need to chill until set in the refrigerator. Make the shots up until the step of garnishing them, and keep them chilled in the refrigerator until you are ready to serve. Then, garnish with whipped cream and enjoy!
You can serve these jello shots plain if you want to, but we think it's fun to add a festive flare to our jello shots. We added gold sprinkles (see below) and rainbow candy to our Pot 'O Gold shots for an extra-sweet and fun garnish.
TOP PICK
Gold Sprinkles
These fun gold sprinkles add a festive sparkle to your jello shots.

FAQ
Can I make these with lime jello?
Yes! This will give them a lime flavor and make them green in color.
How long does it take for jello shots to set?
This will take at least 90 minutes, possibly longer, so plan ahead when making these for a party or event. Keep them in the back of your refrigerator when it is the coldest.
How long do jello shots last?
Jello shots can be stored in the refrigerator for up to three days when covered.
Other St. Patrick's Day Drinks
This March (or any time you are looking for the luck of the Irish), try these delicious cocktails:
Irish Coffee Recipe: A hot and delicious Irish whiskey drink, perfect to kick off St. Patrick's Day (and the morning after your shenanigans).
Drunk Leprechaun: Bursting in color and flavor, this simple cocktail is tropical and delicious.
Grasshopper: The best green dessert cocktail, this mint-chocolate ice cream drink is easy to make and delicious for St. Patrick's Day.
If you try these Pot O Gold Jello shots or any of our other lucky drink recipes, leave a comment and let us know what you think. We love hearing from you!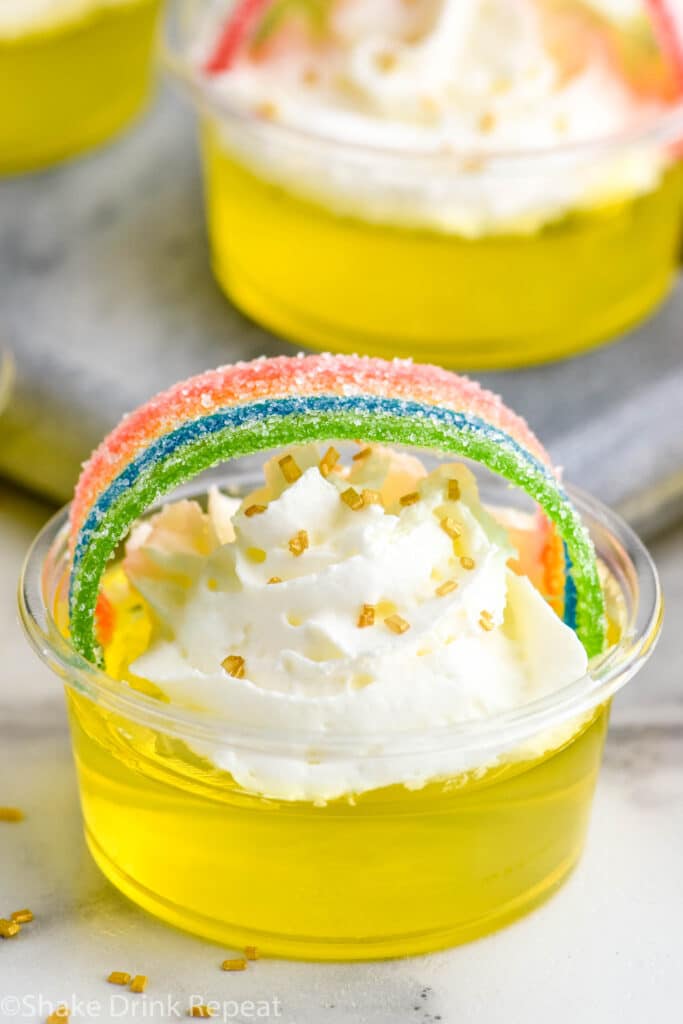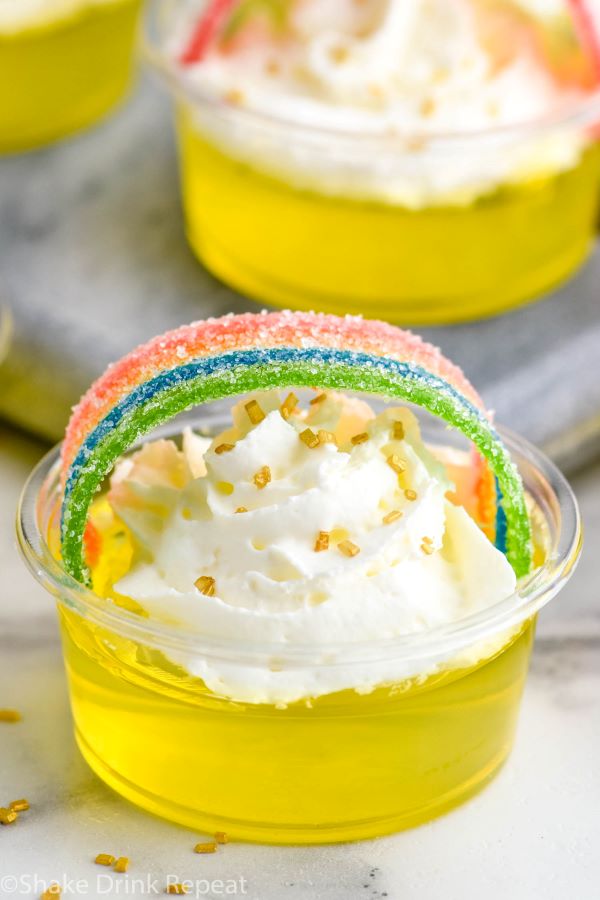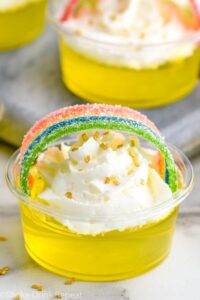 Pot 'O Gold Jello Shots
No need to find the end of a rainbow, these Pot 'O Gold Jello Shots are the lucky shooters all of your lads will love this St. Patrick's Day.
Ingredients
3/4

cup

boiling water

3

ounces

lemon jello

1

cup

vodka

whipped cream

optional

gold sprinkles

optional

rainbow candy

optional
Instructions
Mix the lemon jello mix and boiling water until the jello is dissolved.

Measure out the vodka in a glass 2 cup measuring cup. Add ice until it measures 1 1/4 cups.

Pour the alcohol into the jello and mix until ice cubes are melted.

Pour the mixture into plastic shot glasses.

Put into the refrigerator for 90 minutes or until solidified.

Top with whipped cream, gold sprinkles, and one rainbow candy.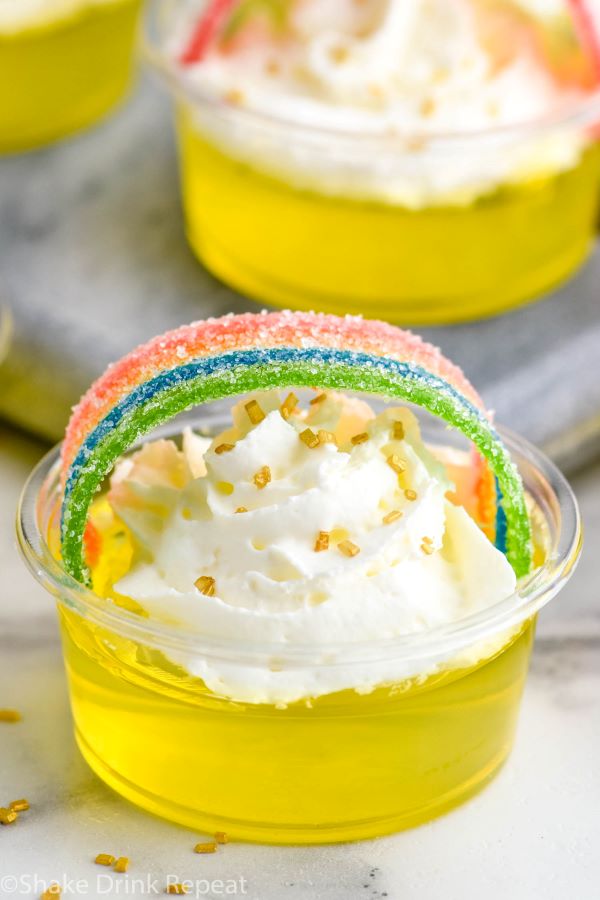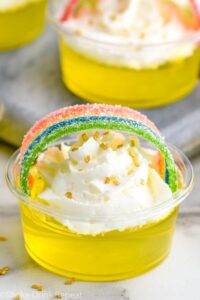 Did You Make This
Pot 'O Gold Jello Shots