The classic tequila sunrise is one of the most popular tequila drinks (you too, Margarita). Its layered vibrant colors mimic a summer sunrise and its flavor is delightfully fruity. The "sunrise" appearance appears naturally due to the difference in density of the three ingredients, making constructing the refreshing cocktail quite simple. It is perfect for entertaining due to its aesthetic appeal and refreshing flavor.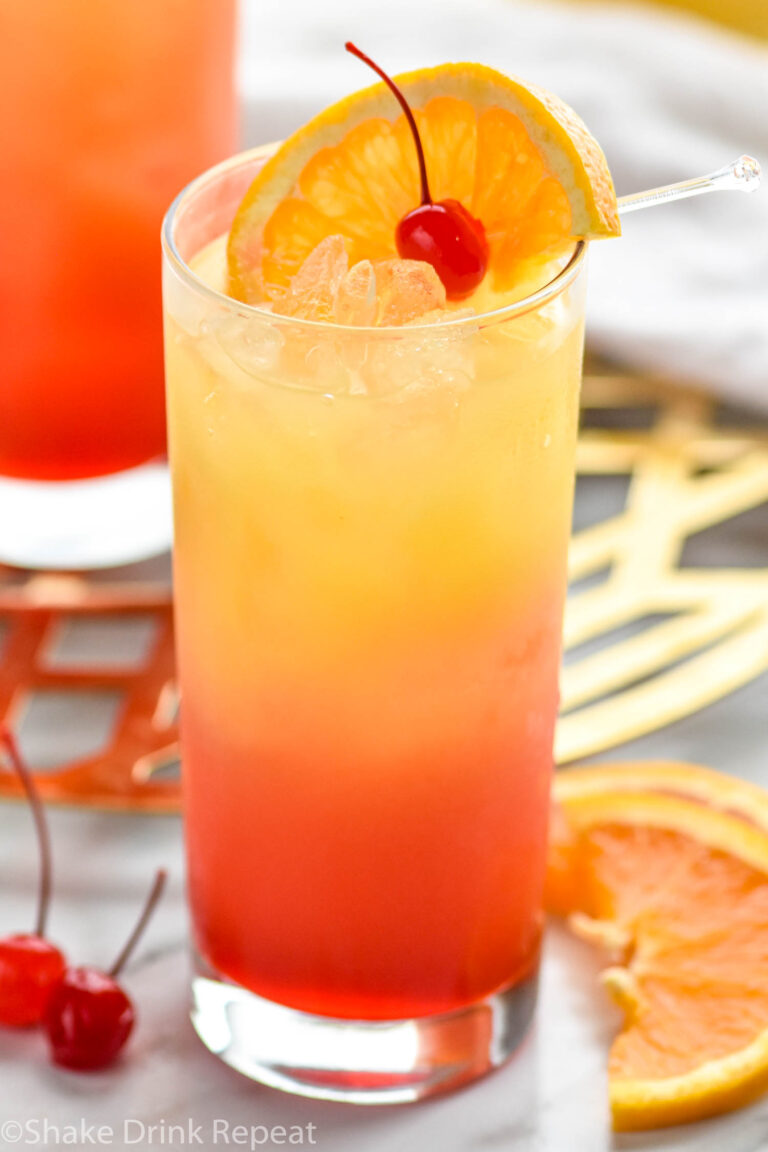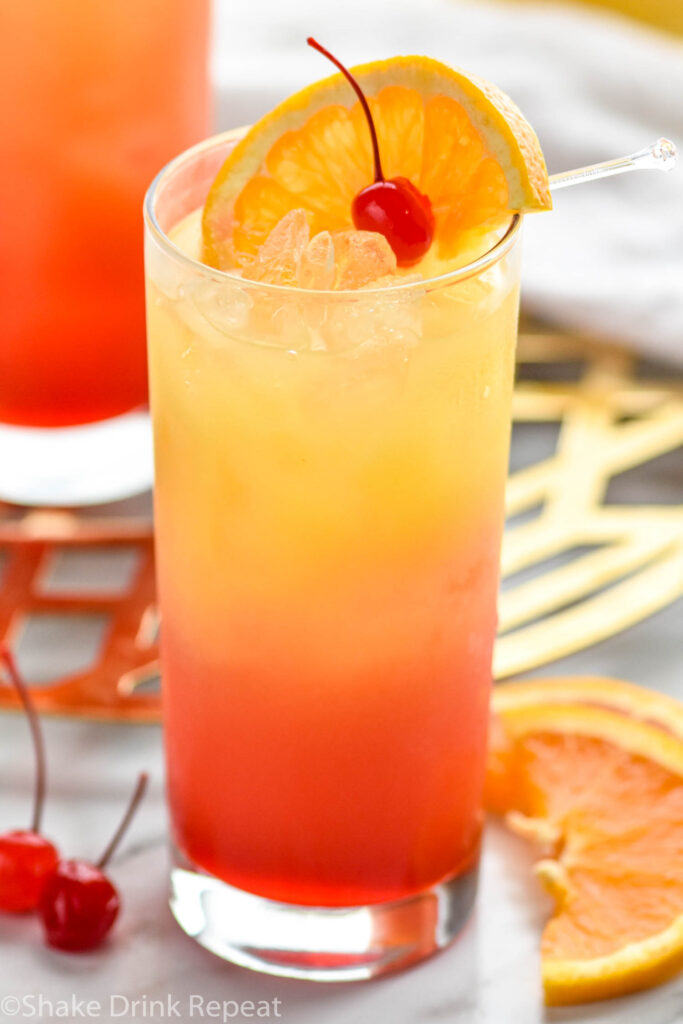 Any cocktail that involves orange juice is perfect for brunch in my opinion and this is no exception. Similar to a screwdriver but with tequila instead of vodka, a splash of grenadine gives the golden sunrise appearance with a touch of sweetness that helps to balance the tartness of the orange juice.
Tequila Sunrise Recipe
To make a Tequila Sunrise at home you will need:
1 1/2 ounces tequila (Use whatever tequila you have on hand, no need to go top shelf for this recipe.)
3 ounces of orange juice
1/2 ounce grenadine
How to Make a Tequila Sunrise
Fill a high ball glass with ice
Pour in the tequila and orange juice and stir
Slowly pour grenadine around the inside edge of the glass so it settles at the bottom
Garnish with an orange slice and cherry and enjoy!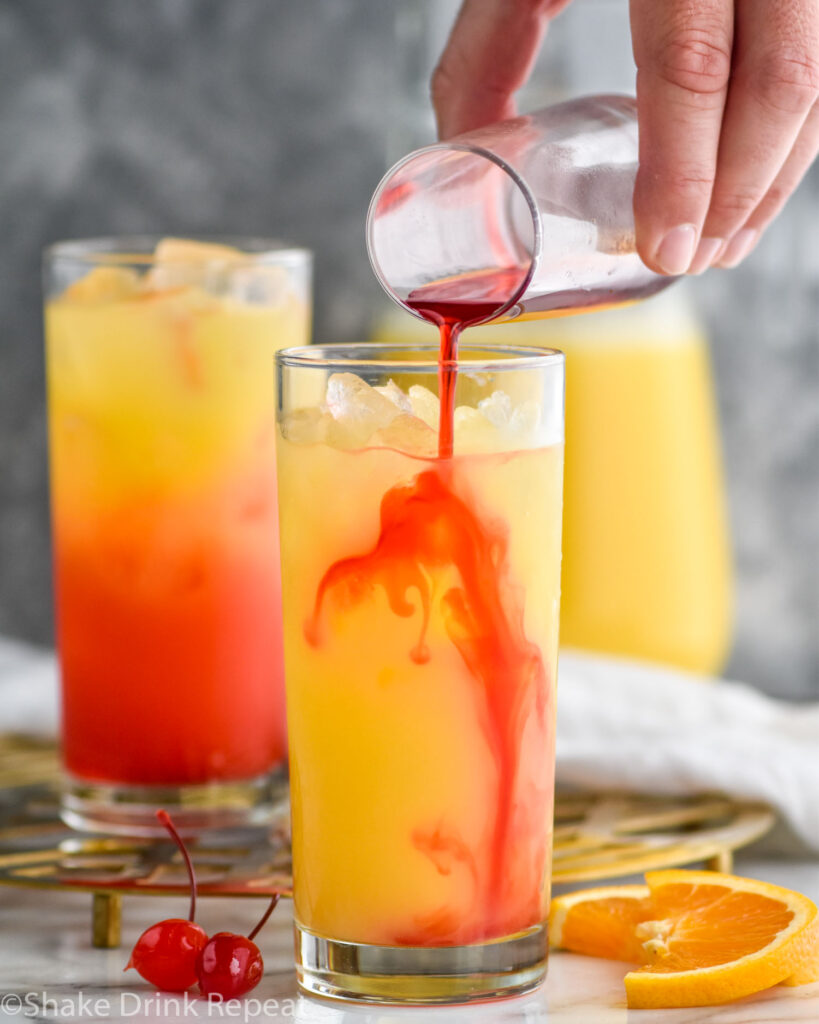 Tequila Sunrise vs Sunset
The key difference between a Tequila Sunrise and a Tequila Sunset is the order of the colors aka, whether the grenadine is at the bottom of a glass, like a sunrise, or for the opposite effect at the top, like a sunset. In order to switch this up, you'll have to change the density of the red liquid. You can make it lighter by combining club soda with the grenadine before adding it to the tequila mixture or swapping the grenadine all together for blackberry brandy.
How to Serve
Serve on the rocks or over ice. A highball glass really flaunts the presentation of the colors of the cocktail. Avoid stirring or mixing the drink to keep the color striations. If you like your cocktails on the sour end, add a squeeze of lime.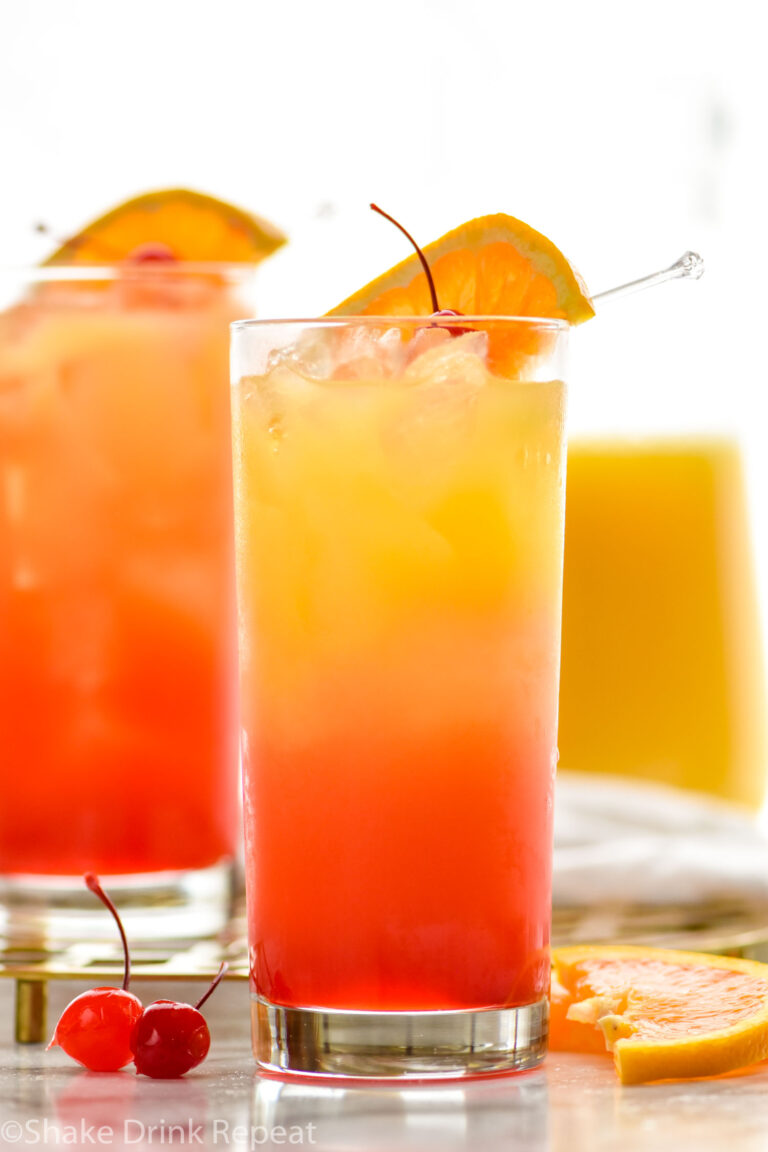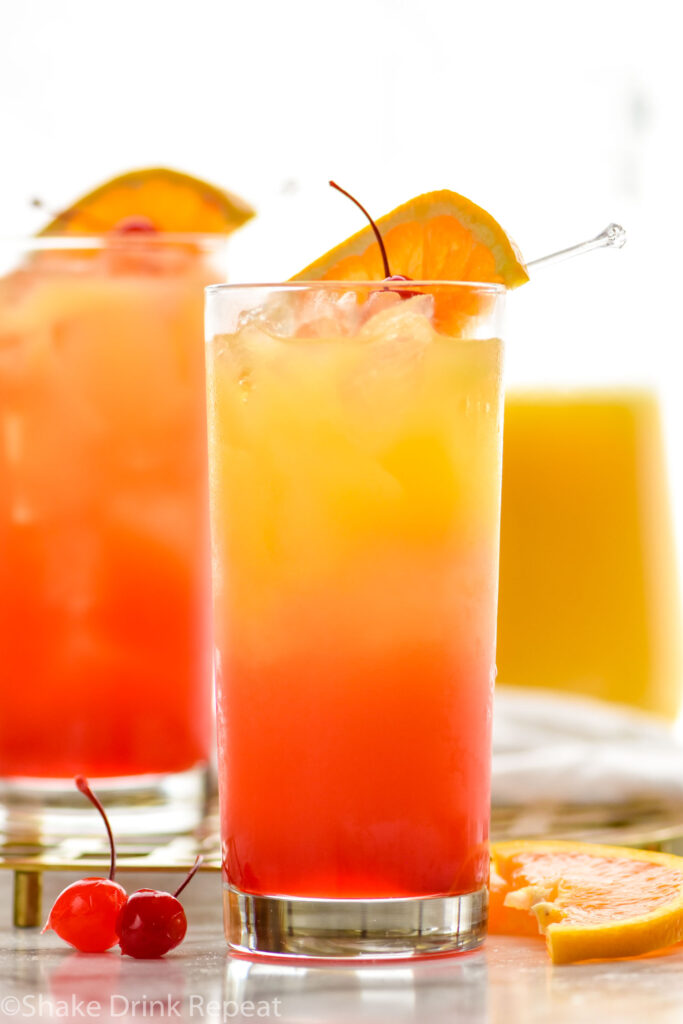 Other Tequila Cocktails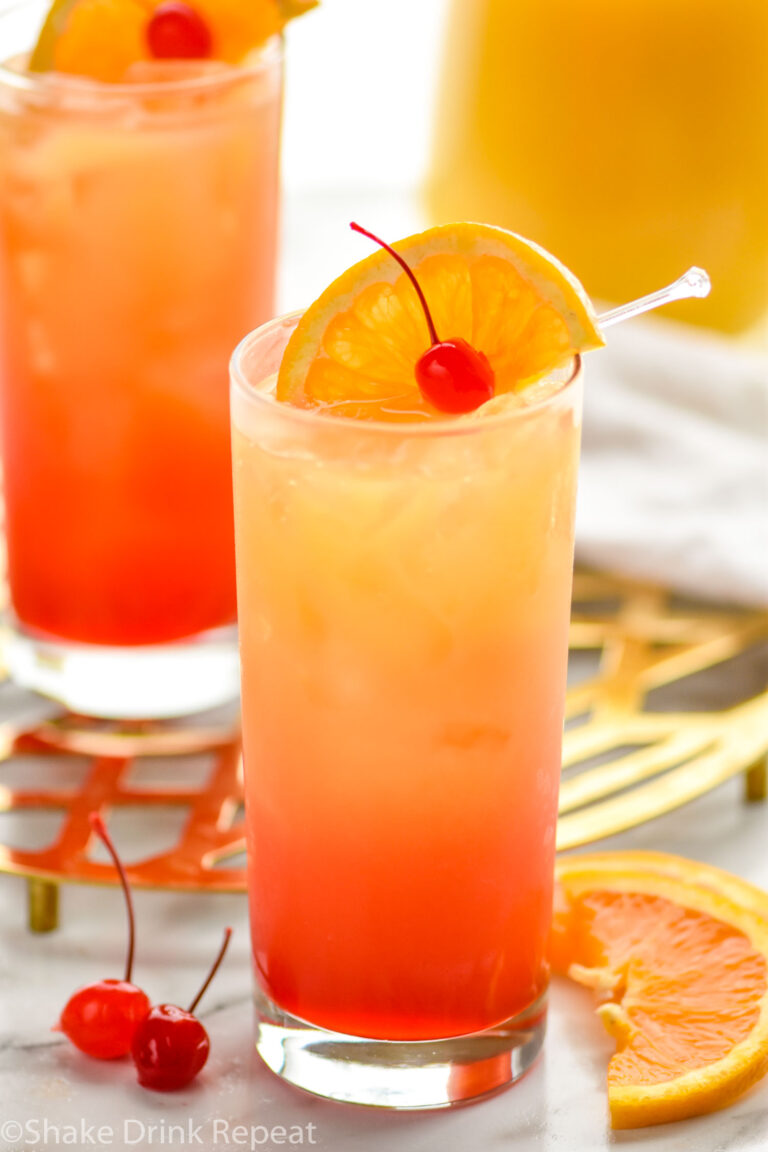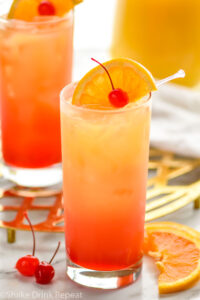 Tequila Sunrise
The Tequila Sunrise has layered vibrant colors that mimic a summer sunrise and a delightfully fruity flavor.
Ingredients
1 1/2

ounces

tequila

3

ounces

orange juice

1/2

ounce

grenadine
Instructions
Pour in the tequila and orange juice.

Pour in the grenadine carefullly so it settles at the bottom of the glass.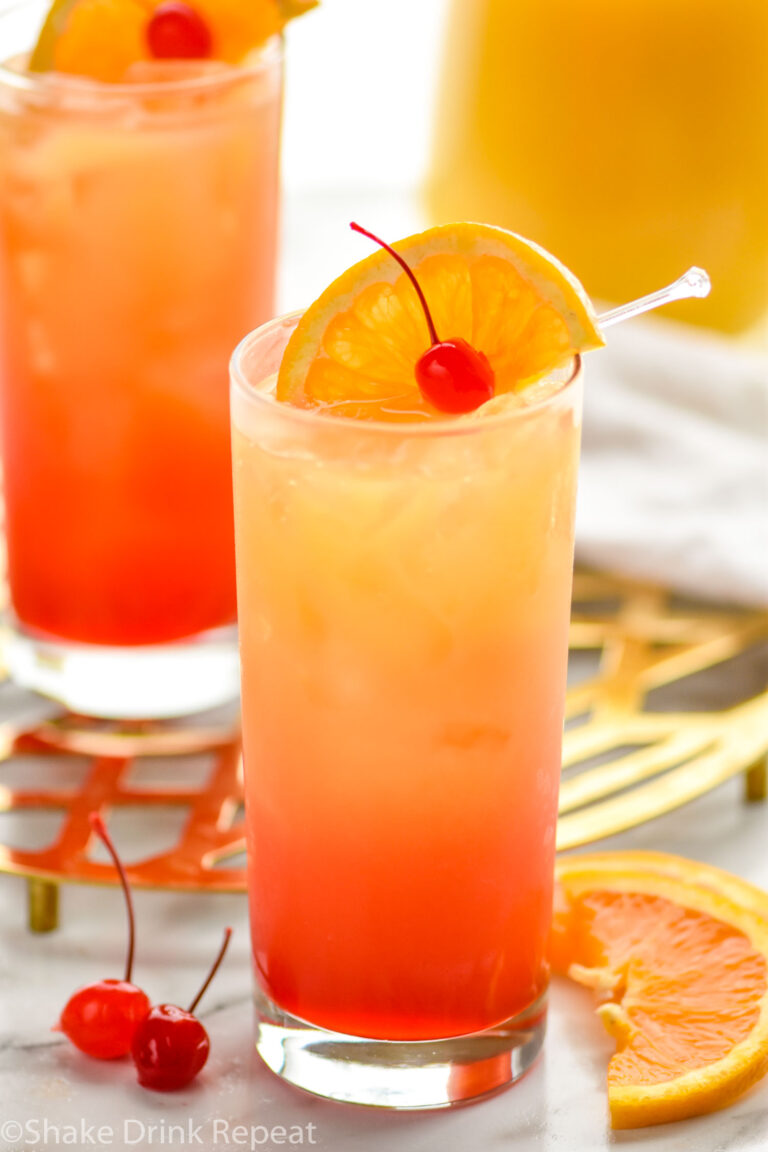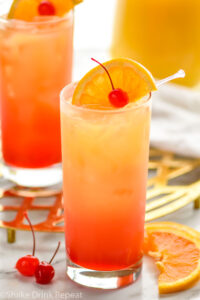 Did You Make This
Tequila Sunrise