When you think of a sophisticated cocktail, a martini comes to mind. A dirty martini gives a delightful salty and tangy twist to the traditional martini. Vodka and olive juice pair together perfectly for a straightforward flavor that makes this iconic drink irresistible.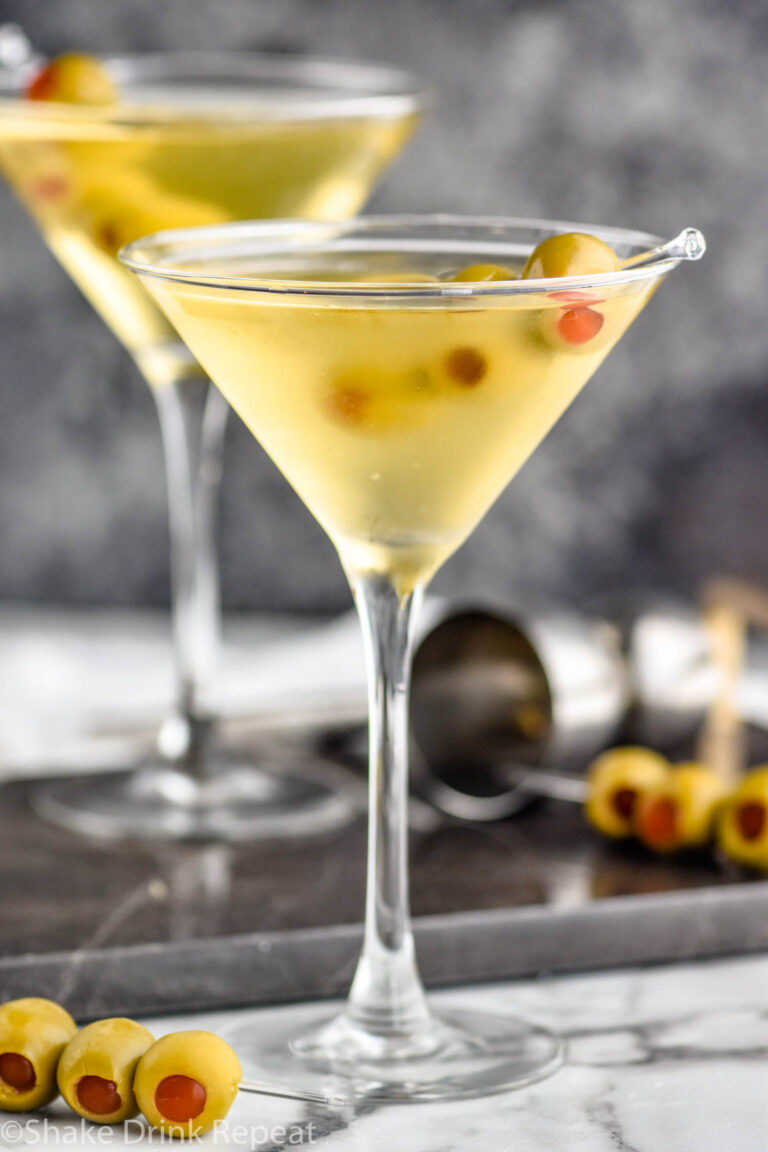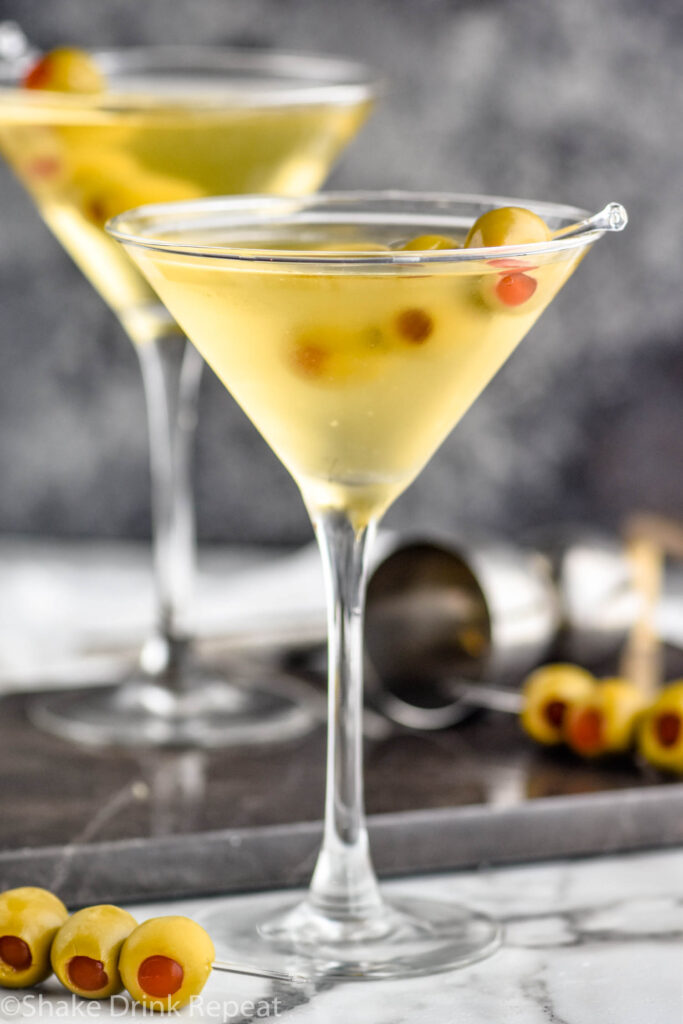 Martinis are very popular in the cocktail world, ranging from classic straightforward Vodka Martini to sweeter variations like the Chocolate Martini or Pear Martini. While a martini isn't for the faint of heart, when made correctly is a very enjoyable drink and easy to make at home. This vodka dirty martini comes together in just three ingredients: vodka, olive juice, and olives for garnish.
What is a Dirty Martini
While the name "dirty" martini may not sound refreshing or even appetizing, it's actually a very flavorful twist on the traditional martini. Just as the Cosmopolitan Cocktail or Paloma Cocktail uses fruit juice to add a different flavor, this vodka martini dirty recipe uses olive juice or brine. While most recipes call for a little brine and some Vermouth, we opt to take out the Vermouth and add in more brine. The result is a tangy cocktail that is the perfect potion to kick off happy hour any night of the week.
This martini recipe is a great time to show off premium vodka. Since it is the star of the show in this cocktail, the vodka you choose will either make or break the taste. We recommend using the best vodka you have, or even purchasing a high quality one just for this recipe!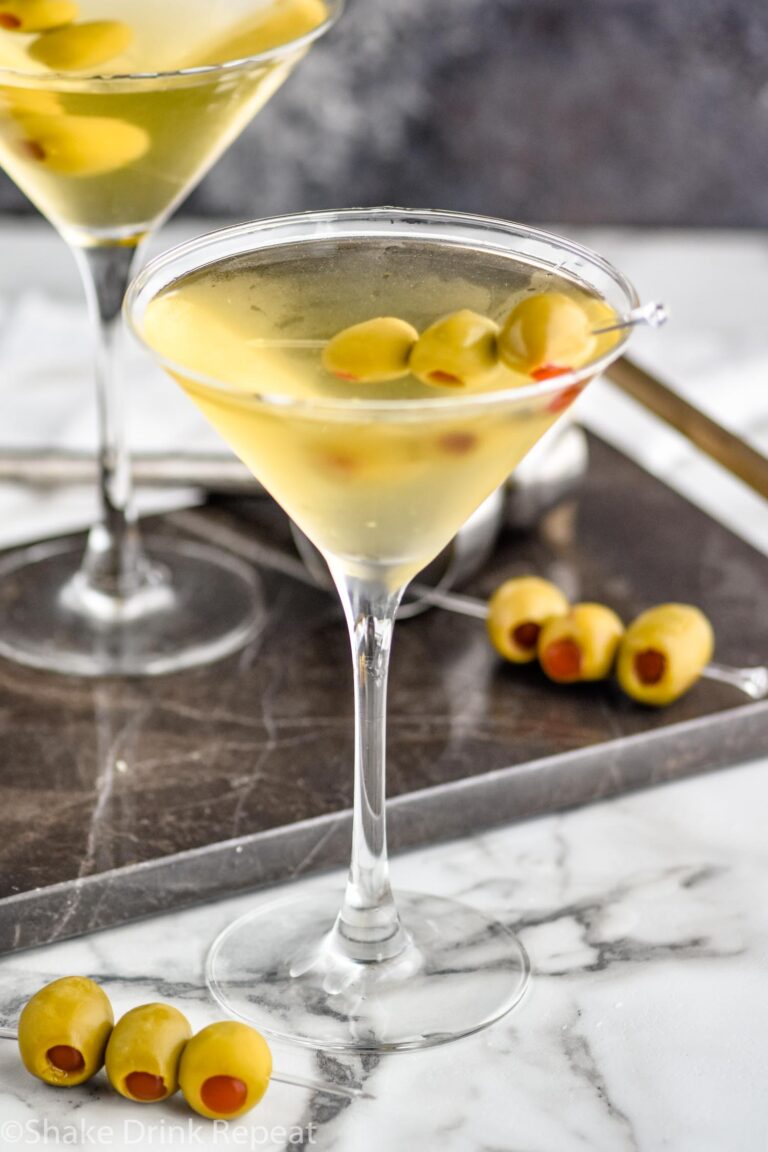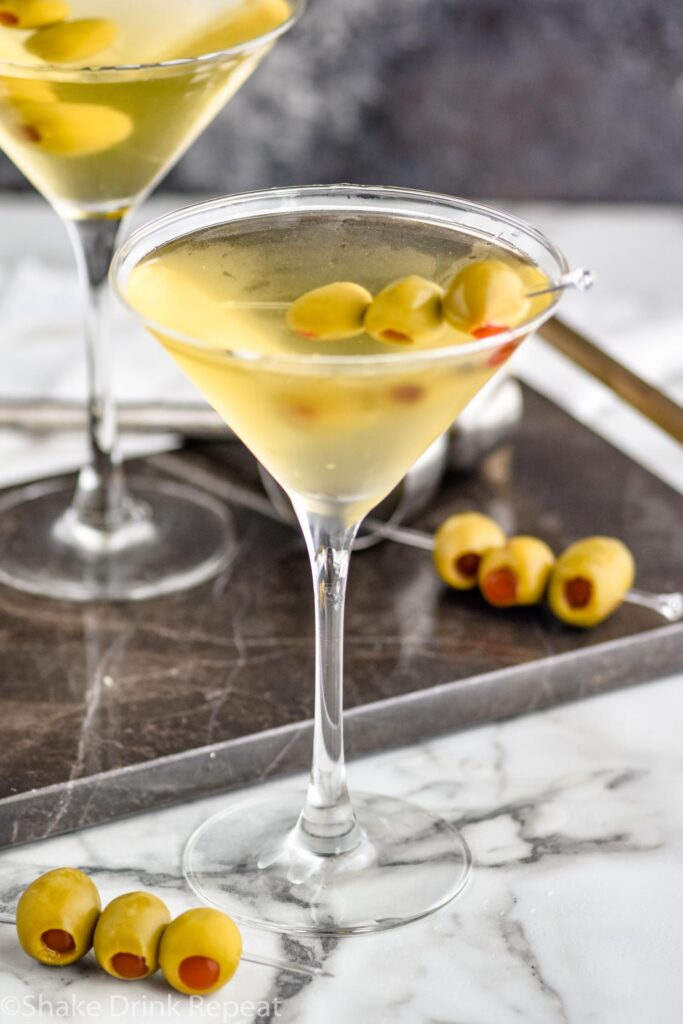 How to Make a Dirty Martini
The best dirty martini recipe could not be any simpler to shake up. Grab just three ingredients and some ice, and follow these easy steps. For the full recipe including the perfect ratio of ingredients, scroll to the recipe card at the bottom of the post.
Pour the vodka into a cocktail shaker of ice.
Add olive juice and shake.
Strain into a chilled martini glass and garnish with green olives.
What Makes a Martini Dirty
The addition of olive juice is what makes this martini recipe dirty. Make your martini as dirty as you like by adding more olive juice to suit your taste. There are a few options for adding olive juice depending on your price point or convenience:
Use the juice from a cheaper can of olives.
Use homemade olive brine.
Use a large jar of gourmet olives and mix dry vermouth with the juice to make it last longer.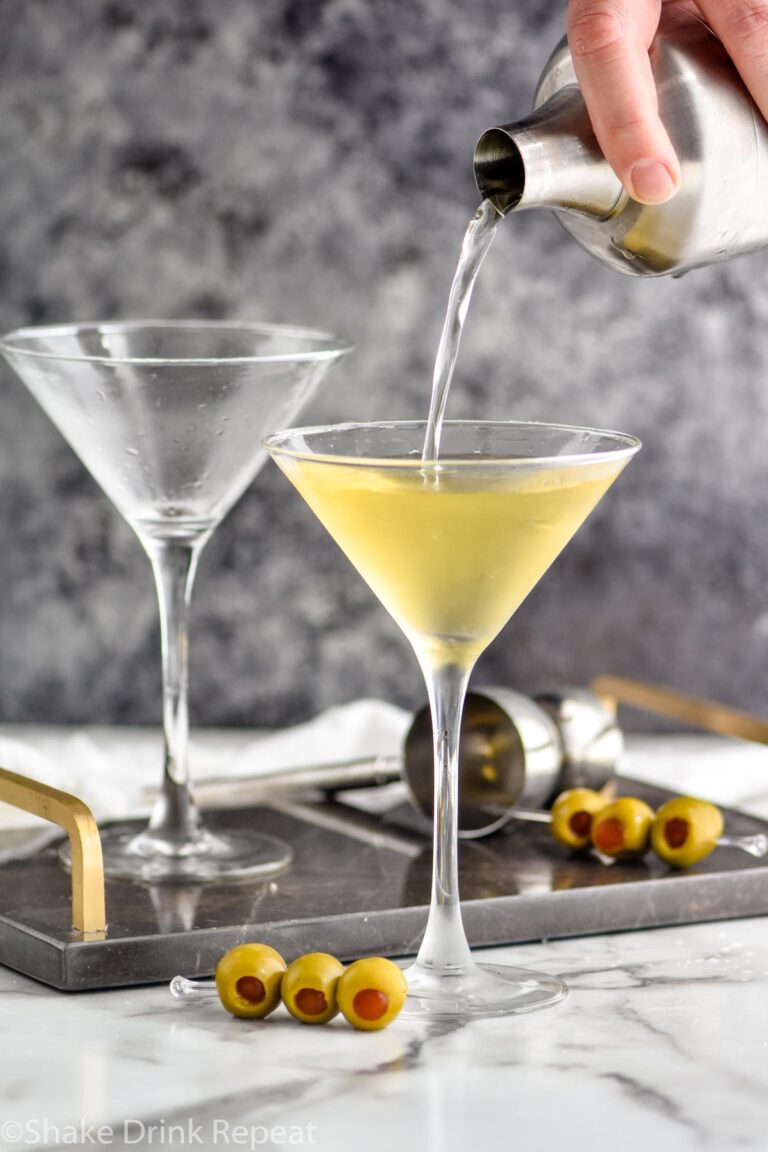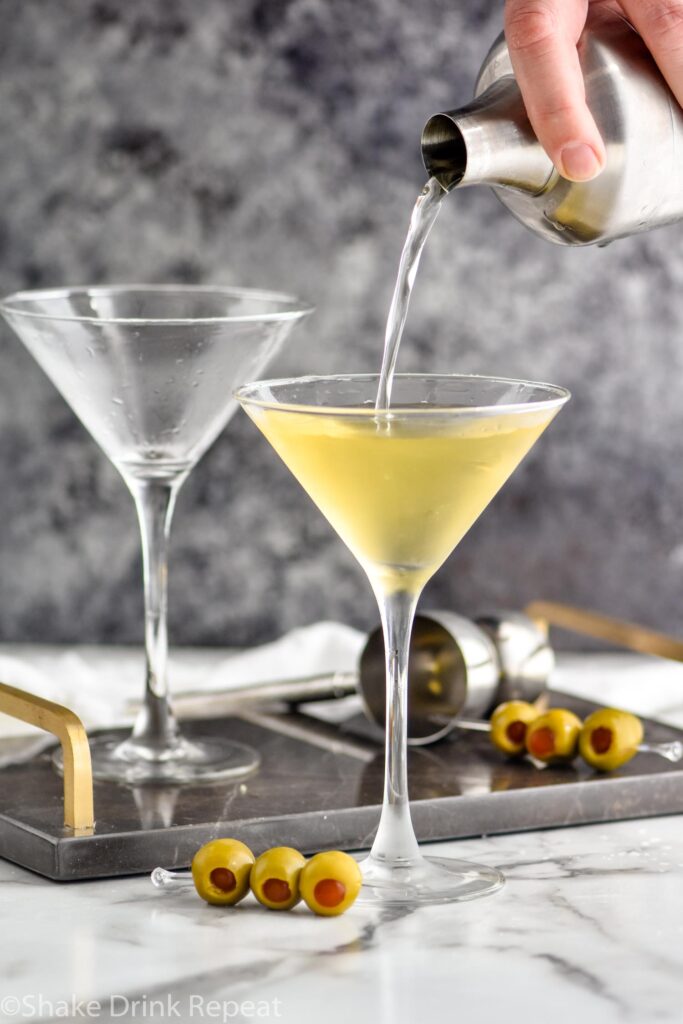 How to Serve
Shaking the cocktail with ice and serving it in a chilled martini glass will ensure it's served up icy cold. To chill your glass, simply place it in the freezer for at least 30 minutes (up to two hours) prior to serving your cocktail. Remove from the freezer just before you pour your drink. If you're short on time or freezer space, simply fill the glass with ice while you make the cocktail, and dump the ice right before pouring the drink.
How many olives you add is up to you. I've heard that the correct number of olives is as many as you can convince the bartender to give you. So, since you're making this at home, the sky's the limit!
Other Martini Recipes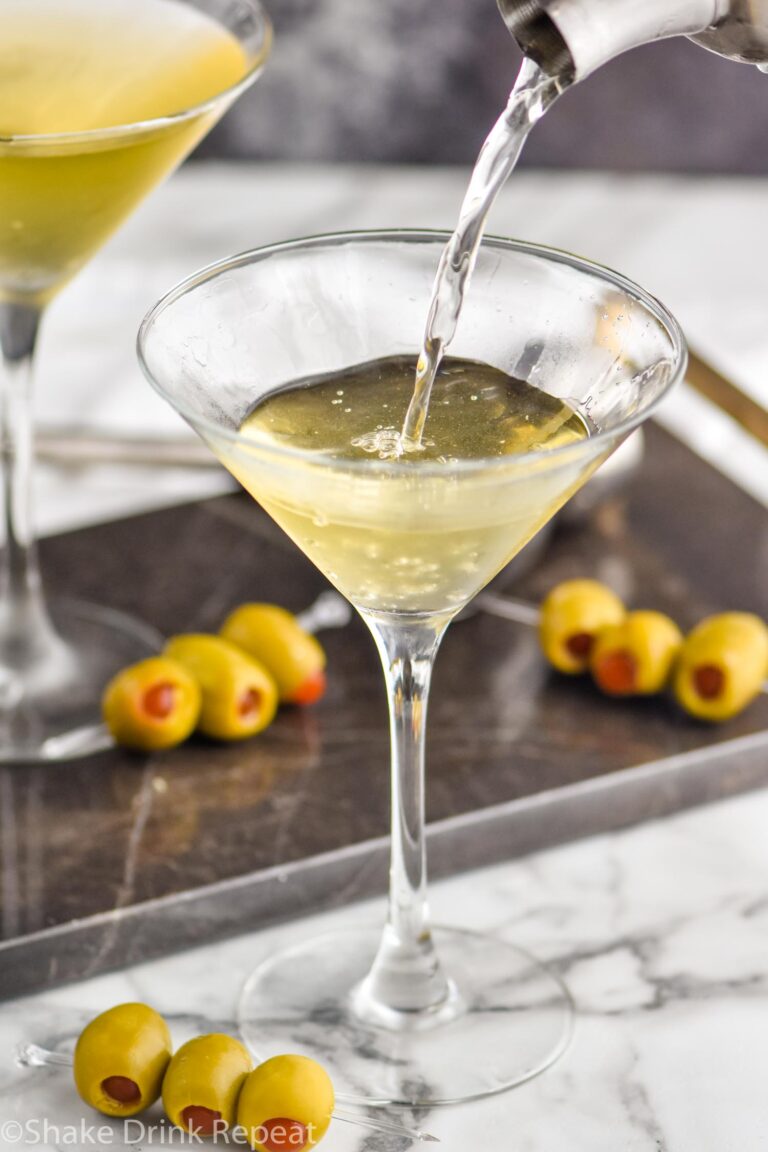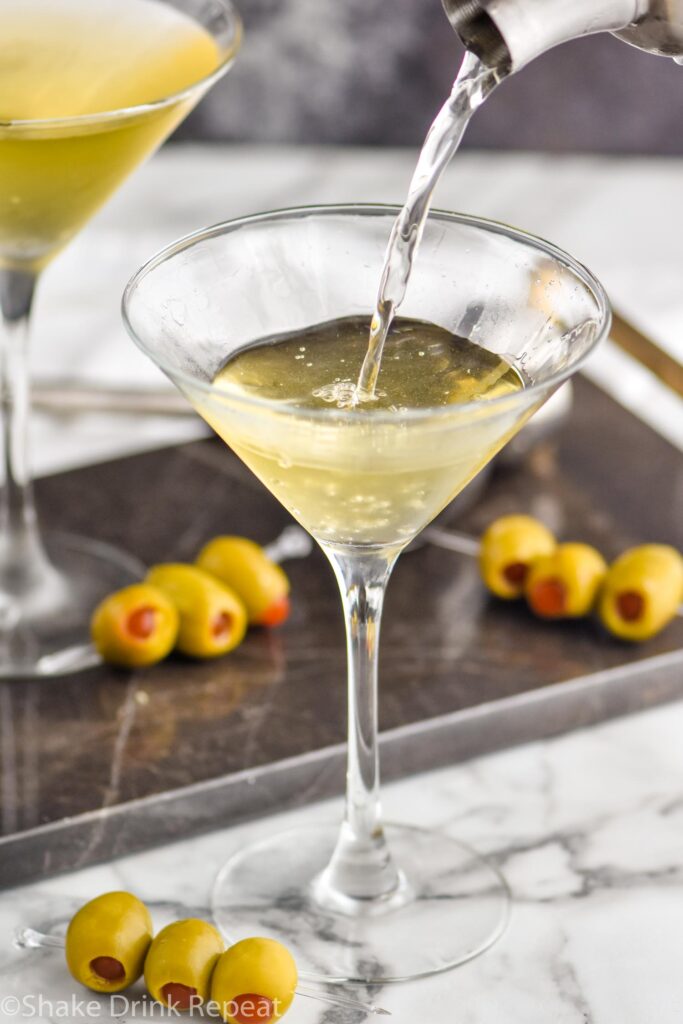 If you try this martini recipe or any of our other cocktail recipes, leave a comment and let us know what you think!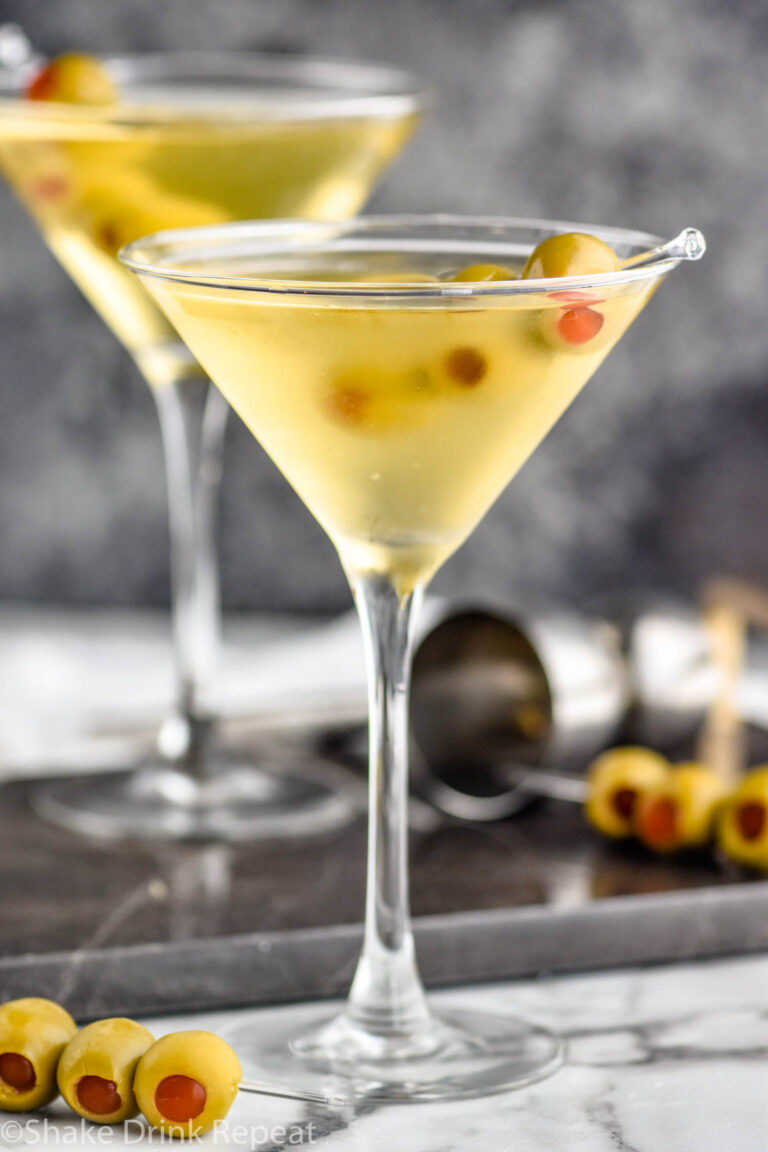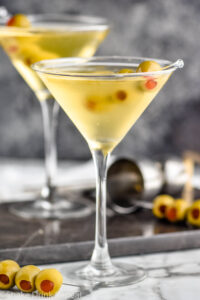 Dirty Martini Recipe
In this dirty martini, vodka and olive juice pair together perfectly for a straightforward flavor that makes this iconic drink irresistible.
Ingredients
3

ounces

quality vodka

1 1/2

ounce

olive juice

olives for garnish
Instructions
Combine vodka and olive juice in a martini shaker. Shake with ice and strain into a martini glass.  Garnish with olives.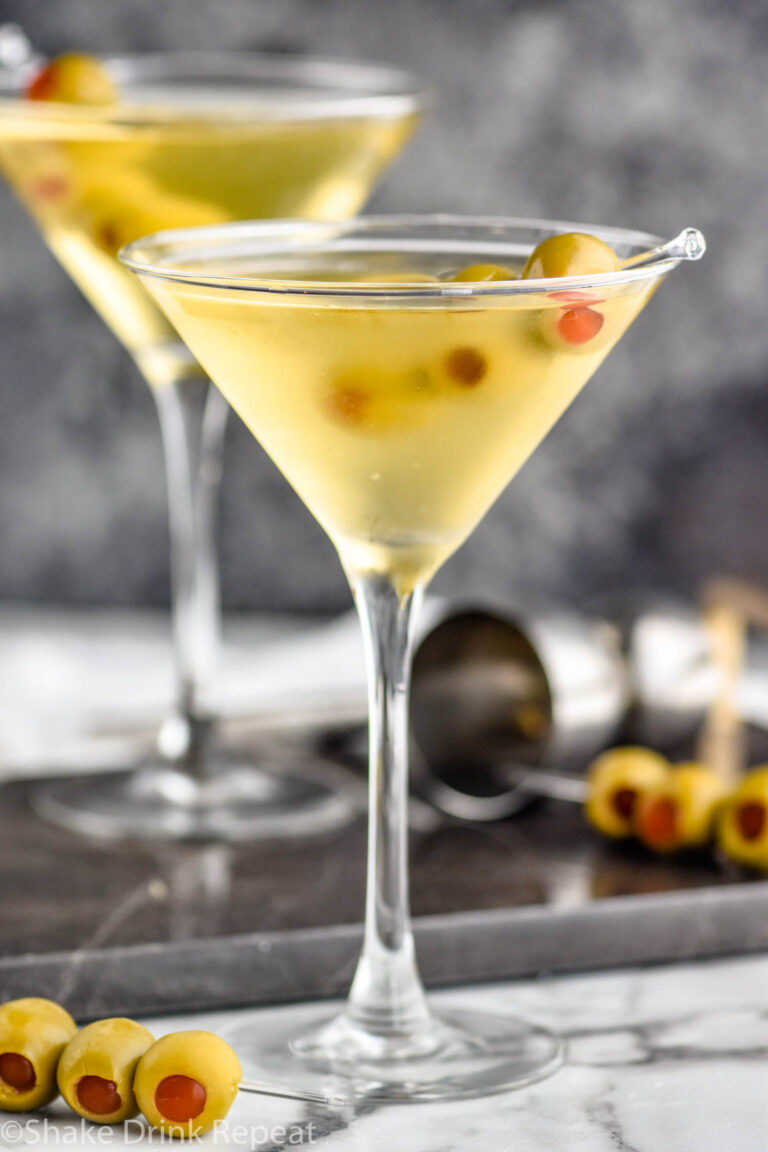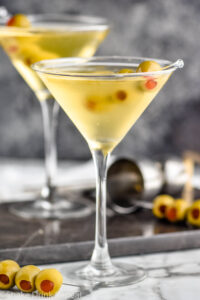 Did You Make This
Dirty Martini Recipe