This Fourth of July Sangria recipe is a patriotic white sangria that is simple and delicious. Perfect to sip on before, during, or after fireworks, this sangria recipe will be a favorite summer cocktail.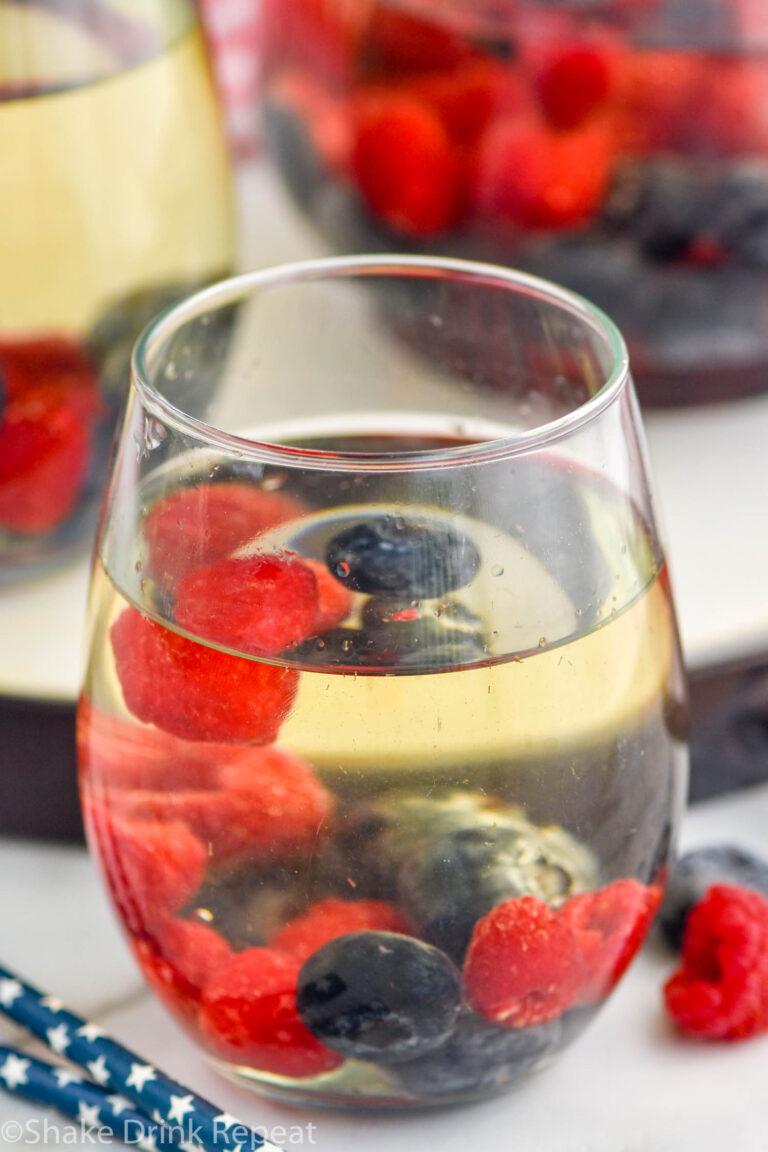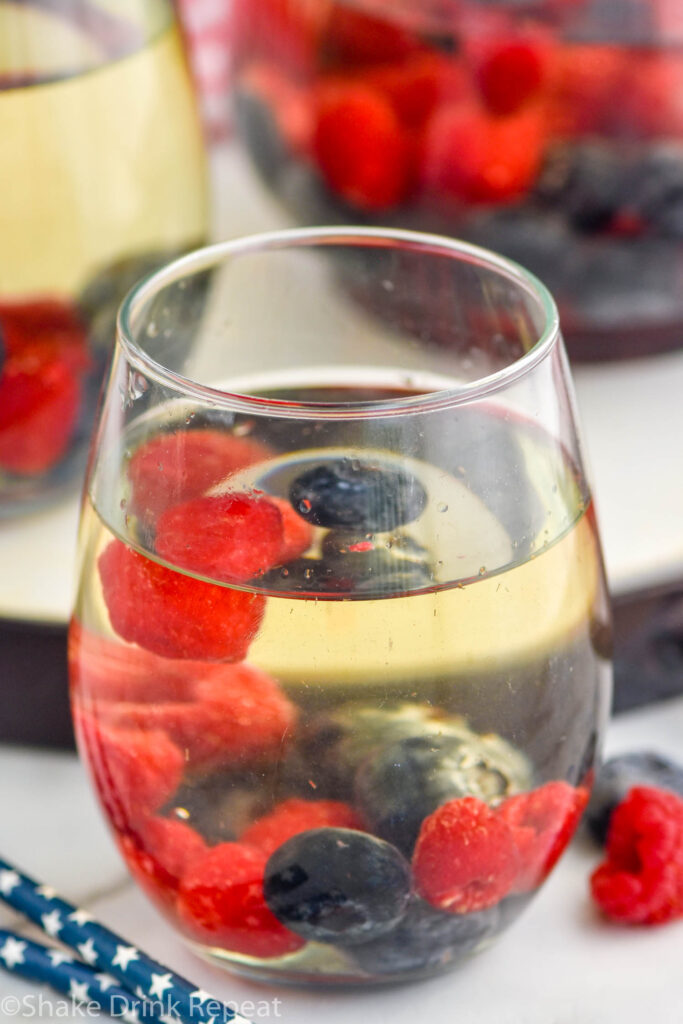 This red, white, and blue sangria recipe comes together with a few ingredients and is so refreshing. This is a great recipe to make for a party, as comes together right in the pitcher it is served in. Use fresh or frozen berries to enjoy this sangria recipe all year round!
4th of July Sangria Ingredients
This summer sangria recipe comes together with simple ingredients and whips up in a snap.
White wine: Since this is the base for the sangria, you want to make sure you use a bottle of white wine that you really enjoy the flavor of. My preference for this cocktail is a Pinot Grigio. It isn't too sweet or too dry. Make sure your bottle of wine is chilled before making the sangria.
White rum: Dark rum will change the flavor of the sangria, so make sure to use a light or white rum.
Orange liqueur: Triple Sec is a budget-friendly option, and Cointreau is our mid-range choice.
Simple syrup: This is optional and only needed if this sangria isn't sweet enough for your liking without it. Taste the sangria and add enough simple syrup until the drink is sweet enough for your liking. It is super easy to make your own using our Simple Syrup recipe.
Blueberries: You need blue for this red, white, and blue sangria. Blueberries add a delicious pop of color and flavor. Fresh or frozen berries will work, using frozen berries helps to keep the sangria chilled.
Raspberries or strawberries: For the red in this patriotic sangria. You can use either raspberries, strawberries, or both.
How to Make Simple Syrup
Learn all you need to know for how to make simple syrup for cocktails! An essential for any bar, simple syrup is easy to make.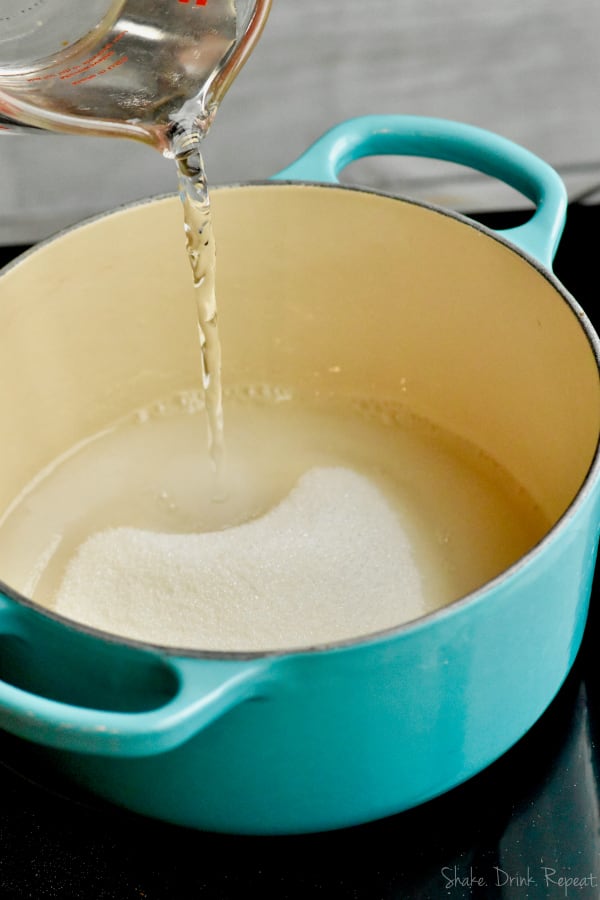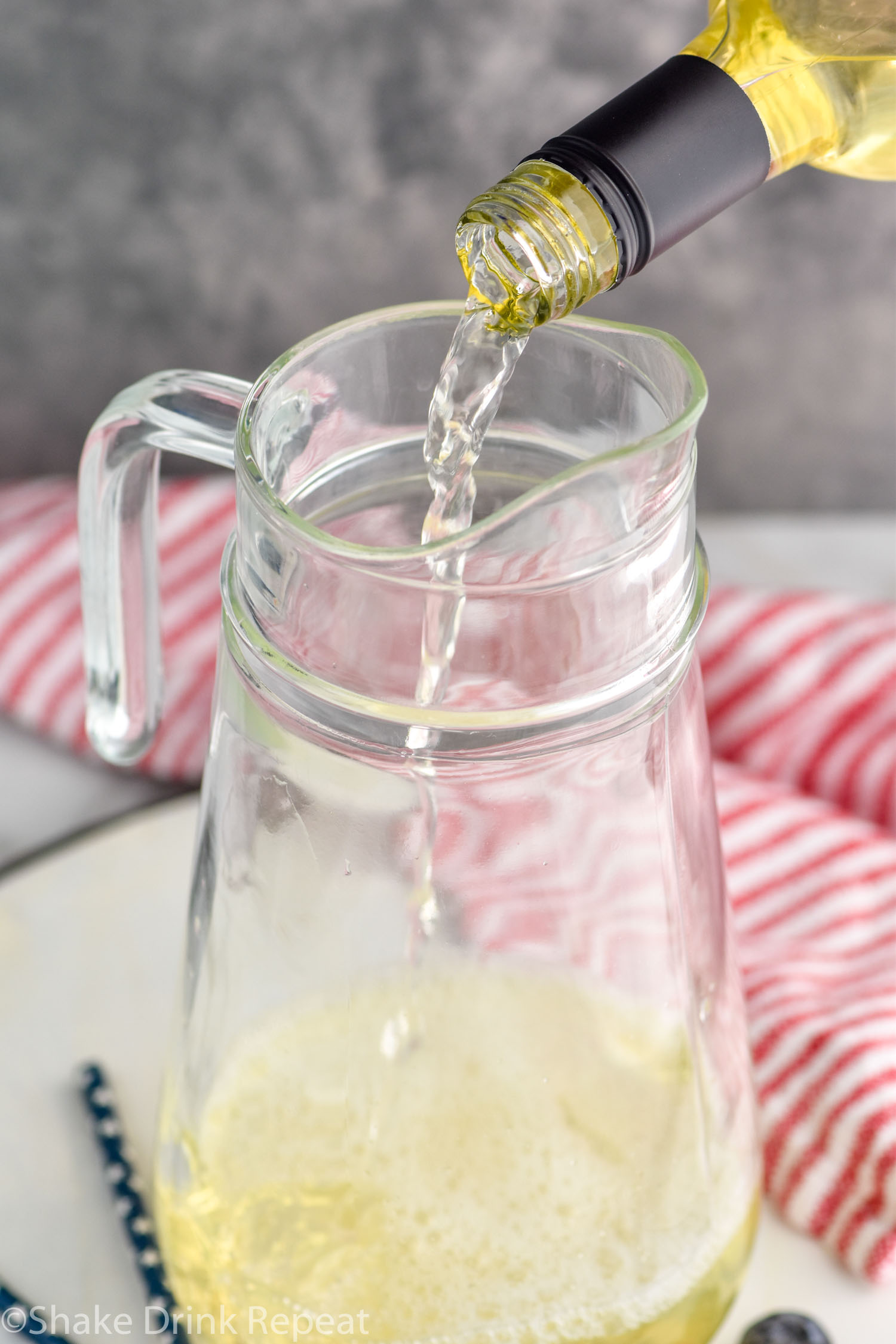 How to Make Fourth of July Sangria
This delicious white sangria could not be simpler to make and is sure to wow your party guests. This is a brief overview of just how easy this recipe comes together, so make sure to see the full recipe at the bottom of the post.
Pour all of the liquid ingredients into the pitcher and stir. Combine the white wine, white rum, and orange liqueur in the pitcher.
Add the fruit. Toss in the blueberries and raspberries or strawberries.
Chill in the refrigerator. Put in the refrigerator until chilled. This will take at least one hour but shouldn't be refrigerated for more than 10 hours.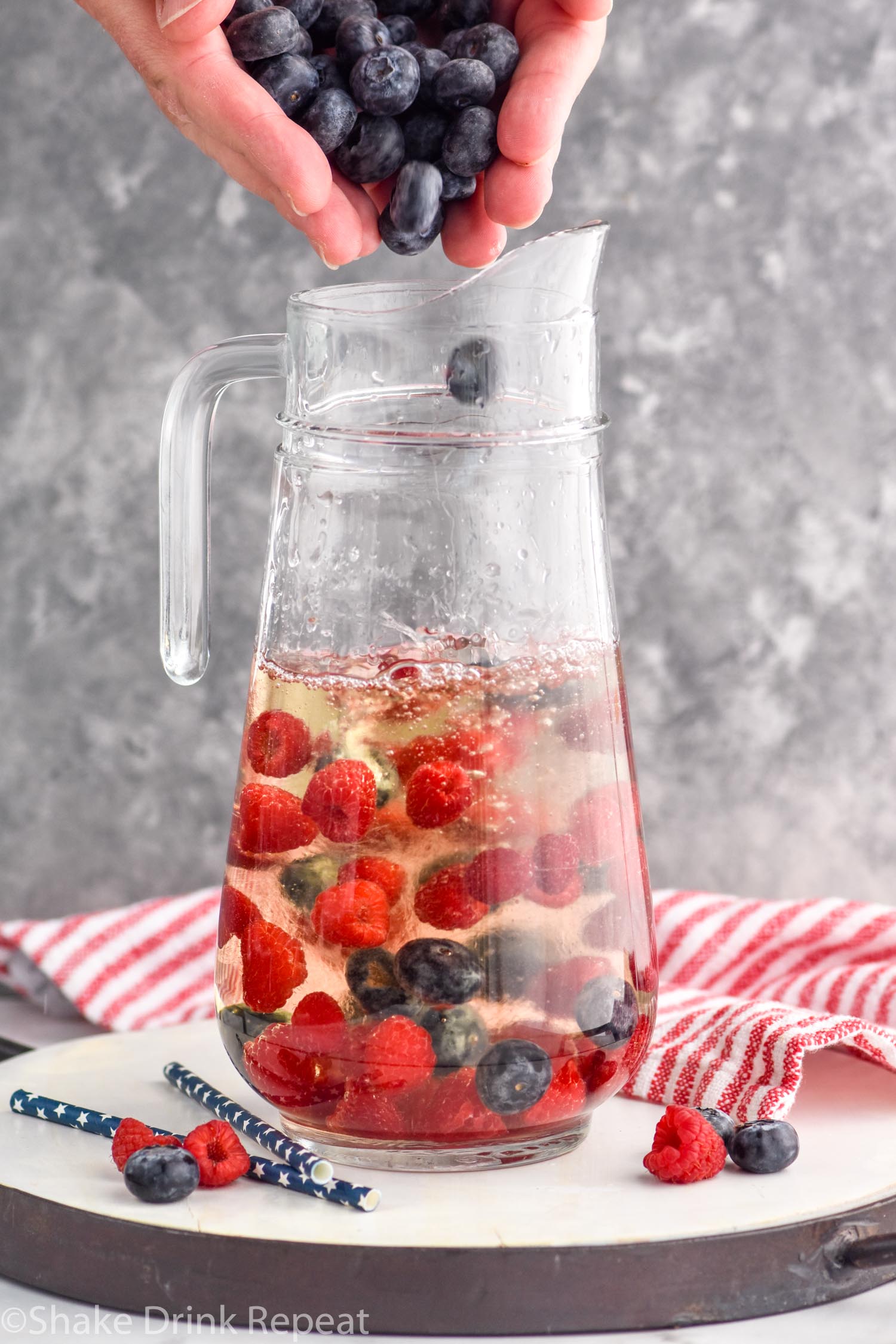 Serving
Serve your Fourth of July Sangria once it has chilled in the refrigerator. Pour your sangria into wine glasses and enjoy!
Tips and Tricks
Set out extra berries for your party guests to add to their glasses of sangria.
Fresh or frozen fruit would work for this patriotic sangria recipe. If you use frozen fruit, the berries will not look as plump as fresh would, but the flavor will be the same.
Simple syrup is listed as an optional ingredient for this recipe, which is used to add sweetness to the sangria. If you want a sweeter cocktail, add a little simple syrup and then taste again. Repeat until you get your desired sweetness.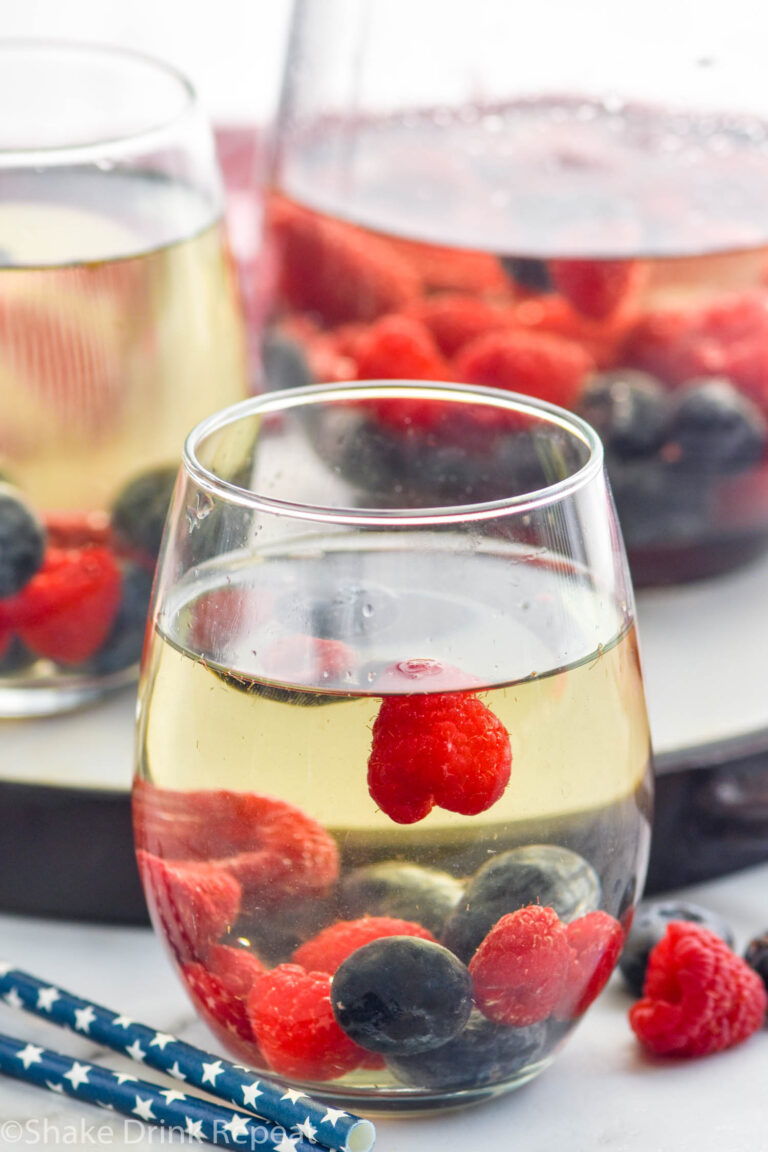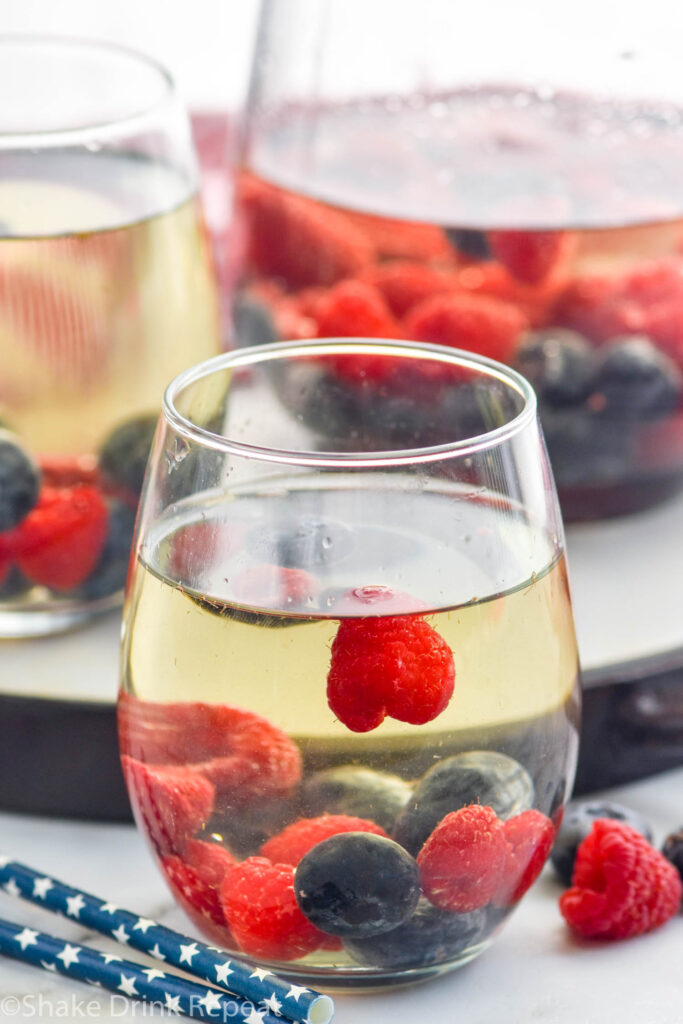 Other Summer Drink Recipes
Nothing beats Margaritas when the weather warms up!
For a tropical vacation wherever you are, make a Pina Colada and kick your feet up.
Another summer party favorite, this Blue Lagoon Cocktail is fruity and refreshing.
If you make this Fourth of July sangria recipe, leave a comment and let us know what you think. We love hearing from you!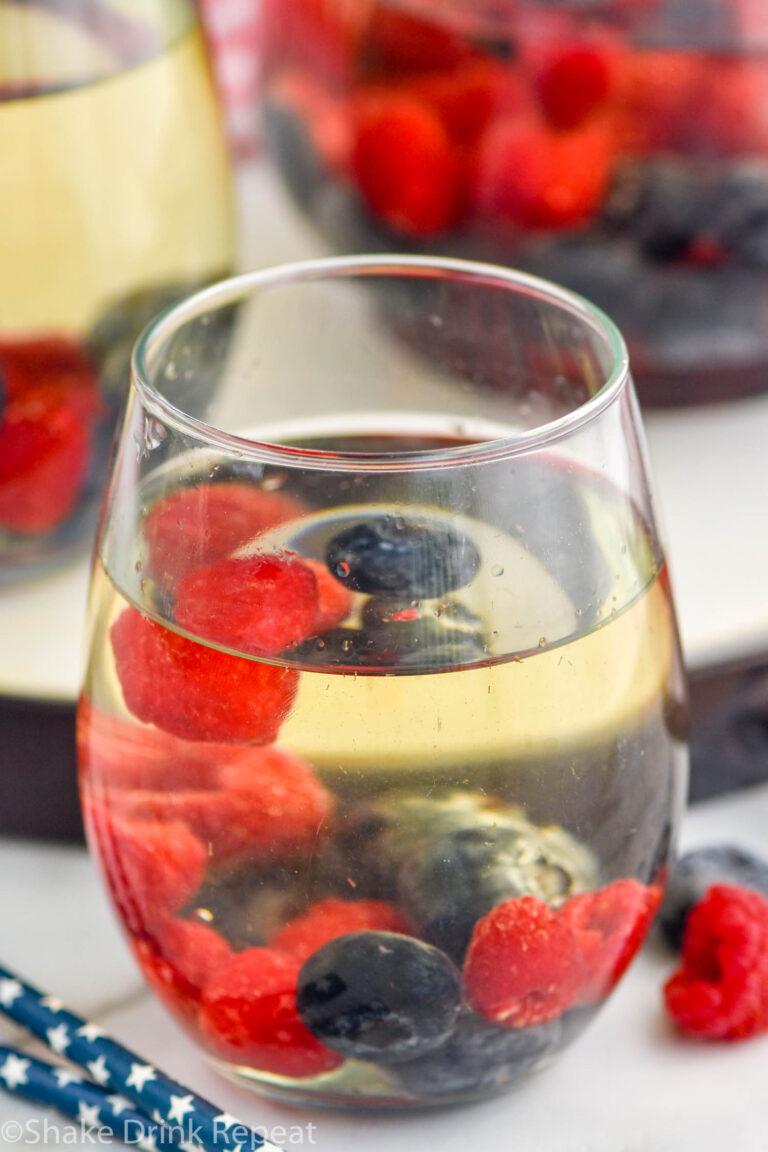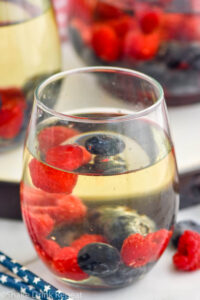 Fourth of July Sangria
This Fourth of July Sangria is a patriotic sangria twist that is simple and delicious. This festive recipe will be a favorite summer cocktail.
Ingredients
750

milliliters

Pinot Grigio

(or any white wine you enjoy)

1/2

cup

white rum

1/4

cup

orange liqueur

1/4

cup

simple syrup

(optional, see note)

1

cup

blueberries

sliced

1

cup

rasberries

(or strawberries)
Instructions
Pour all the liquid ingredients into a pitcher and mix together.

Let chill in the refrigerator for an hour or up to 10 hours.
Notes
Sweetness in a cocktail is such a personal taste, before adding the simple syrup taste the drink.  Then if you decide it is not sweet enough add simple syrup until desired sweetness.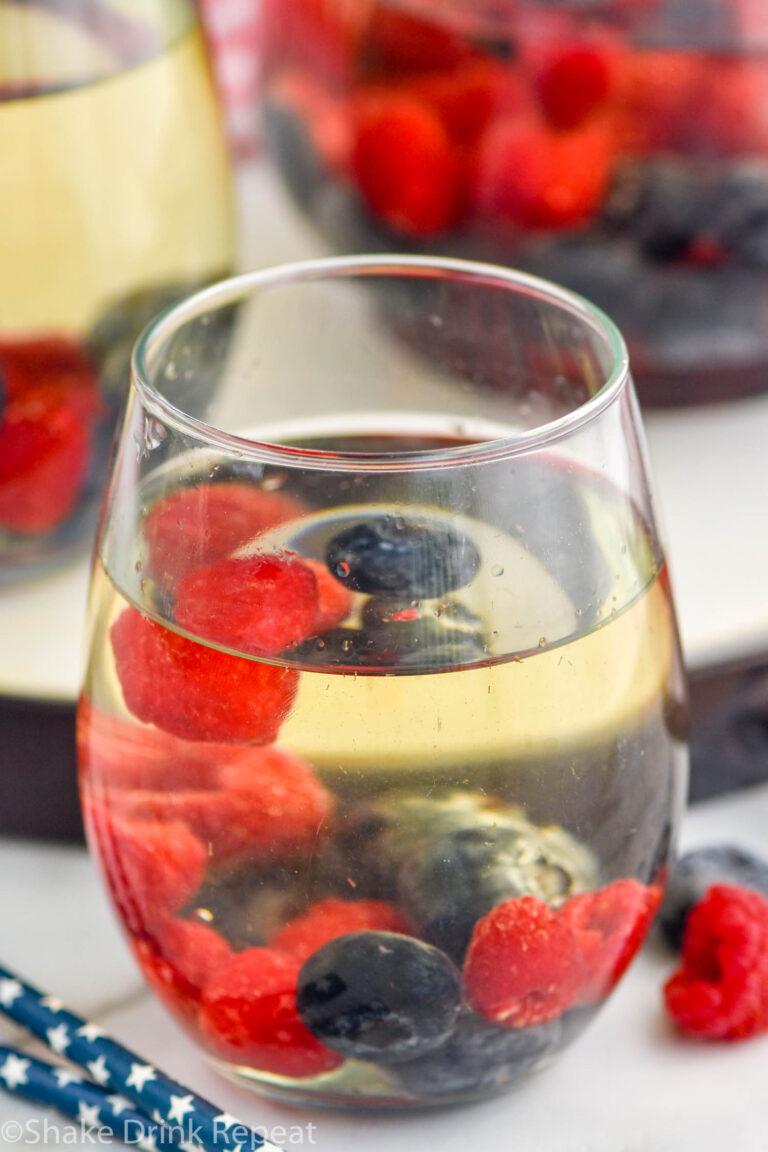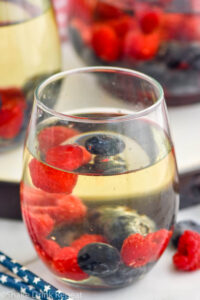 Did You Make This
Fourth of July Sangria