The combination of two favorites: margaritas and fall, this apple cider margarita recipe is a tried and true crowd pleaser. With the cozy fall flavors of sweet apple cider we know and love combined with a kick of tequila, this cocktail is crisp and tangy.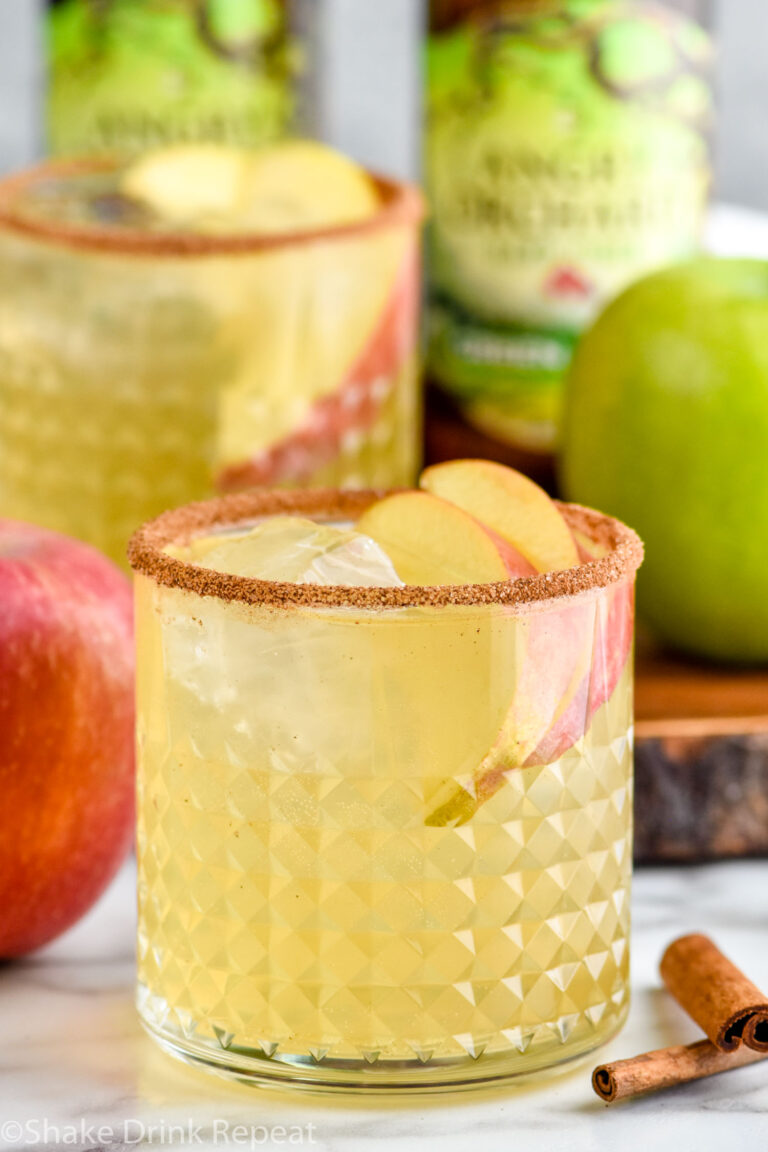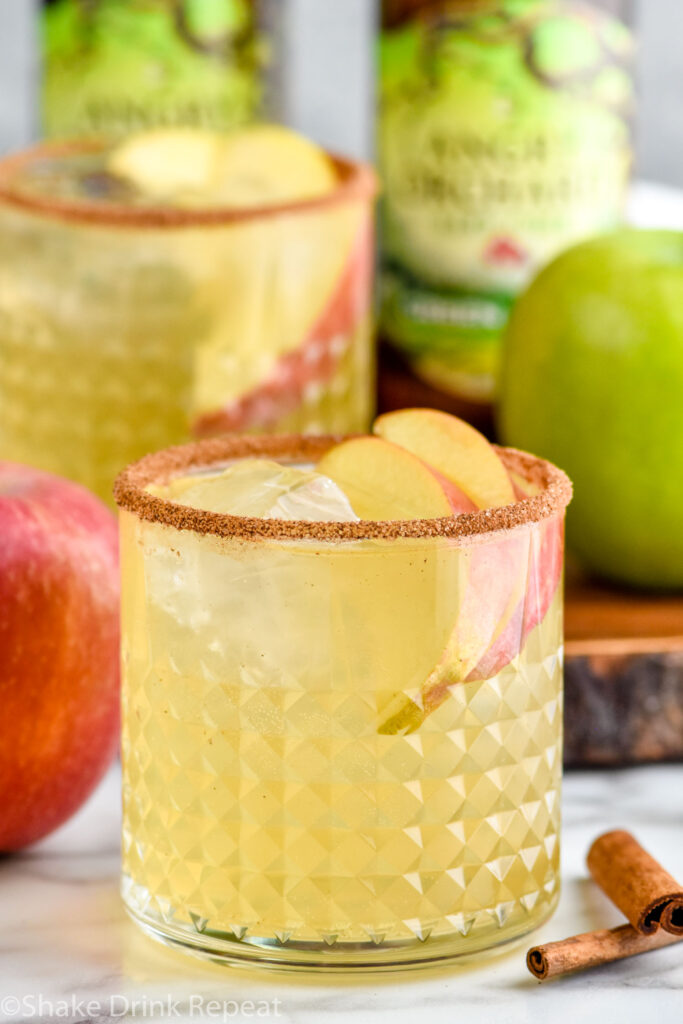 When apple season approaches it's hard not to crave all things apple. Make this apple cider spin on the classic margarita anytime for a sweet cocktail fix. Most margaritas are served in a rimmed glass, and the hard apple cider and tequila combination is paired perfectly with a little cinnamon sugar goodness with each sip.
Ingredients
Tequila. A staple for any margarita, see which tequila is best for margaritas below.
Simple syrup. This homemade simple syrup recipe is so easy to make and can be used in hundreds of cocktail recipes. You can also use honey or agave as the sweetener in this margarita.
Lime juice. Fresh lime juice is always best when it comes to cocktails. Use the juice from one lime.
Hard Cider. Angry Orchard is a common hard cider. Open just prior to making your margaritas so that it is fizzy and fresh. It also stars in this Snakebite recipe.
Cinnamon and Sugar. This duo on the rim of your glass is what takes the drink from good to great! See how to rim your glass with cinnamon sugar below.
How to Make Simple Syrup
Make this easy, inexpensive simple syrup to use in all of your favorite cocktails!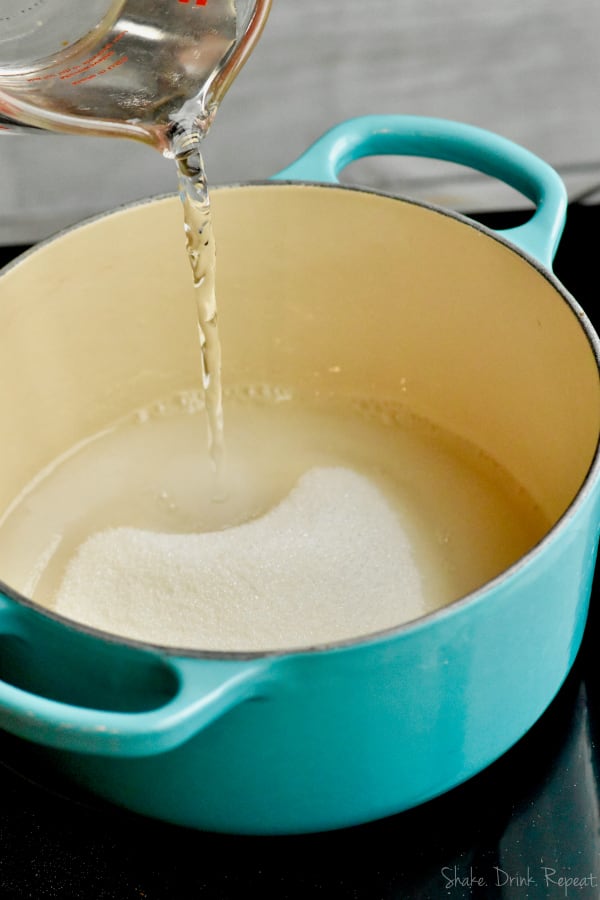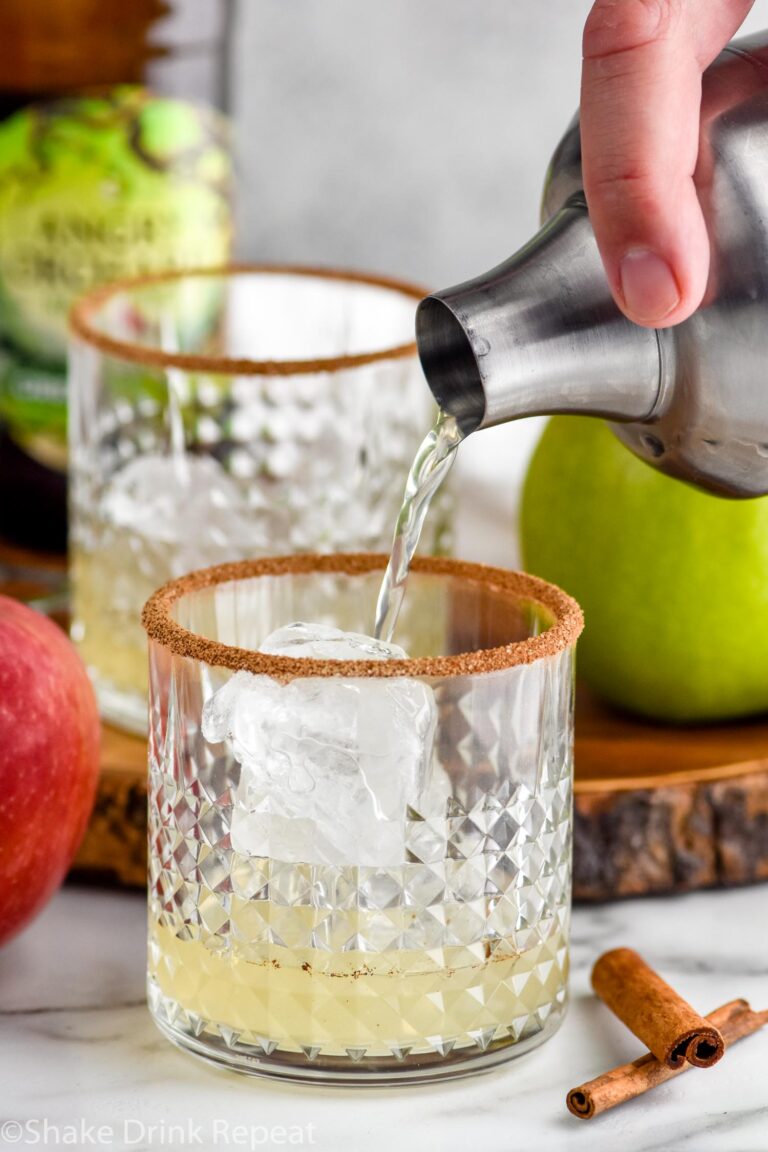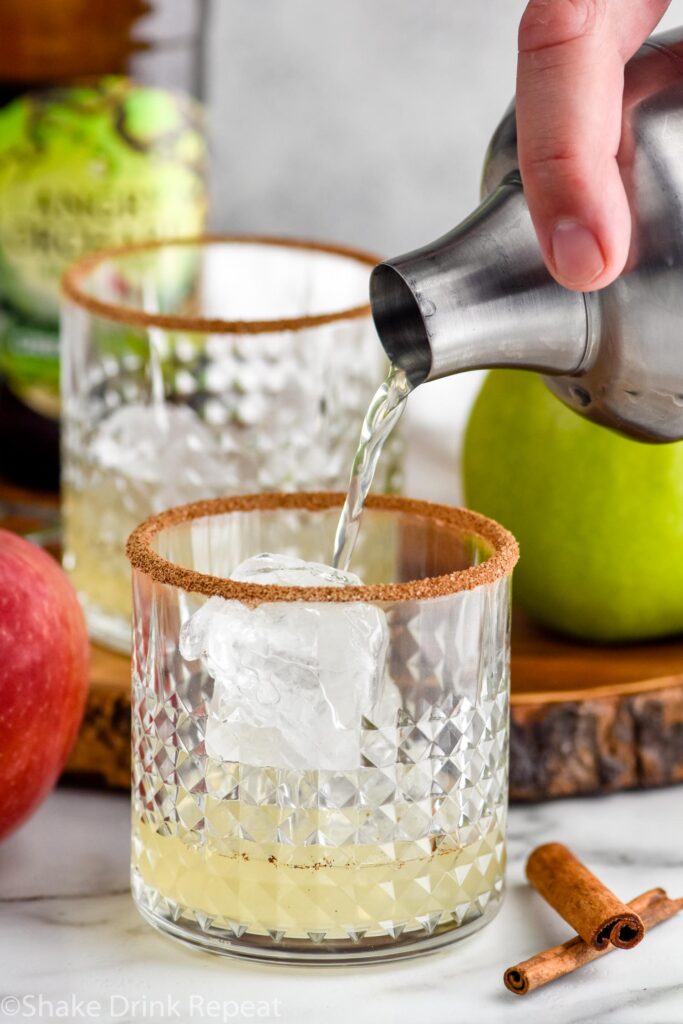 Best Tequila for Margaritas
Different margarita recipes feature different types of tequila. One rule of thumb is to use a tequila that is 100% agave. This is the most pure tequila which yields the best taste, others contain undesired additives and sugars.
How to Make Apple Cider Margaritas
Prepare your glasses and set them aside. See below for how to rim the glasses with cinnamon sugar.
Add your tequila, simple syrup, and lime juice to a cocktail shaker with ice.
Shake well and strain into a prepared glass filled with ice.
Top with hard apple cider.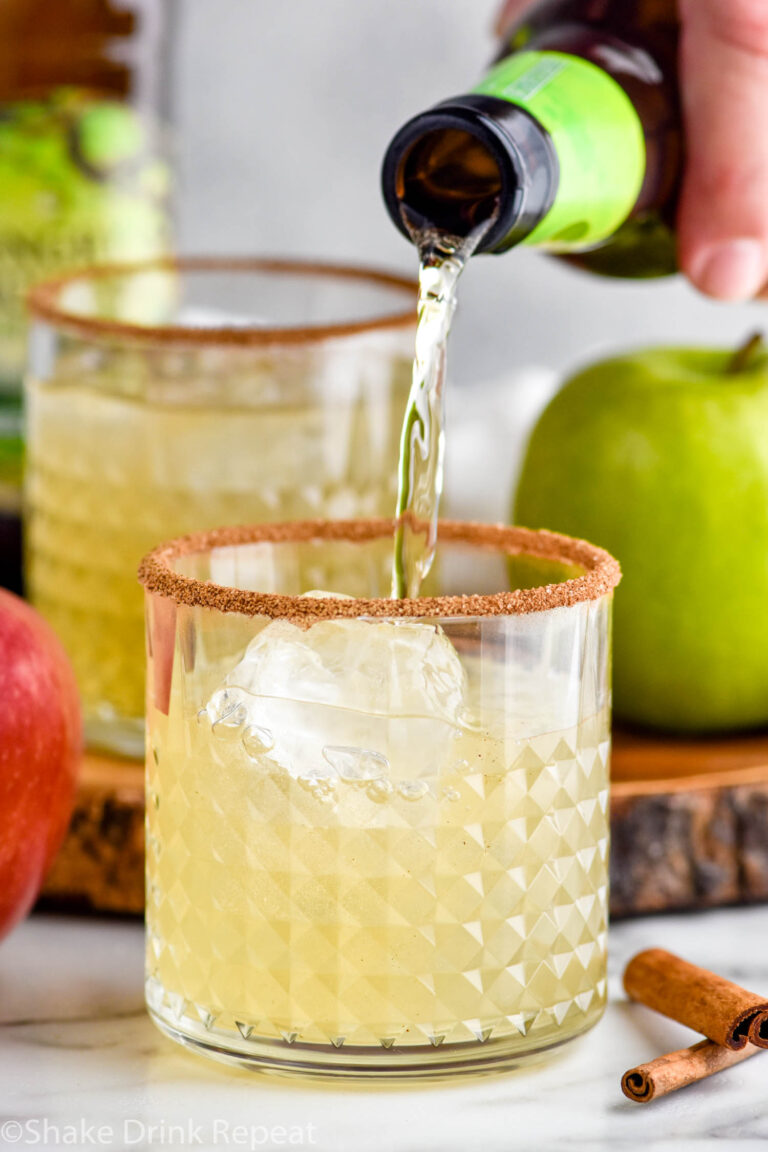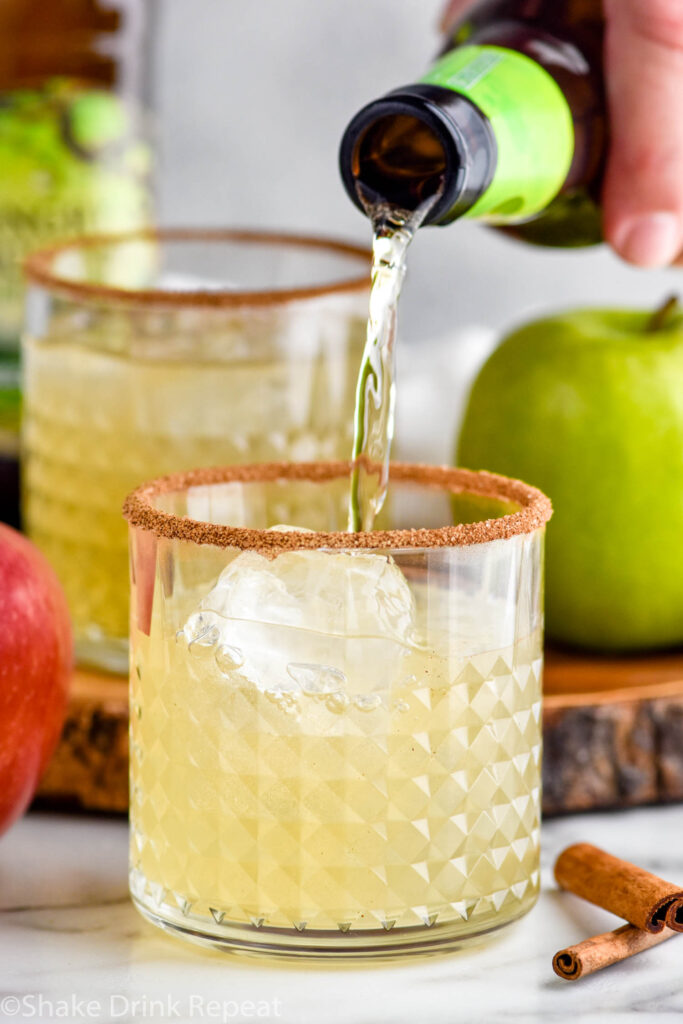 How to Prepare the Glasses
Trust me when I say, do not skip this step. The cinnamon sugar rim provides some texture and sweetness with each sip. It is worth an extra minute of prep time!
Rum a lime wedge around the rim of your glass to moisten it.
Add some cinnamon and sugar to a shallow plate (no need to measure, but about an equal ratio of each).
Roll the rim of your glass in the cinnamon sugar, allowing it to stick to the outside rim of the glass.
Other Margarita Recipes
We have dozens of margarita recipes that have been such a joy to create AND enjoy. From tropical Coconut Margaritas, to the top shelf Cadillac Margarita, we have a margarita for every occasion. Here are a few favorites: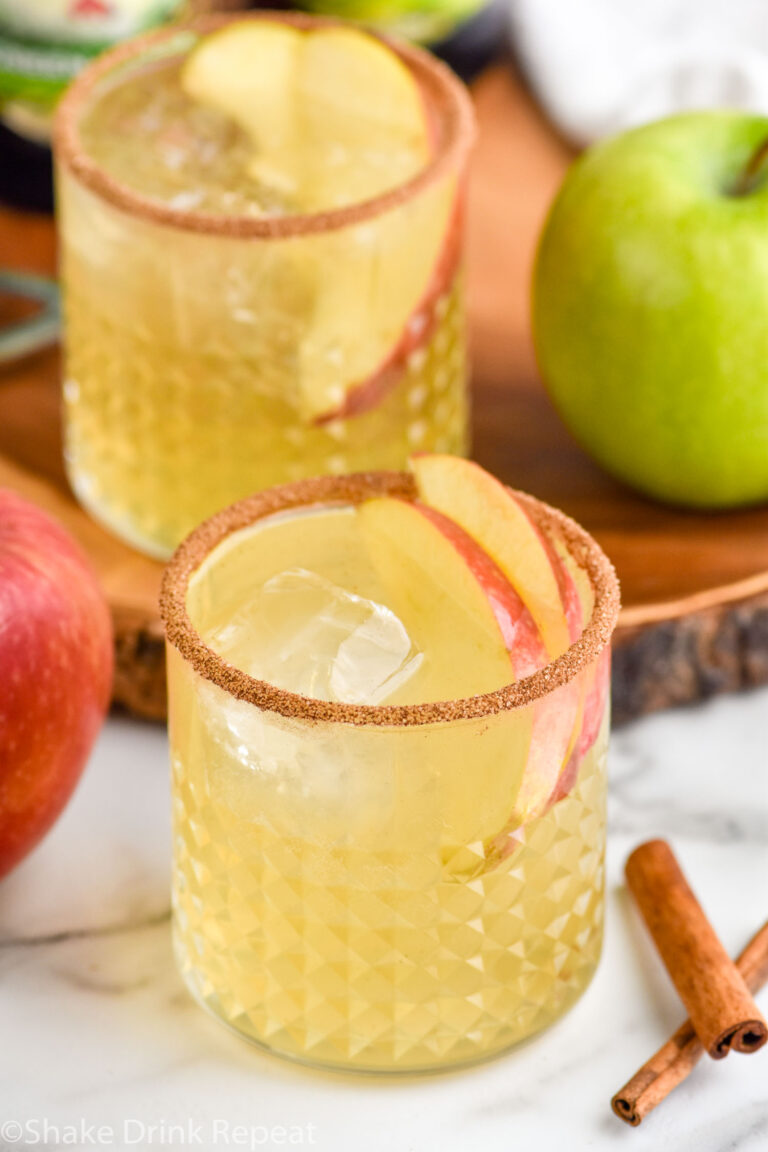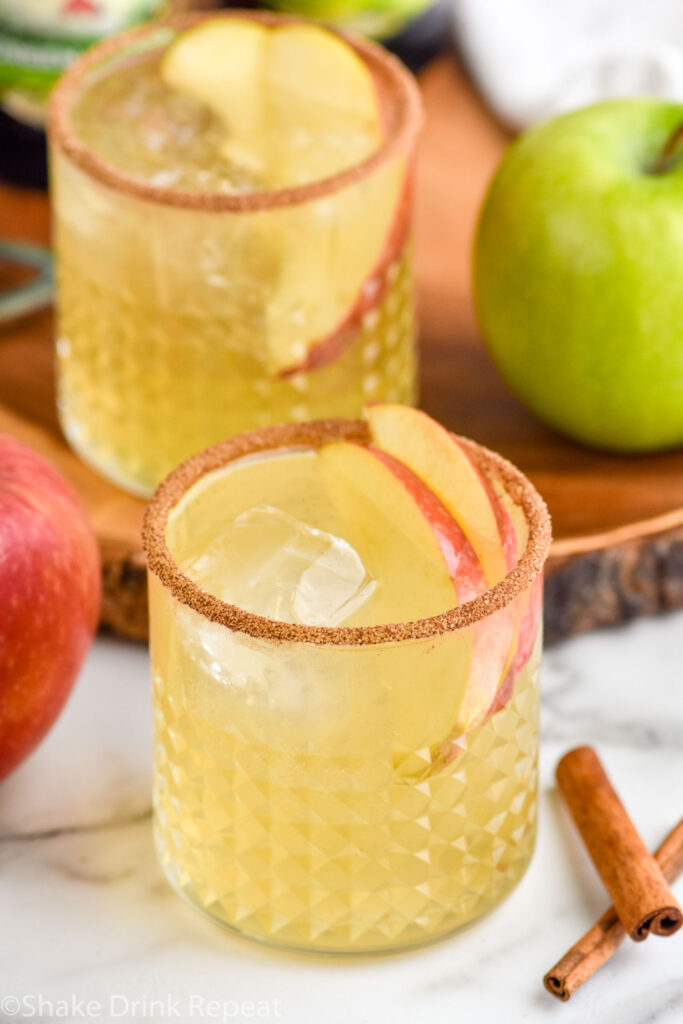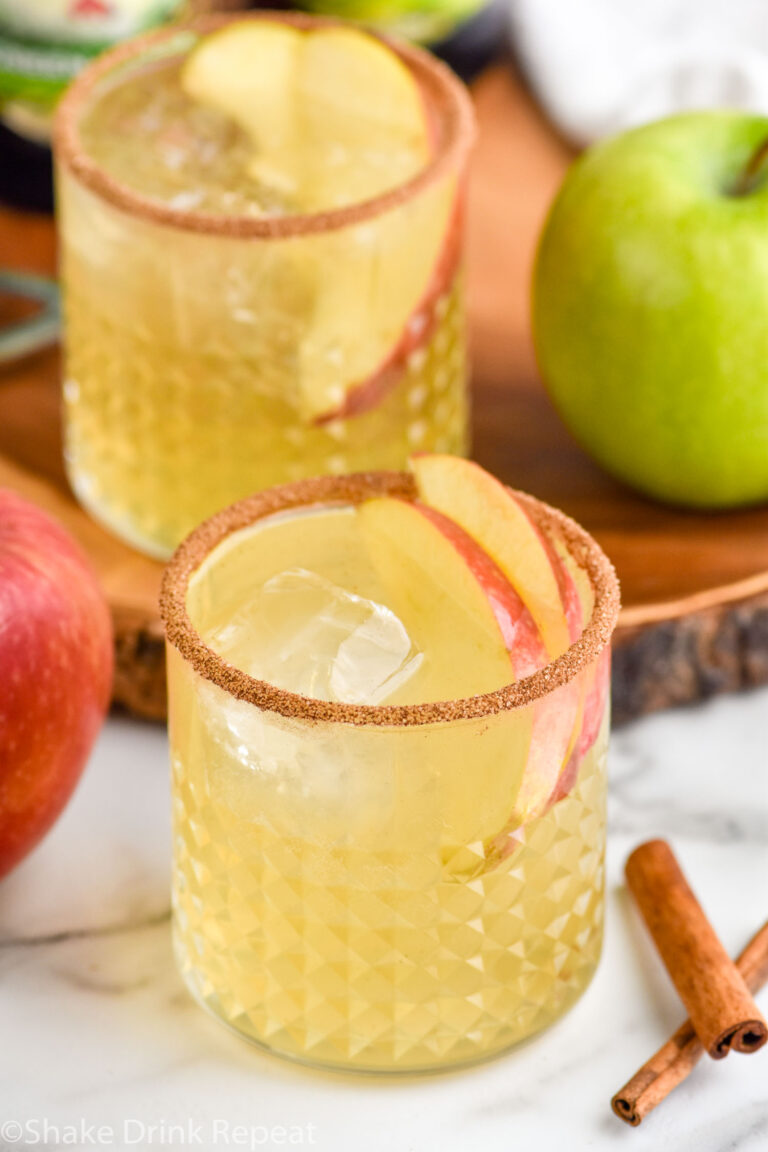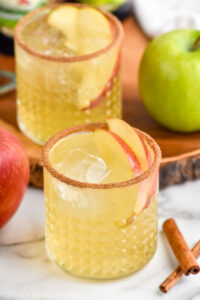 Apple Cider Margaritas
With cozy fall flavors of apple cider we know and love combined with a kick of tequila, this apple cider margarita is crisp and invigorating.
Ingredients
2

ounces

gold tequila

1

tbsp

simple syrup, honey syrup or agave syrup

juice of one lime

top with bottle of hard apple cider

apple slices

optional
Instructions
Combine all ingredients together.

Optionally rim the glass with cinnamon sugar.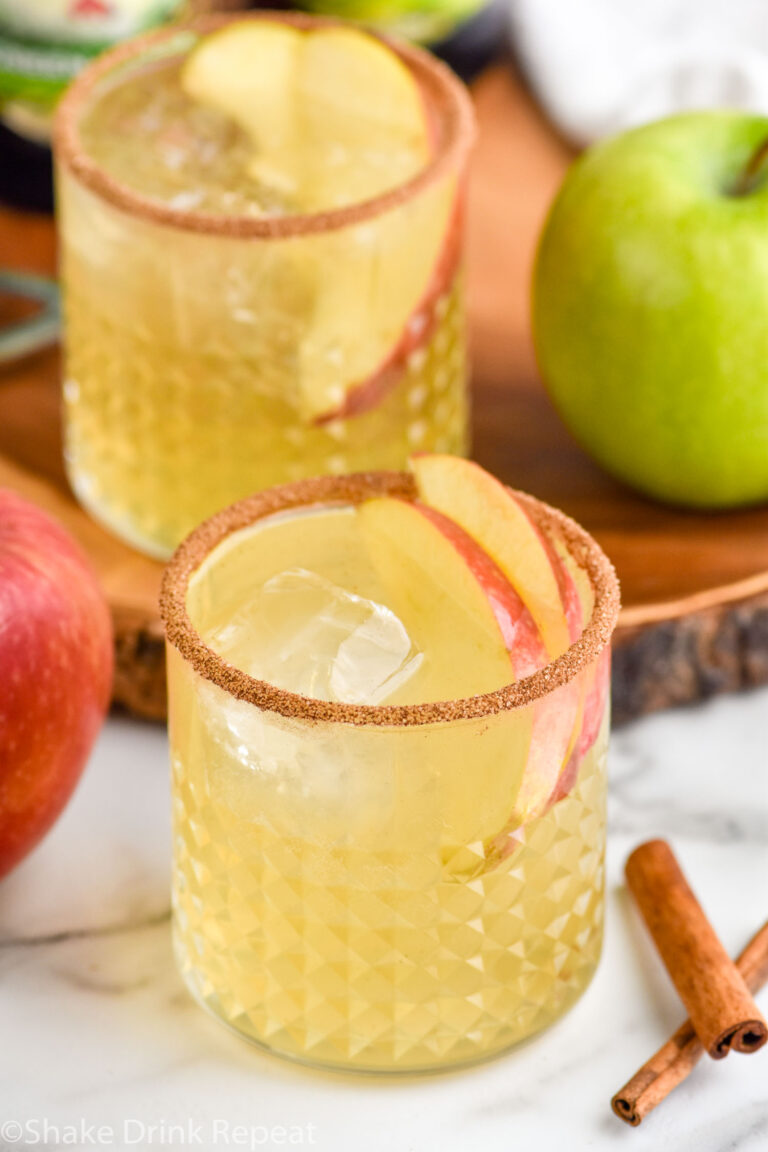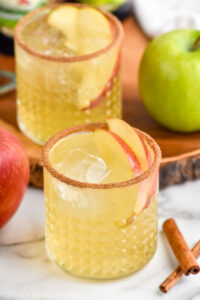 Did You Make This
Apple Cider Margaritas