A savory boost on a brunch staple, this Bloody Caesar recipe is simple to make and tastes delicious. This Canadian spin on the classic Bloody Mary cocktail is a must-try.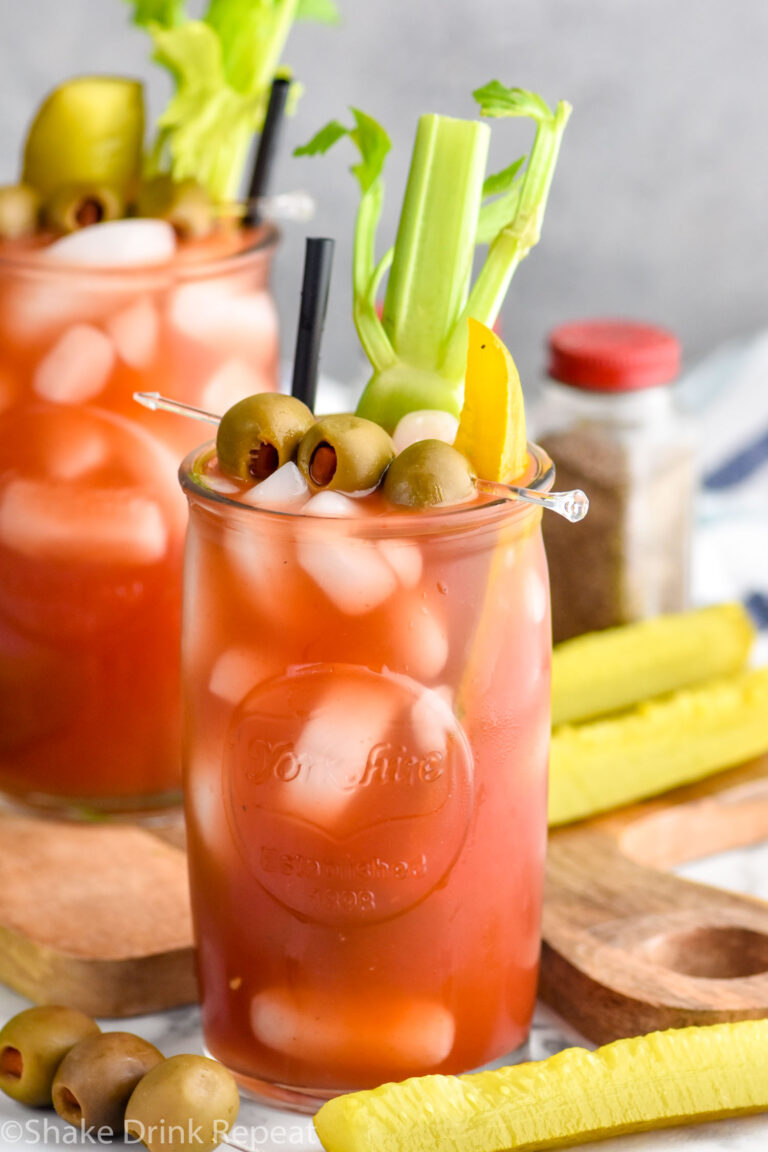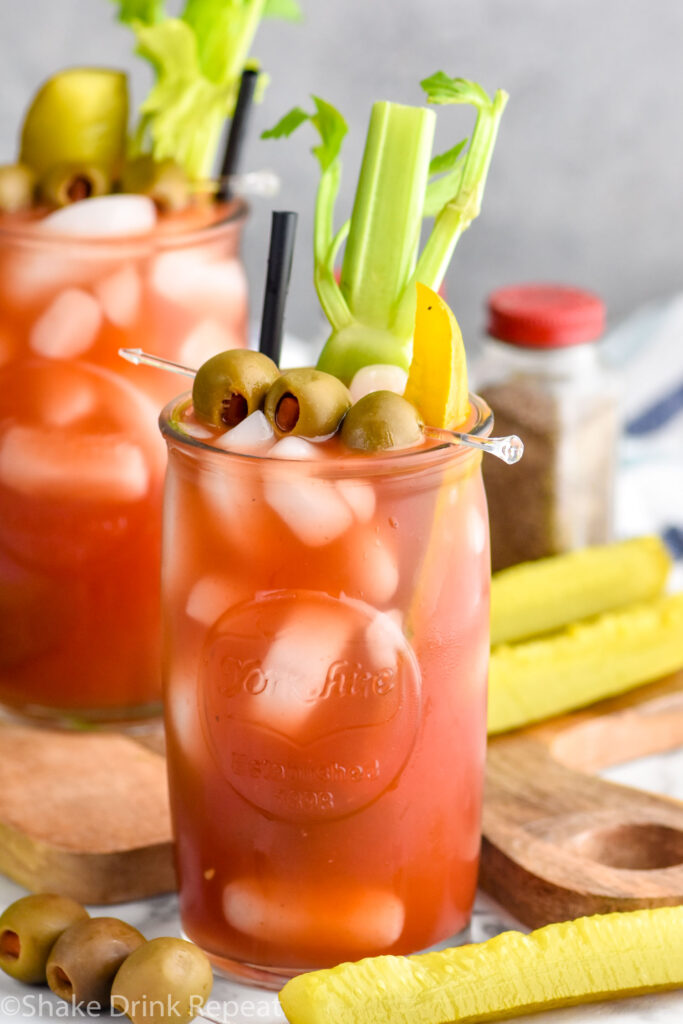 Similar to our homemade Bloody Mary mix recipe, one of the best parts of making this Bloody Caesar cocktail at home is customizing the spice level. A changeup on the popular Bloody Mary brunch cocktail, this flavorful drink uses Clamato juice instead of tomato juice to take the taste to the next level.
Bloody Caesar Ingredients
This drink comes together with five simple ingredients combined in a pint glass or pitcher. To make your own Bloody Caesar at home, gather the following ingredients:
Clamato juice: A blend of tomato juice, clam broth, and spices. Buy at the store or make your own. This can usually be found at your grocery store near the liquor. Chill before serving.
Vodka: Use whatever vodka you have on hand and like the flavor of. Since this drink is so savory, you don't need to use a top-shelf vodka for this recipe. We use Tito's.
Worcestershire sauce: A sweet and savory sauce made from vinegar and seasonings.
Tabasco sauce: The spice of this cocktail. Depending on how spicy you want your Caesar to be, you can add more or less of this. I recommend starting with the amount on the recipe card and adding more in very small amounts until you get a taste you like.
Pepper: Just a pinch is needed for this recipe, and we are leaving out the salt due to the salt content in the other ingredients.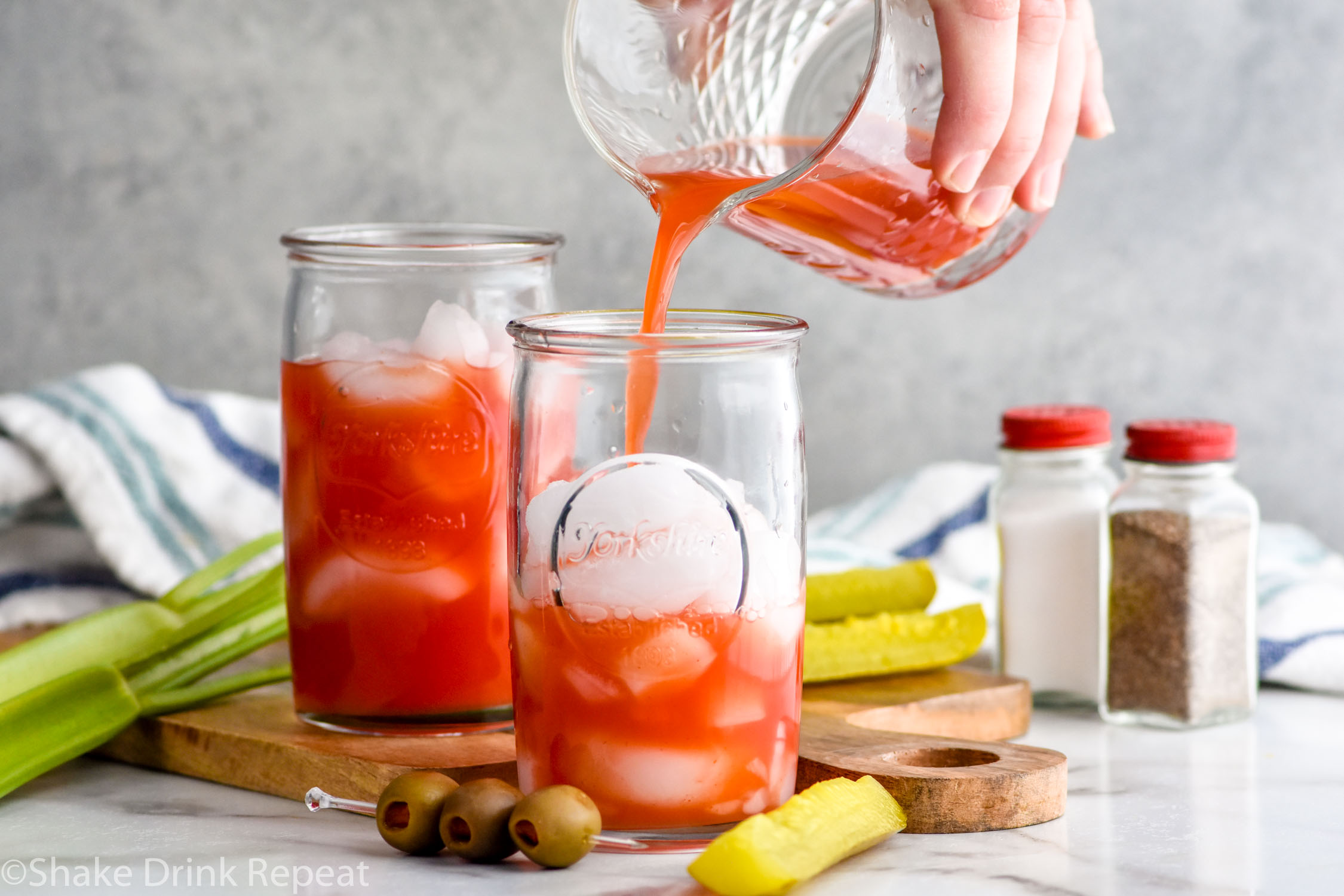 How to Make a Bloody Caesar
This is a brief overview of just how easily this cocktail comes together. For all of the ingredients and their measurements, see the recipe card at the bottom of the page.
Fill a pint or highball glass 3/4 full with ice.
Add all ingredients to the glass and stir well.
Garnish and enjoy!
Start by adding just a dash of Tabasco sauce to your cocktail. Stir well and taste it. If you want your Caesar to be spicier, add another dash of Tabasco and taste again. A little goes a long way, so add just a small amount at a time.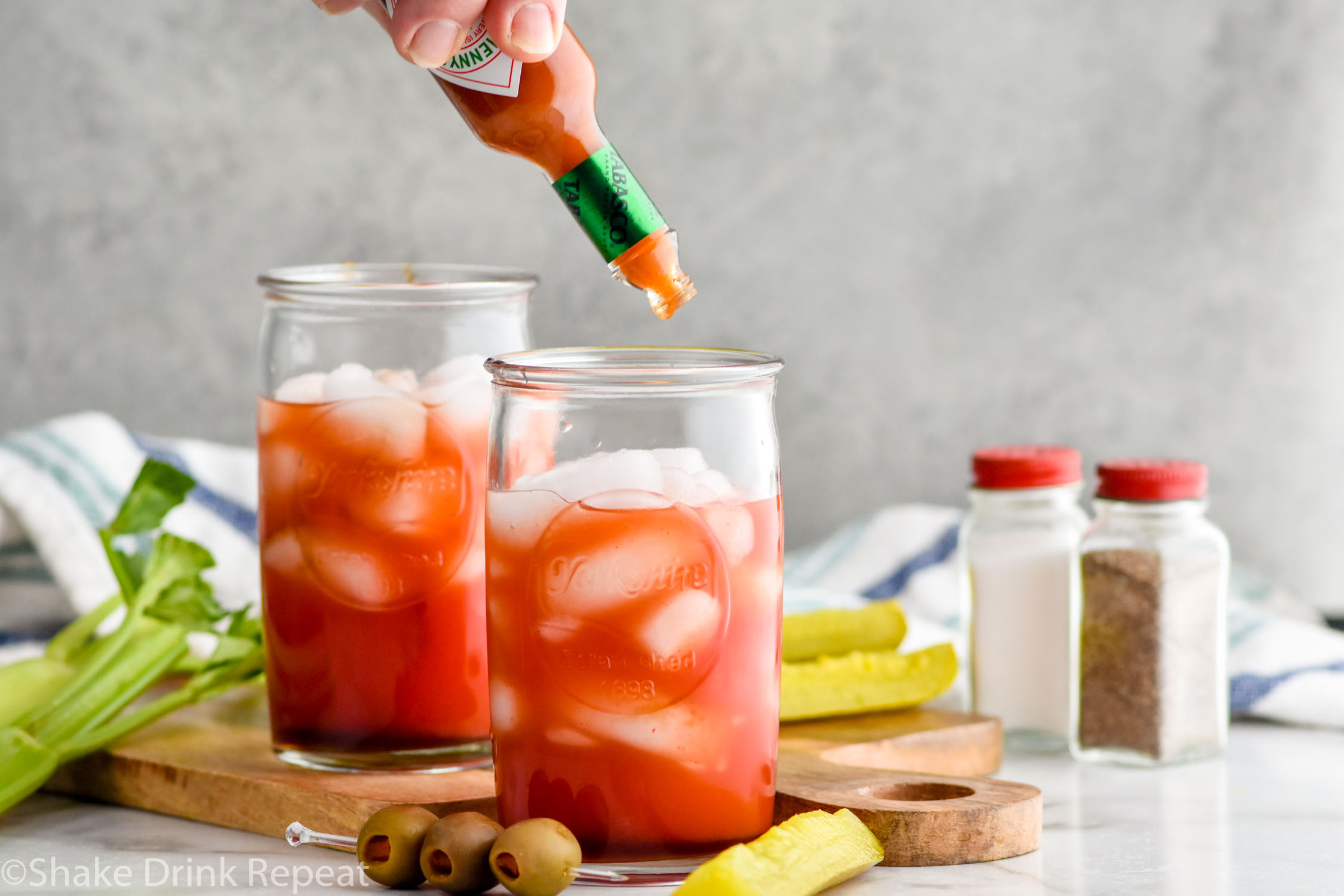 Bloody Mary vs Caesar
The difference between a Bloody Mary and a Caesar is the juice that is used. Bloody Marys use tomato juice, while Blood Caesars use Clamato juice. Clamato juice does have tomato juice in it, but it also has clam broth and spices for an extra-savory kick.
How to Serve
Serve your Caesar in a highball glass over ice. Mix ingredients and serve immediately for the freshest flavor. Here are a few variations for you to consider:
Leave out the vodka so that each person may add it to their glass themselves or enjoy an alcohol-free drink.
Make a pitcher of Bloody Caesar mix to easily serve a crowd.
Create a Bloody Caesar bar with different hot sauce options and garnishes.
Garnish your cocktails with things like celery, pickles, and olives.
Use a combination of Clamato juice and tomato juice to dilute the clam broth flavor.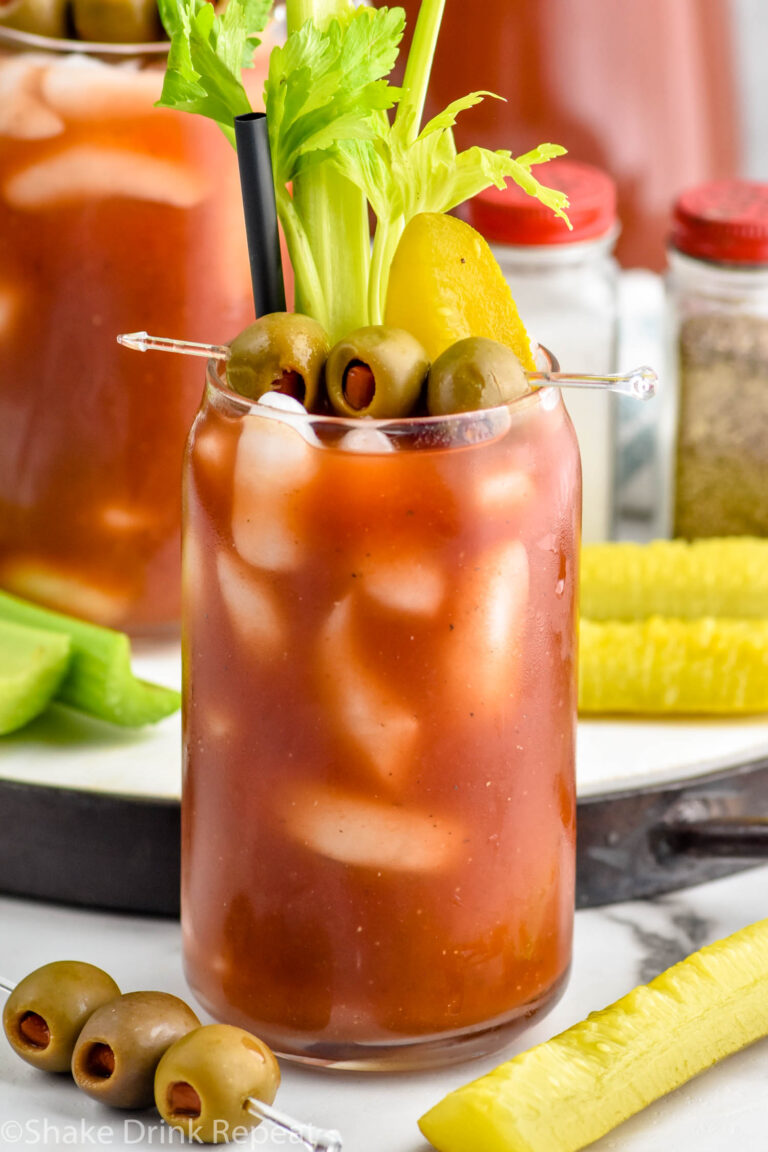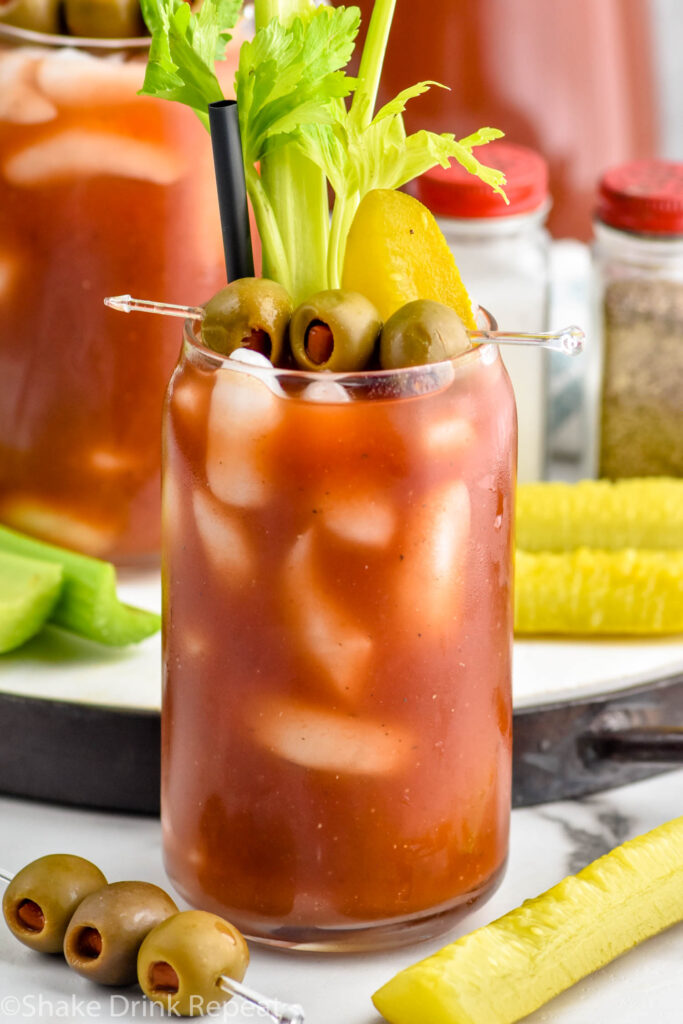 FAQ
What is Clamato juice?
A juice blend of tomato juice concentrate, clam broth, and spices.
Does Clamato have clam juice?
Yes, it has clam broth in it.
Is Worcestershire sauce gluten free?
The original Worcestershire sauce is not gluten-free, but there is a gluten-free Worcestershire sauce available to use in this cocktail.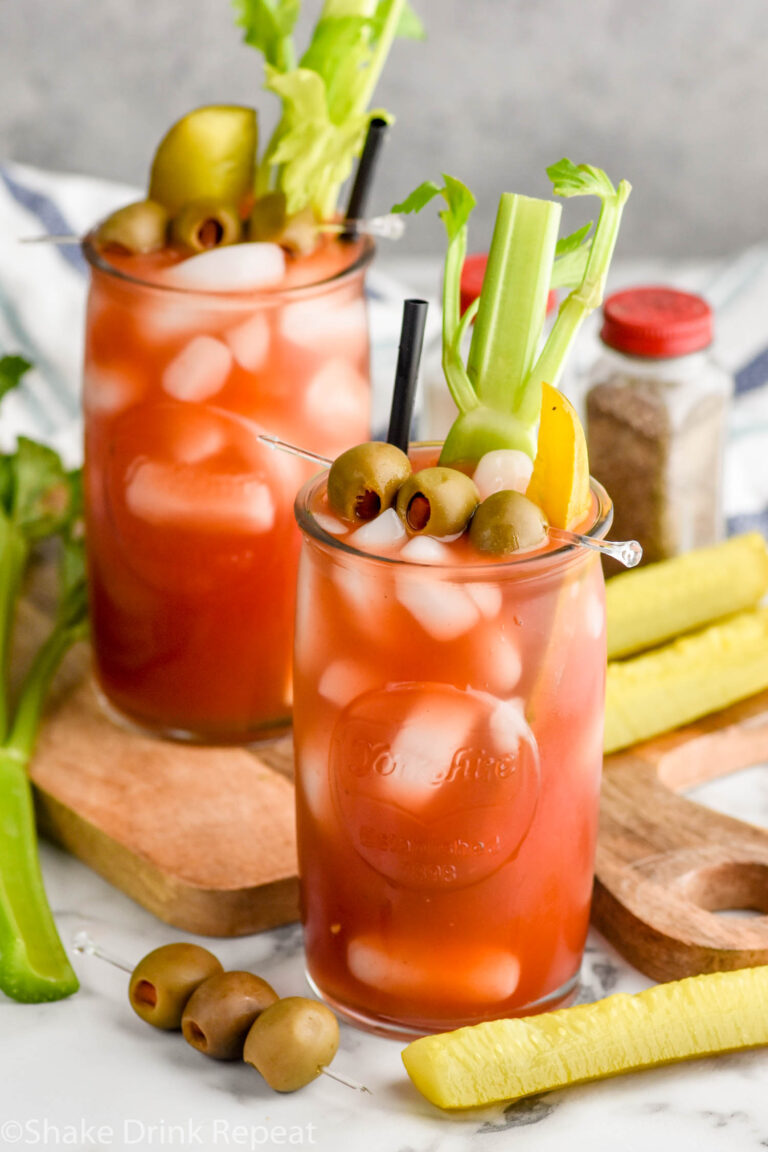 Other Brunch Drink Ideas
If you make this Bloody Caesar recipe, leave a comment and let us know what you think!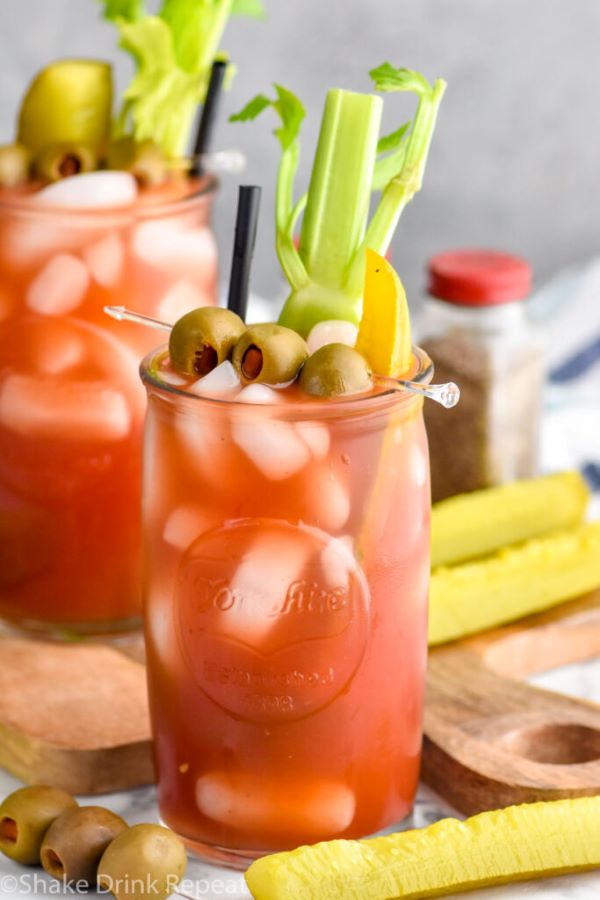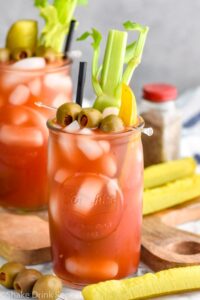 Bloody Caesar
A savory boost and a Canadian brunch staple, this Bloody Caesar recipe is simple to make and tastes delicious.
Ingredients
1

cup

Clamato juice

2

ounces

vodka

1

teaspoon

Worcestershire sauce

Dash

of

Tabasco sauce

Pinch

of

pepper
Instructions
Fill a pint glass 3/4 of the way full with ice.

Combine all ingredients and stir well.

Garnish with all sorts of delicious things.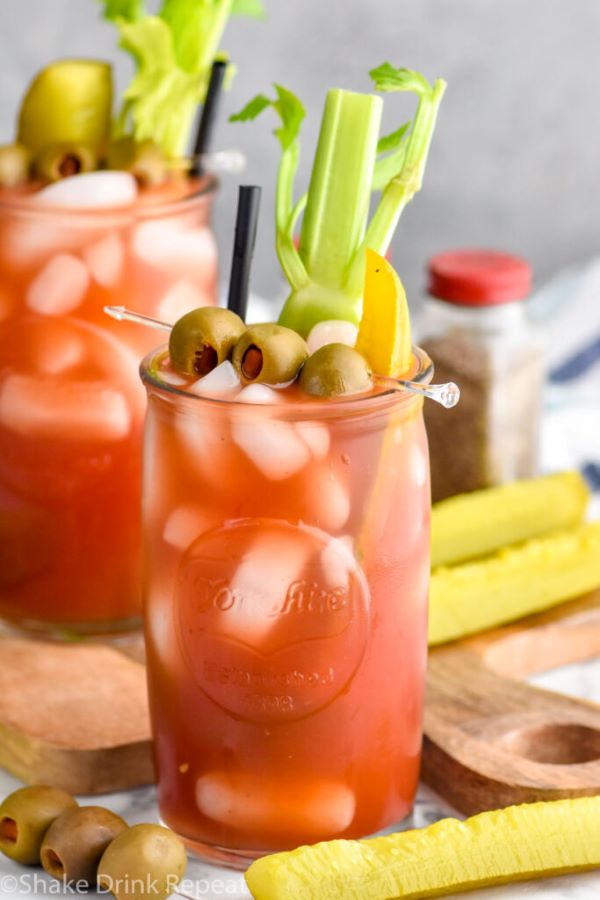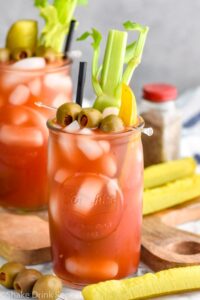 Did You Make This
Bloody Caesar