While the Long Island Iced Tea cocktail includes about everything but the kitchen sink for ingredients, a delicious and popular cocktail is the end result. This well-known and well-loved cocktail packs a lively and refreshing punch that rarely requires a refill. This recipe combines the perfect ratio of ingredients to make the best Long Island Iced Tea!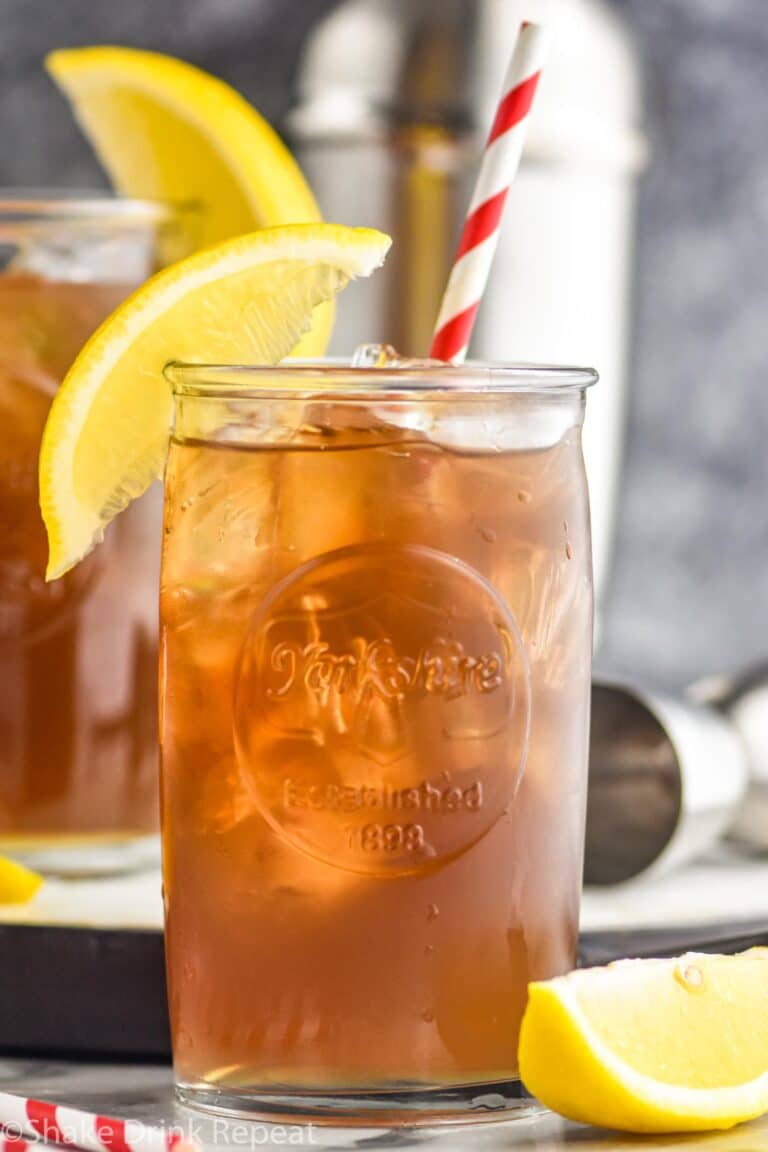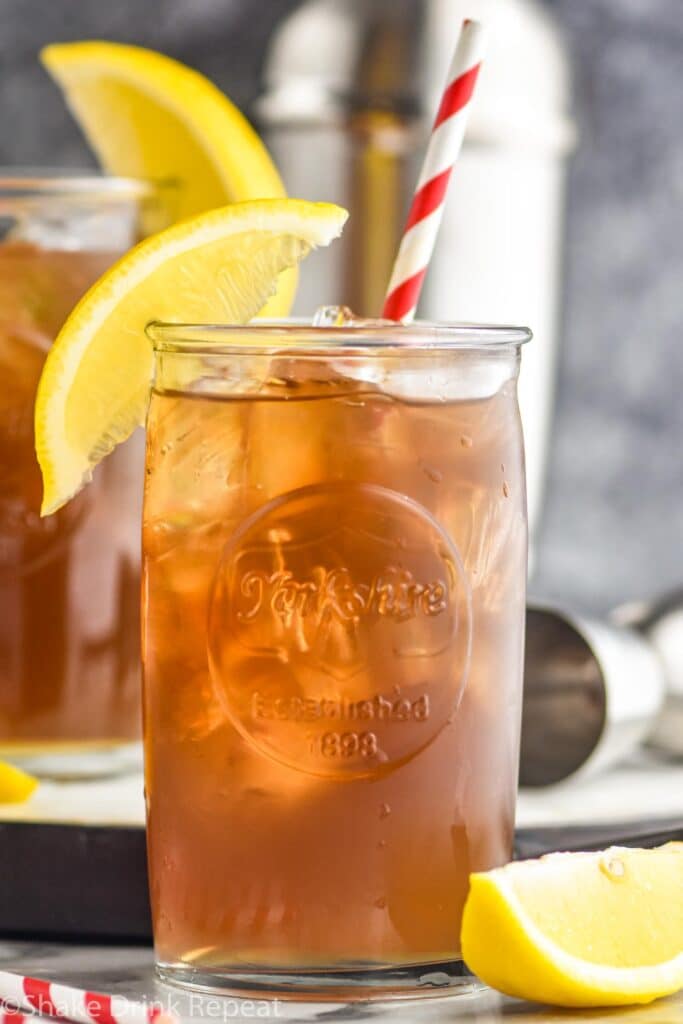 While the drink doesn't actually contain iced tea, the appearance and refreshing essence are about as far as the similarities go. Likely created in Long Island, New York (hence the name), it is boozy, slightly sweet, and a recipe you'll want to keep up your sleeve.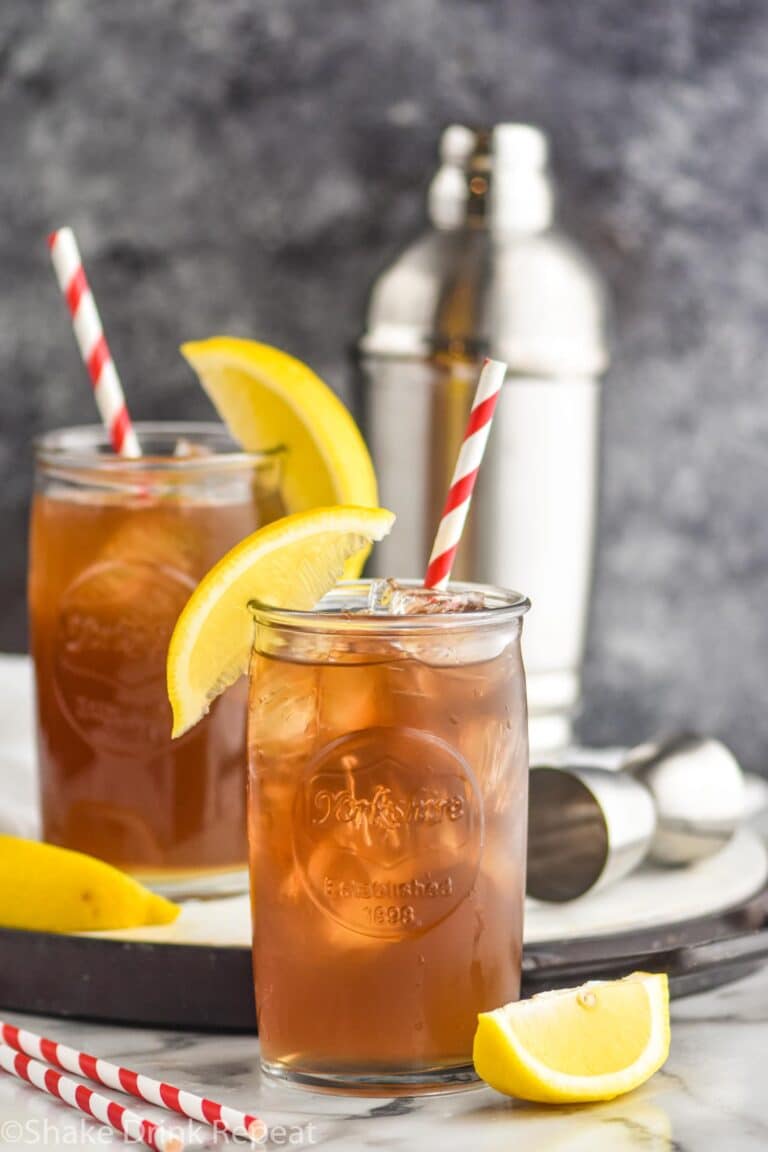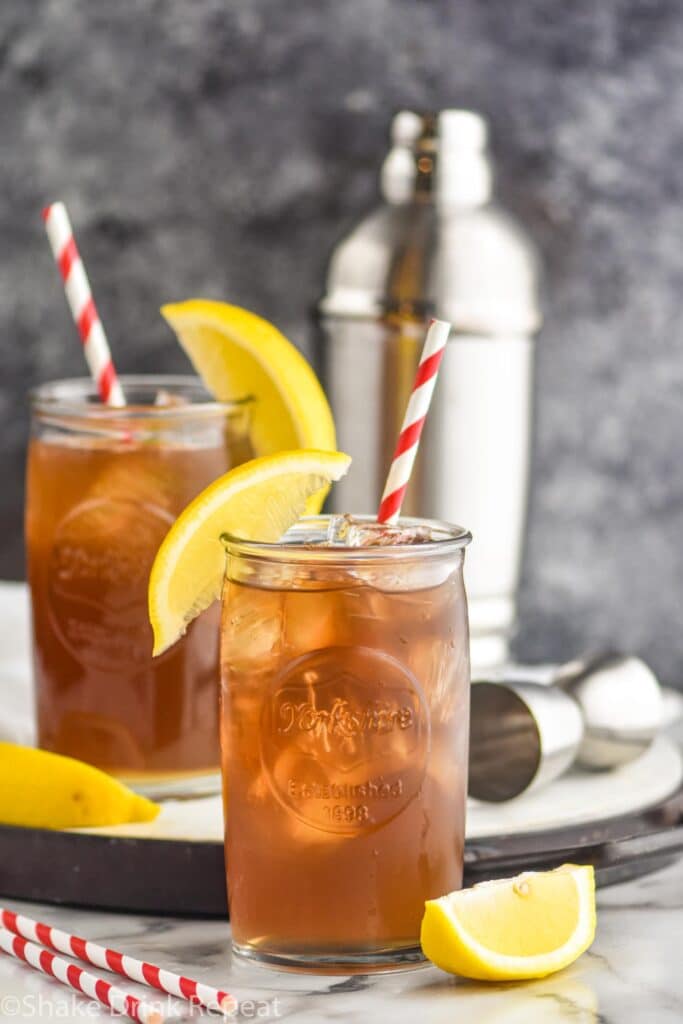 Long Island Iced Tea Ingredients
While you may get your workout in from all the pouring, we promise it will be worth it! Gather these simple ingredients for this refreshing sipper:
Tequila. A good-quality tequila is essential for a smooth cocktail. We recommend using one that is 100% agave, like in these Apple Cider Margaritas.
Vodka. Use whatever vodka you enjoy the flavor of. Tito's is our go-to for a smooth mid-range option.
White rum. White rum is the preferred choice for this cocktail. If you use dark rum instead, know that the flavor will change.
Triple Sec. An orange-flavored liqueur, also used in our Golden Margarita recipe. While in most cocktails a better quality orange liqueur, like Cointreau, is preferred, there is enough alcohol and flavor that a budget-friendly option works fine in this recipe.
Gin. Bombay Sapphire is our go-to gin. We also love it in the delicious French 75.
Simple Syrup. Make your own with this simple, delicious homemade Simple Syrup recipe.
Lemon juice. Freshly squeezed is best, but storebought will work too.
Coke.
How to Make Simple Syrup
This easy simple syrup recipe will become a staple for so many of your favorite cocktails!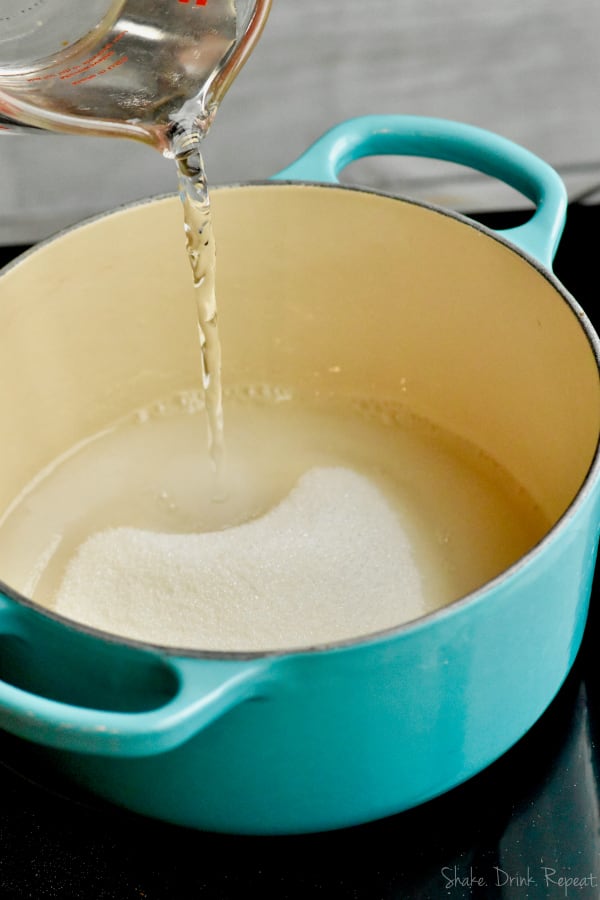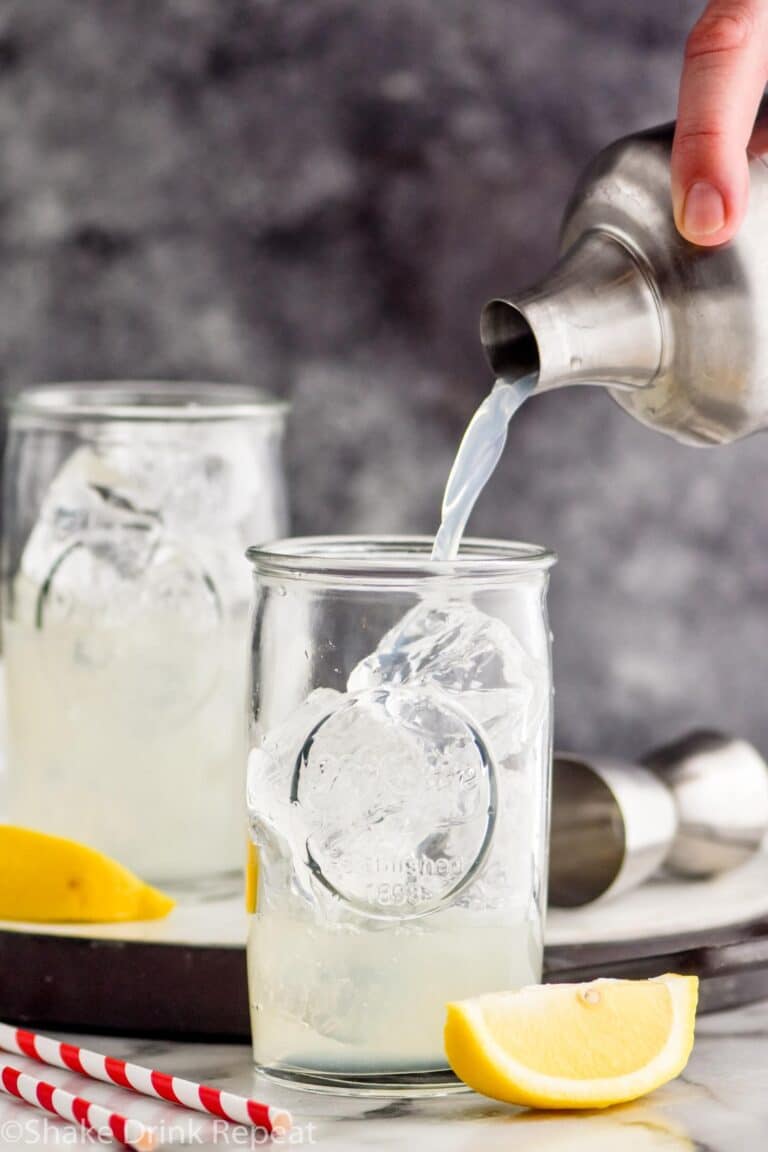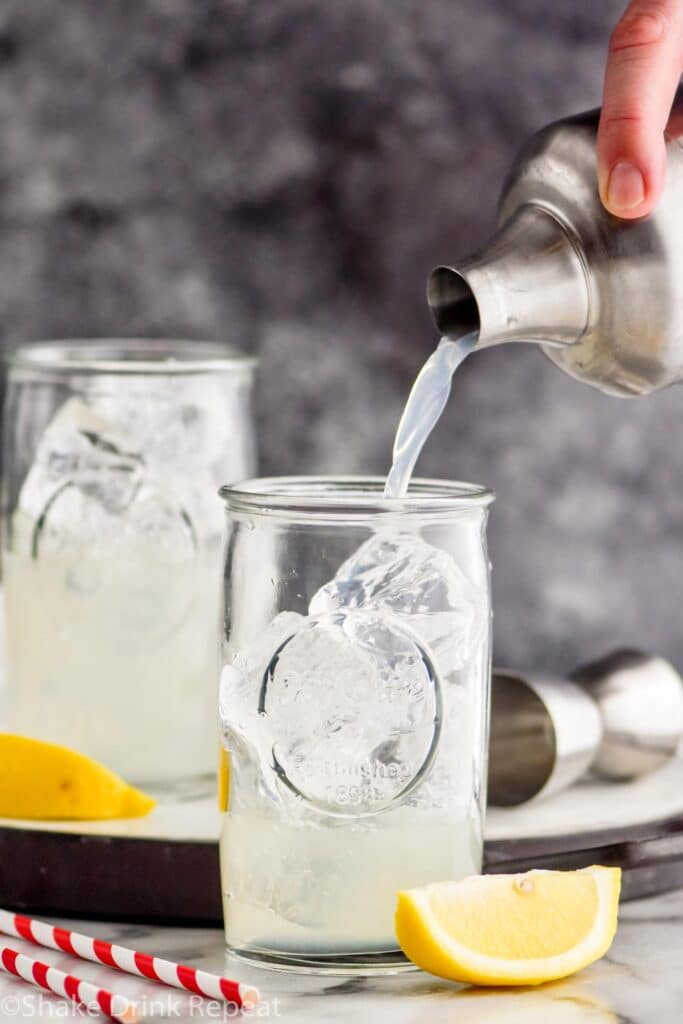 How to Make a Long Island Iced Tea
This cocktail is built right in your glass, so make sure it's large enough to hold all of the ingredients and plenty of ice. For the full recipe including all of the ingredients and measurements, scroll to the recipe card at the bottom of the page.
Fill your glass with ice.
Add half an ounce each of tequila, vodka, white rum, triple sec, and gin.
Add one ounce of lemon juice and simple syrup.
Top with Coke and stir.
Garnish with a lemon and enjoy!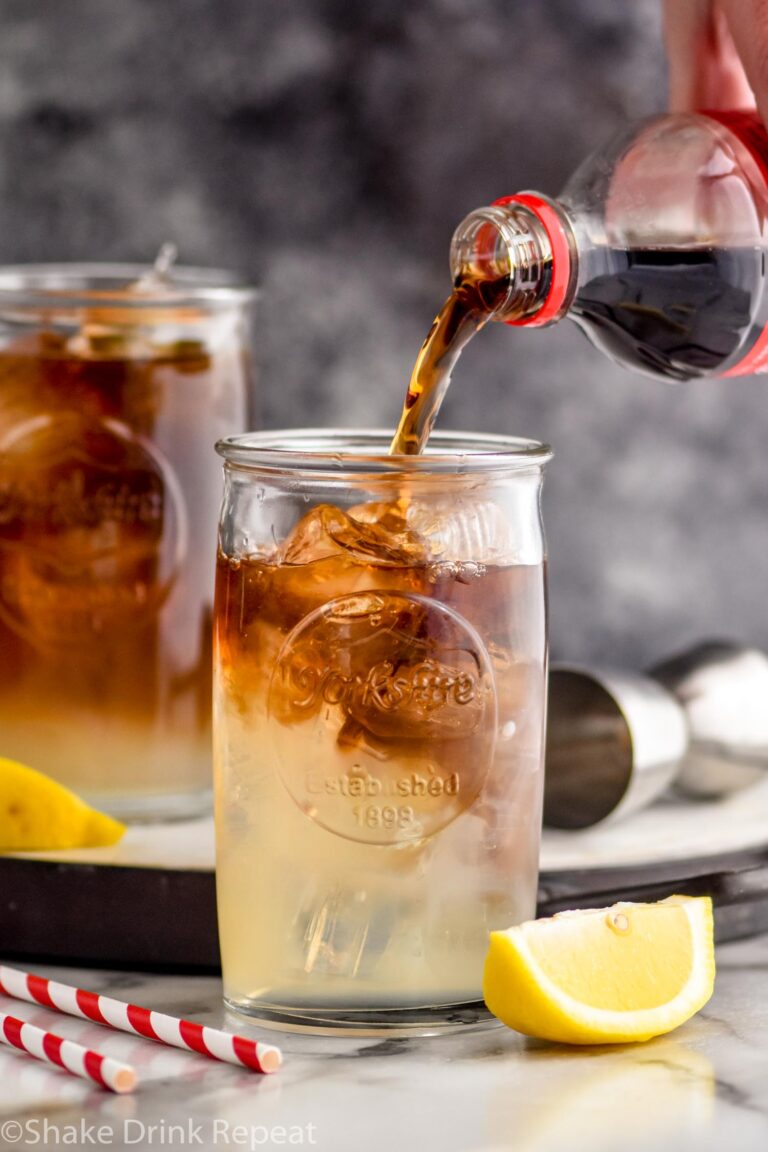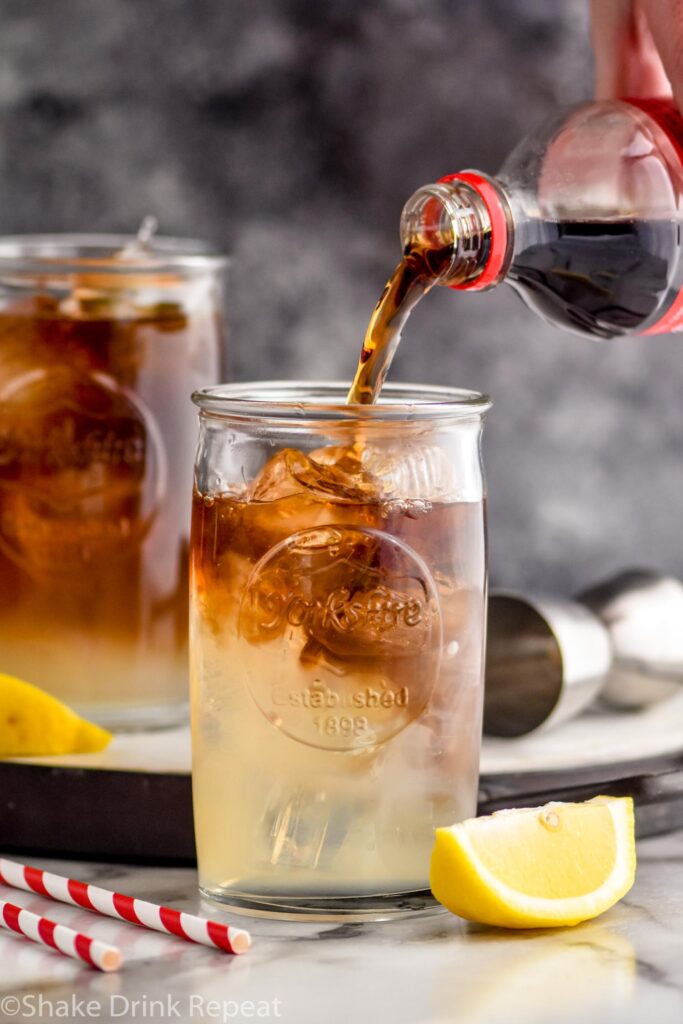 How to Serve
Since this mixed drink has quite a few ingredients, make sure you have a glass big enough to house them all. A tall glass tumbler or mason jar is perfect. Serve with lots of ice and some lemon wedges for garnish. A little extra citrus from the lemon garnish can be a nice addition depending on your taste preference.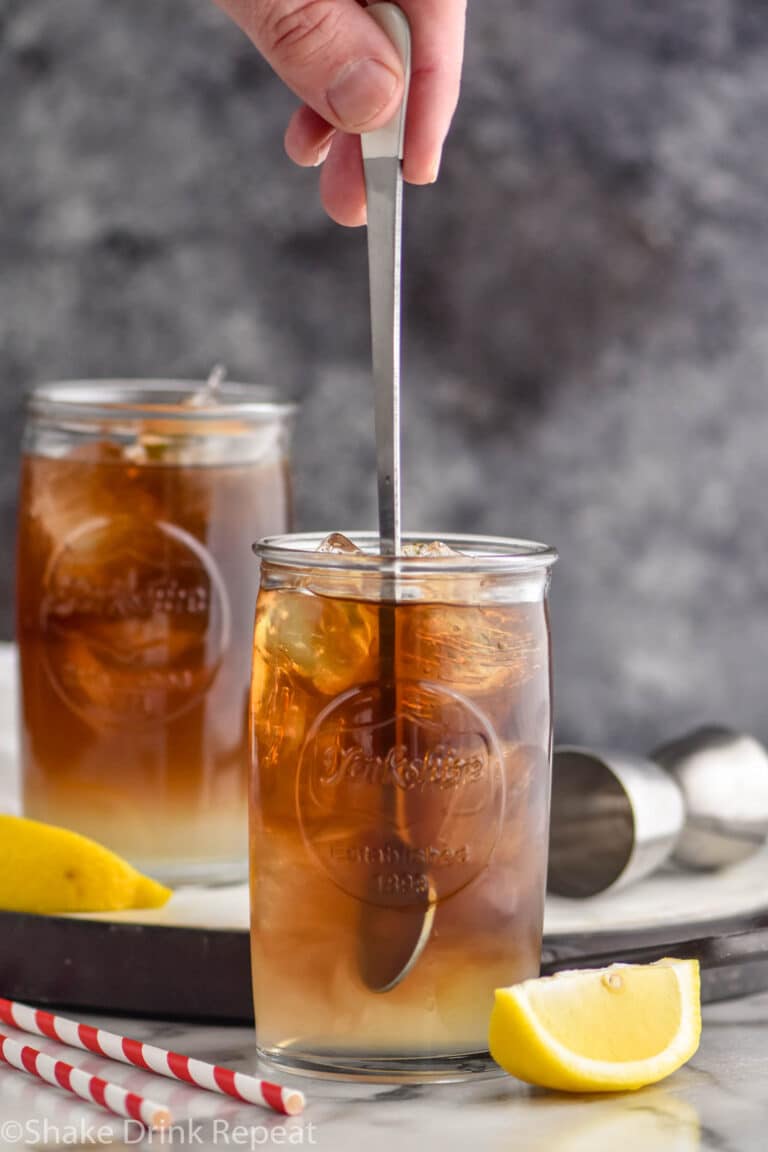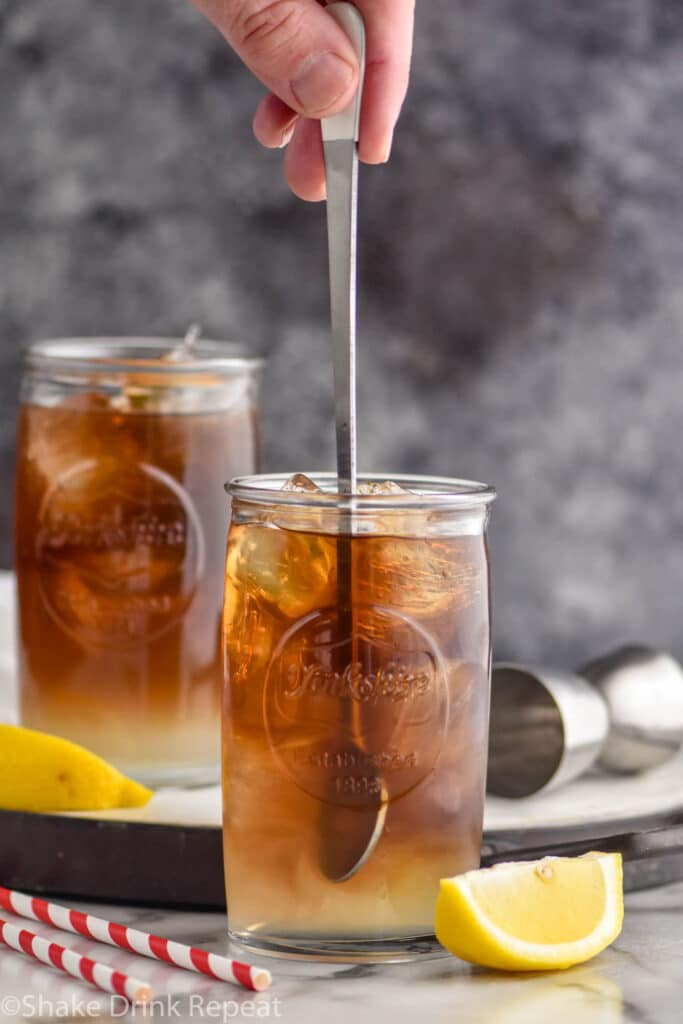 Variations
There have been some great spins on the classic cocktail, here are a few of our favorites!
Walk Me Down. Switch the triple sec out with Blue Curacao and the coke with lemon lime soda.
Tokyo Iced Tea: Take out the triple sec and replace it with Midori, then switch the coke out for lemon lime soda.
Long Beach Iced Tea: Instead of coke use cranberry juice.
If you make this Long Island Iced Tea drink leave us a comment and let us know what you think.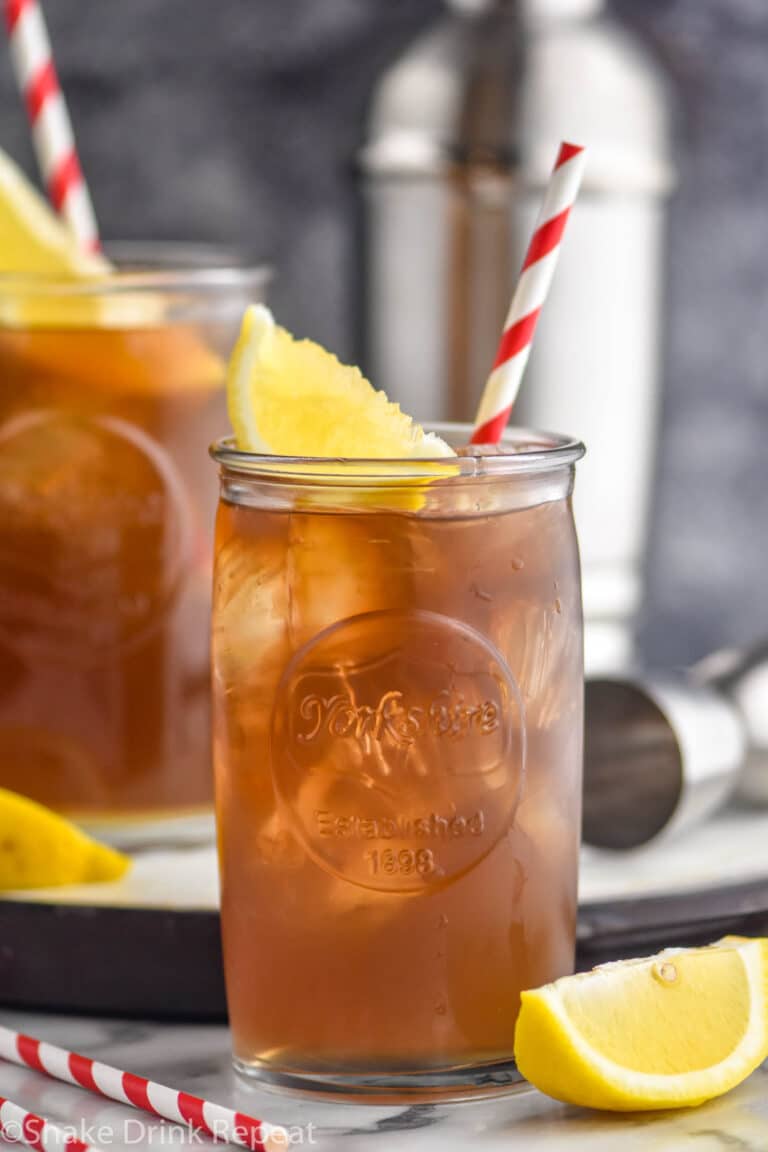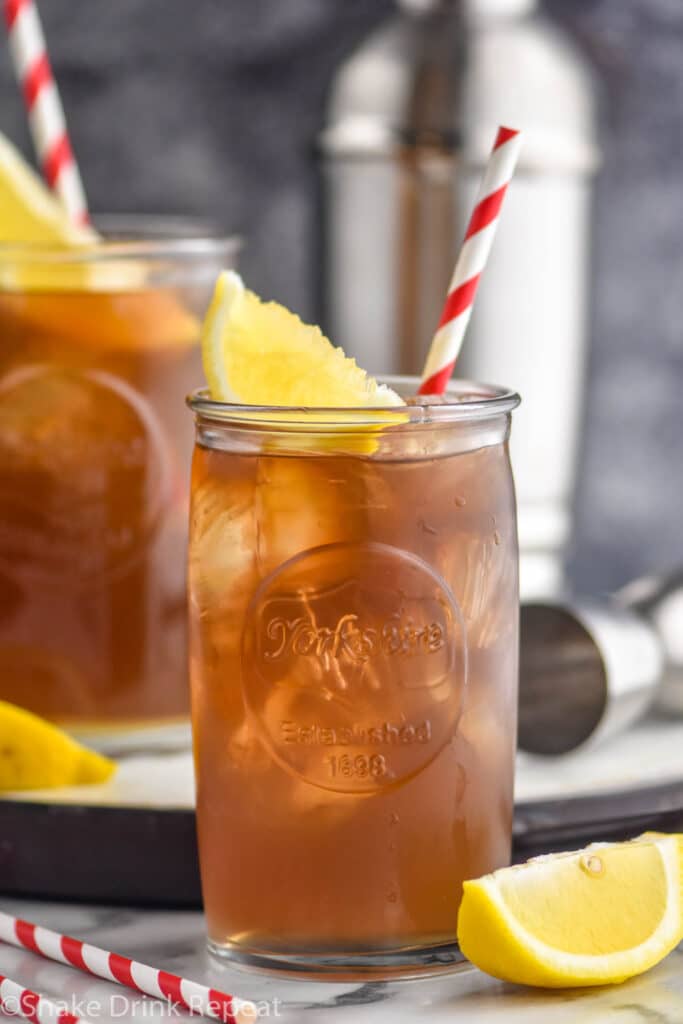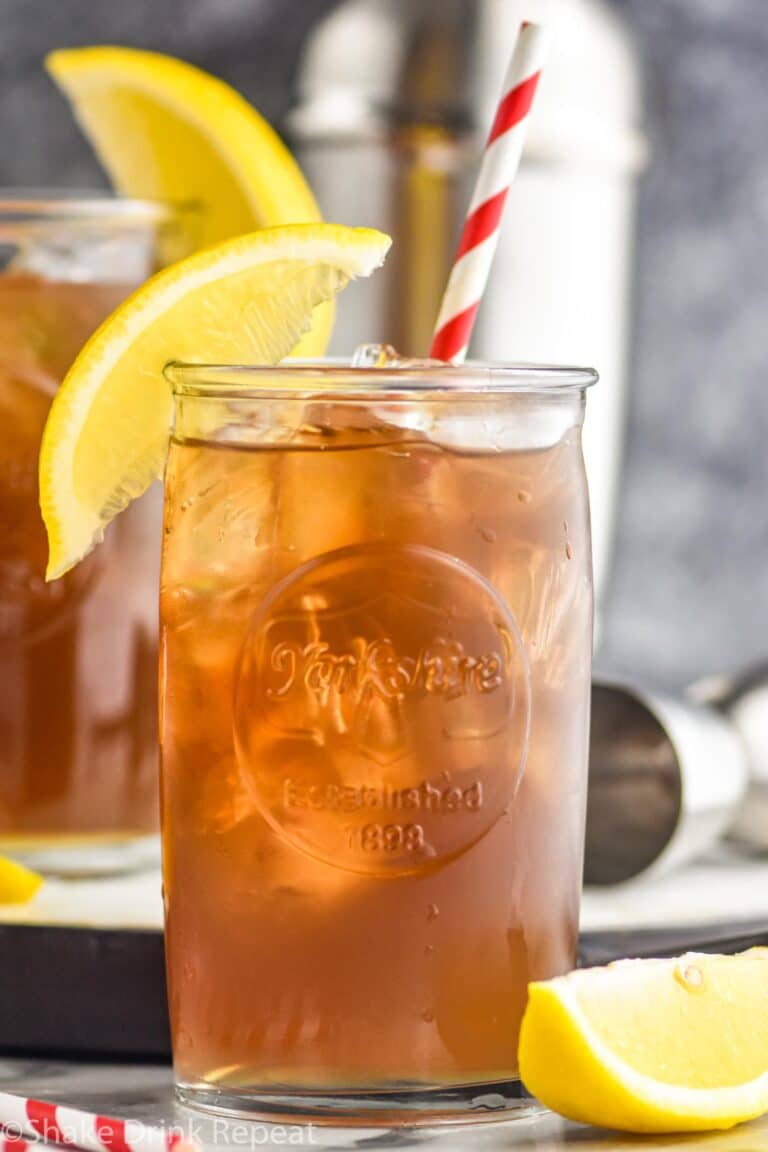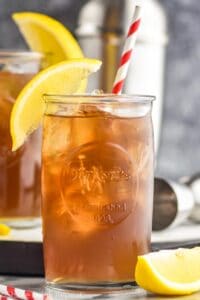 Long Island Iced tea
The Long Island Iced Tea is a well-known and well-loved boozy mixed drink that packs a lively punch and rarely requires a refill!
Ingredients
1/2

ounce

tequila

1/2

ounce

vodka

1/2

ounce

white rum

1/2

ounce

triple sec

1/2

ounce

gin

1

ounce

simple syrup

1

ounce

lemon juice

Top with Coke
Instructions
Add tequila, vodka, white rum, triple sec, gin, simple syrup, and lemon juice to an ice-filled glass.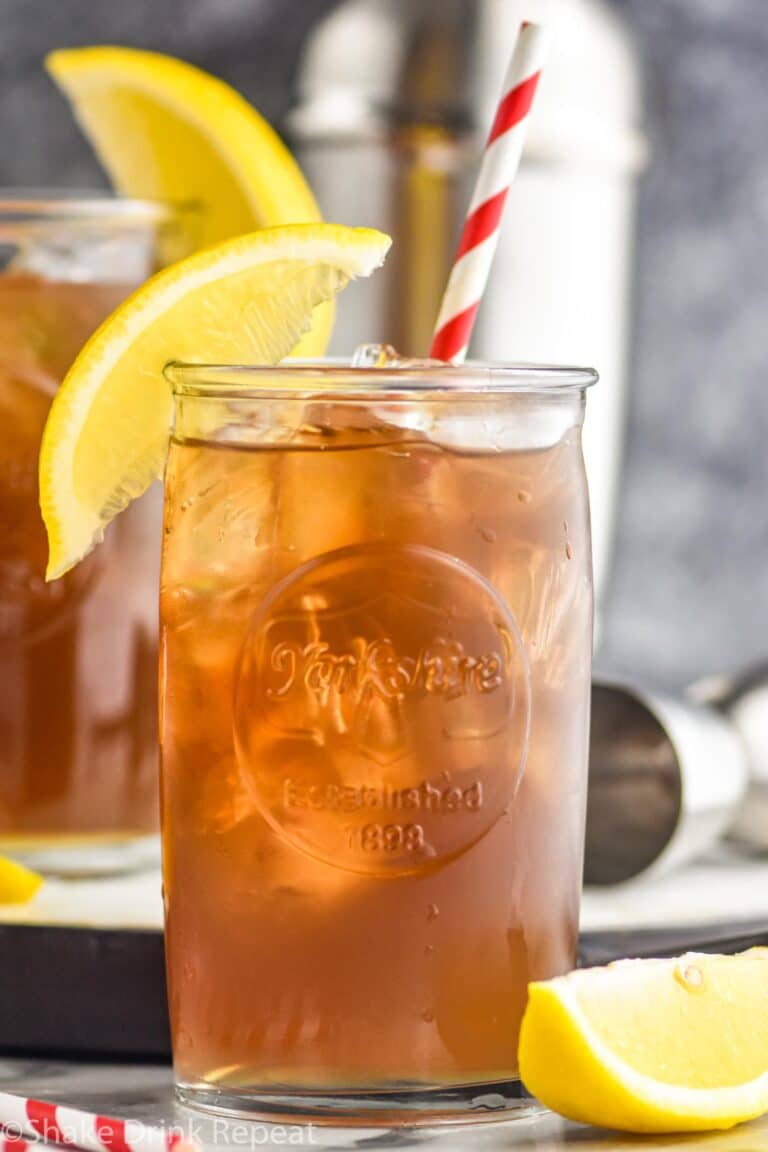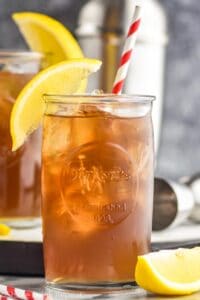 Did You Make This
Long Island Iced tea